April 25, 2018
---
Delaware Valley Chapter at the 2018 RCI Convention
By Delaware Valley Chapter Secretary Julie Palmer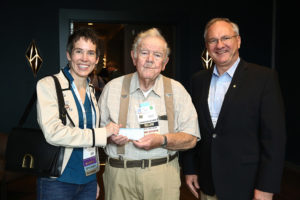 RCI's 33rd International Convention and Trade Show boasted record attendance, including numerous Delaware Valley Chapter members. Mike Violette was honored with an Outstanding Volunteer award, Tony Poletto was awarded a Certificate of Appreciation, Bob Zmijewski was recognized for achieving the Registered Roof Consultant registration, and Julie Palmer accepted a first-place Document Competition award on behalf of Jeffrey Levine and Levine & Company. Congratulations everyone!
P.S. It's not too late to register for the chapter's full day of education to be held on April 26 at Performance Roofing Associates in Exton, PA. For more details and event registration, please visit the chapter's website: www.rcidelawarevalley.org/events/.
---
Mid Atlantic Chapter
By Mid Atlantic Chapter Secretary Julie McDonald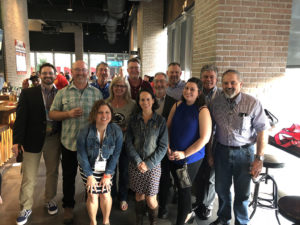 Networking at Convention
The Mid Atlantic Chapter of RCI, Inc. hosted an informal networking social on March 24 during the 2018 RCI, Inc. Annual Convention. The social was attended by nearly two dozen Mid Atlantic Chapter and Blue Ridge Branch members and friends. In attendance were Region I Director Michael Violette, chapter President Daniel Mathews, chapter Secretary Julie McDonald, and Blue Ridge Branch President Derek Cundiff.
Foundation Donation
The chapter presented RCI Foundation Chair Joe Hale with a check donation of $2,500 during the Foundation Auction on March 25, 2018 at the 2018 RCI, Inc. Annual Convention in Houston, Texas. The Mid Atlantic Chapter has been a long-time supporter of the RCI Foundation, contributing annual donations to support student scholarships and other areas of greatest need.
Education Event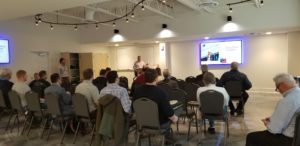 The Mid Atlantic Chapter hosted an education event on April 11. Topics presented included "Understanding Stone Wool (Mineral Wool) in Interior and Exterior Applications – Solutions for Thermal, Fire, and Sound Control" by Jason Howell of Rockwool, "PMMA/PMA Liquid-Applied Roofing and Waterproofing" by Rick Brehm of Soprema, "Making the Transition from Wall to Roof" by Nicholas Piteo of Simpson, Gumpertz & Heger, and "Building Enclosure Commissioning" by Tom Robertson of Atlas Wall CI Division. Soprema sponsored the event and invited the chapter to use their new training facility in Capitol Heights, Maryland. There were a total of 34 attendees.
Upcoming Golf Outing
The Mid Atlantic Chapter will host their 16th Annual Mid Atlantic Chapter of RCI, Inc. Golf Outing on Thursday, June 7, at Little Bennett Golf Course in Clarksburg, Maryland. Little Bennett is Montgomery County's premier public golf course located in the foothills of Sugarloaf Mountain. The tournament will be organized as a shotgun four-person scramble, and will offer prizes for first and second place, as well as longest drive and closest to the pin competitions. Immediately following the tournament there will be a catered lunch, awards ceremony, and a raffle. Raffle items include apparel, pro-shop gift certificates, and assorted golf equipment. We hope to fill the entire 18-hole field with golfers, and offer a variety of sponsorship opportunities. Registration is open! Registration is due by May 11 to guarantee you receive a shirt.
For more information about these and future events or other chapter information, visit the Mid Atlantic Chapter website at www.rcimidatlantic.org, or contact Julie McDonald at secretary@rcimidatlantic.org, or Dan Mathews at president@rcimidatlantic.org.
---
Northern Gulf Coast Chapter to Host Masonry Wall Systems Course
By Allie Ostman
Please join the Northern Gulf Coast Chapter of RCI, Inc. (NGCC) at the beach for the Masonry Wall Systems Course. The course will be held at the Hampton Inn at Pensacola Beach, FL, on May 3 and 4, 2018. To register, please visit www.rci-northerngulfcoast.org.

---
Ontario Chapter Elects Officers at Annual General Meeting, Announces Upcoming Events
By Ontario Chapter Marketing Director Jay Campbell
Annual General Meeting
The Ontario Chapter held its annual general meeting (AGM) on January 31, 2017, at the beautiful St. George's Golf and Country Club in Toronto, Ontario. The historic venue provided the perfect backdrop for what was a busy day of activity for the 67 attendees who braved the morning snowstorm to be in attendance.
The 2017 financial reports were presented by chapter President Jennifer Hogan, and the 2017 final committee reports were presented and discussed. Jennifer thanked the board of directors for their contributions throughout the year and welcomed a few new directors-at-large to the board to assist with subcommittees. The new 2018 Board of Directors are as follows:
Region VII Director – Bryan Fishburn
Chapter President – David McMillan
Vice-President – Shawn Irani
Education Director – Kyle Boyce
Membership Director – Russell Ibbottson
Chapter Secretary – Denis Theriault
Treasurer – Allen Lyte
Marketing Director – Jay Campbell
Social Director – Michael Da Silva
National Capital Branch Director – Stephanie Robinson
Maritime Branch Director – Gary Hamilton
Technical Committee – John Mills
Director at Large – Megan Kikuta
Director at Large – David Agnew
The Ontario Chapter welcomed the new incoming chapter President David McMillan and extended a congratulatory goodbye to outgoing chapter President Jennifer Hogan. David McMillan presented Jennifer with "The President Recognition Award" as a final appreciation of her work before she departed her post. It was also announced that the Ontario Chapter had been granted gold-level certification for the past year, an award which was presented to the chapter at the annual RCI Convention in Houston.
Following the AGM there was an educational seminar provided on "Specifying Wind Loads." The seminar was designed to bring understanding to the complex issue of wind loads and the effect it has on design and securement of roofing assemblies in the province of Ontario. A portion of the lecture was designated to the National Building Code requirements as they relate to wind loads and the calculation methods used to determine the wind uplift on roof assemblies in different climatic zones. The lecture was facilitated by Dave Miller and was very informative and highly technical and is a topic that has important impacts on the design criteria for roofing systems and the testing methods that are undertaken by the manufacturers.
Curling Social
When the AGM and educational seminar wrapped up, it was time for some lunch and for 24 members to partake in an afternoon of throwing stones (curling). This was the second time that this event has been held in conjunction with the AGM, and again it was met with great fanfare. It was a great time to enjoy a beverage and take part in one of Canada's great pastimes.
Educational Events
On February 8 and 9, the education committee organized a two-day course on "Metal Roofing." The course provided active members a chance at earning 16 Continuing Education Hours (CEHs) while providing them with a comprehensive understanding of metal roofing.
On March 7, the education committee held a breakfast seminar on new legislation. This seminar covered two new bills passed by the government of Ontario. It highlighted Bill 142, which dealt with the Construction Lien Amendment Act and Bill 148 (Ontario's new labor laws). The session offered those in the construction industry a better understanding of the new legislation and the changes that were implemented in the current legislation.
RCI Convention
The RCI Ontario Chapter was again well represented this year at the 33rd RCI International Convention in sunny Houston, Texas. A record number of members attended this year's event, and this held true for the Canadian contingent as well, with over 47 members in attendance.
Just over 20 members of the Ontario Chapter attended the President Elect's Golf Tournament on Friday, March 23. It was a great day for golf and a wonderful way to kick off the festivities that surround the annual convention. Between the trade show, the seminars, the technical demonstrations, and the amazing hospitality events that the manufacturers assembled, it was a power-packed but enjoyable schedule. The Marriott Marquis, where most of the convention meetings were held, was a perfect host, and the staff who helped bring it all together did a great job of making sure that the event was a success!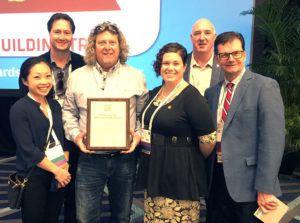 Some of the other highlights of the convention focused around several prestigious awards being presented to the Ontario Chapter. RCI Ontario Chapter was presented the gold-level Outstanding Chapter Award. Along with being mentioned as an outstanding chapter, our own Past President Jennifer Hogan received the Emerging Professional Award. This was an outstanding accomplishment from a very talented and hard-working woman and exemplifies her tremendous leadership qualities. The Ontario Chapter board is extremely lucky to have her and are very proud her efforts.
Former Region VII Director Ted Sheridan was elected to the RCI International Board of Directors as Secretary/Treasurer. This appointment was well-deserved as Ted has advocated extensively on behalf of the Canadian membership and has strenuously brought to the forefront issues that affect the Canadian Chapters.
The RCI Ontario Chapter welcomed back seven university students as guests to the RCI Convention. Through RCI Foundation grants, these students were able to attend and participated in an array of RCI functions and educational sessions. The invitation gave the students a chance to rub shoulders with industry professionals and gave them a first-hand look into all that RCI has to offer. We hope their experience was enjoyable, educational, and perhaps a building block to future careers in the building science industry!
Upcoming Events
The Education Committee is holding an upcoming course on Architectural Sheet Metal Flashing Design at the Toronto Construction Association (TCA) offices in Richmond Hill, Ontario, on April 27, 2018. Allen Lyte, B.Tech., B.Sc., RRO will present this class, worth 8 CEHs.
RCI Ontario Chapter is also hosting a breakfast seminar on "High Performance Building Envelope – Application and Use of Air Barriers" on June 7, 2018, at the Braeben Golf Club in Mississauga, Ontario.
The Social Committee has organized the annual RCI Ontario Chapter Golf Tournament, which will take place at Greystone Golf and Country Club in Milton, Ontario, on June 19.
The RCI Ontario Chapter would like to welcome engineers, consultants, and designers from the United States to the Canadian Building Envelope Technology Symposium that will take place in Mississauga, Ontario on September 13 and 14 at the Hilton in Mississauga. This will be the first time the event has been held in Ontario and we look forward to having you as our guests.
Visit the RCI Ontario Chapter website for full details on all upcoming events.
Follow us on Facebook and LinkedIn for up-to-date event information!
---
So Cal Chapter Hosts Educational Event
By So Cal Chapter Treasurer Ivan Chak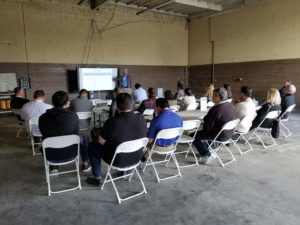 The So Cal Chapter of RCI kicked off the first meeting of their 2018 educational seminar series on February 22 at Cell-Crete's facility in Irwindale, CA. Approximately 25 attendees from local consultant and industry communities convened at the on-site meeting space for a technical talk enjoyed with donuts and soft drinks.
Guest speaker John Rose of Siplast delivered an informative and thorough presentation on lightweight insulating concrete (LWIC) and roof insulation. He provided valuable concepts regarding the technical aspects of roof insulation, and the versatile role that LWIC plays in modern roof construction. Rose presented the origins behind LWIC technology, discussed constituent system components and their applications, and highlighted several case studies on field application.
Following the presentation, Cell-Crete staff conducted an informative, step-by-step demonstration of LWIC assembly installation, complete with wet mix placement, polystyrene board layout, and surface finishing. Eberhard also showcased the torch-applied installation of a two-ply, SBS-modified-bitumen roofing system over cured cellular concrete with embedded asphalt pellets. Cell-Crete also performed in-situ pull testing of spreading-type LWIC fasteners driven into cellular concrete. L.J. Fisher of Cell-Crete offered a behind-the-scenes tour of Cell-Crete's facility and vehicular fleet, showcasing some of the heavy machinery used to transport, mix, and apply their cementitious products. The event concluded with an outdoor lunch consisting of delicious catered tacos and cold refreshments.
The chapter would like to extend a special thank you to Cell-Crete for their hospitality and for opening their doors to the chapter. They also offer their sincerest appreciation to Siplast and, especially, local sales representative Jim Miranda for their hard work behind the scenes. The event was a success and could not have been done without their help.
---
Western Canada Chapter to Host Spring Seminar
The Western Canada Chapter of RCI, Inc. will host a Spring Seminar on May 11, 2018, at the Italian Cultural Centre in Vancouver, BC. Jerry Abendroth of Terracon will present on Litigation Basics, Roof Considerations and Related Case Studies, Behavior of Sealants and Related Case Studies, Multifamily Construction and Related Case Studies, and Legal Case Studies. Helene Hardy Pierce of GAF will discuss TPO Roofing Systems.
Find the full agenda, speaker bios, and seminar description on the chapter's website at www.rciwesterncanada.org.
---
Upcoming Events
April 26, 2018
New England Chapter: The Basics of SBS-Modified Bitumen – Aegean Restaurant, 257 Cochituate Road, Framingham, MA 01701
Delaware Valley: Education Seminar – Performance Roofing Associates, 93 West Devon Drive, #200, Exton, PA 19341
April 27, 2018
Metro NY Chapter: Roofing Technologies & Building Envelope Seminar – Club 101, 101 Park Avenue, NY
Ontario Chapter: Architectural Sheet Metal Flashing Design – Richmond Hill, Ontario
May 1, 2018
Denver Chapter: Q1 Meeting – RCI/CRA Joint Meeting on Denver Green Roof Initiative at The Denver Mart
May 3-4, 2018
Puget Sound Chapter: Building Envelope Quality Assurance, Exterior Wall Quality Assurance, and chapter meeting – Doubletree Hotel, 16500 Southcenter Pkwy., Seattle, WA 98188
Northern Gulf Coast Chapter: Masonry Wall Systems – Hampton Inn, Deluna Hall A, 2 Vi de Luna Drive, Pensacola Beach, FL 32561
May 8, 2018
MidSouth Chapter: chapter Meeting – Memphis (exact location TBA)
Wisconsin Chapter: Event with WRCA – Radisson Milwaukee West, 2303 Mayfair Rd., Milwaukee, WI 53226
May 11, 2018
Western Canada Chapter: Spring seminar – Italian Cultural Centre, 3075 Slocan Street, Vancouver, BC
May 16, 2018
Canadian Prairies Chapter: Lunch 'n Learn on Wind Uplift Field Testing – 4540 – 50 Street, Edmonton, AB T6L 6P6
May 16 & 17, 2018
Carolinas Chapter: Waterproofing – High Point Marriott Airport, Greensboro, NC
May 17, 2018
Portland Chapter: Chapter meeting & education presentation – Widmer Brothers Brewery Tap Room (street level), 929 North Russell Street, Portland, Oregon 97227
May 18, 2018
Chicago Area Chapter: Spring meeting and program – The Village Links of Glen Ellyn, 485 Winchell Way, Glen Ellyn, Illinois 60137