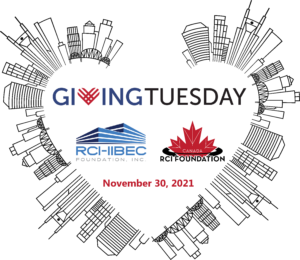 Tuesday, November 30, is Giving Tuesday, and the RCI-IIBEC Foundation (US) and RCI Foundation Canada will be participating in this day of support for charities all over the world. This year our goal is to raise $50,000 for the newly renamed Student Convention Fund, now known as the Joe Hale Student Sponsorship Fund in honor of recently deceased Foundation Chair Joe Hale.
Since its inception, the IIBEC Convention Student Participation Fund has help sponsor 175 students to attend the IIBEC International Convention and Trade Show by covering registration, hotel, meals, and up to $400 in travel expenses. Many of these students now have careers in the building enclosure industry. With the name change, the fund will also help students attend other IIBEC-sponsored educational events, such as the Building Enclosure Symposium.
The links below have been temporarily set to go directly to the donation pages on each Foundations' respective website for your convenience.