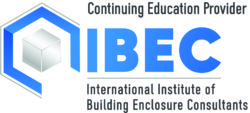 IIBEC is pleased to offer a Continuing Education Provider Program to outside organizations. Groups that wish to offer IIBEC pre-approved continuing education hours (CEHs) must maintain an annual IIBEC Provider account.
To become an approved provider, please submit a CEH Request Form for your next education program. To verify the status of your organization, inquire about joining, or update contact information, please reach out to Caroline Lewis.
Each individual course must be submitted, reviewed, and approved using the IIBEC CEH Request Form. The information will be reviewed and providers will be notified of the program's approval status within 30 days. To be acceptable, the event must be technical in nature (not sales oriented or product-specific); related to the roofing, exterior walls, and/or waterproofing industries; and pertinent to those who seek or hold IIBEC designations. Information presented must be applicable across all product lines. Technical programs must be at least one hour in length.
There are five (5) tiers of dues based on the number of active courses approved by IIBEC from a single organization. Pricing is based on approved courses, not  the number of CEHs awarded or length of the program. IIBEC staff review the content of each course independently and track each program. This is an annual dues program. Fees are due December 31st for education courses offered the following calendar year.
Organizations will be billed annually based on the number of education courses approved by IIBEC. An overview of education courses approved and the number of IIBEC CEHs assigned for each course will be included with the annual renewal invoice.