IIBEC Southern Ontario Chapter Hosts AGM and Represents at CSC Building Expo
IIBEC Southern Ontario Chapter held their annual general meeting on Friday February 10, 2023 at the Thornhill Club in Vaughan, Ontario. The meeting was attended by 45 people and chaired by President Kevin Voorberg.
The financial reports for 2022 were presented by Meagan Kikuta. The following 2022 committee reports were presented and discussed:
• Region VII Overview – Jennifer Hogan
• Marketing – Jordan Swail (Presented by Kevin Voorberg on behalf of Rick Shaw)
• Education – Blair Gamracy
• Membership – Lora Bourck-Ferrazzo
• Social – Jay Campbell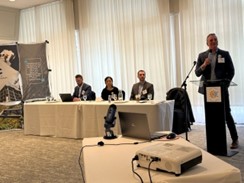 • Maritime Branch Report – Jamie Slipp
• Technical – Rick Shaw (Presented by Kevin Voorberg on behalf of Rick Shaw)
• Advocacy – Shawn Irani
• Industry – John Mills
• Strategic Plan – Allen Lyte (Presented by Kevin Voorberg on behalf of Rick Shaw)
Voorberg thanked the 2022 board for volunteering their time and support, and thanked chapter staff members Betty Quan and Christine Kebezes for their hard work in 2022.
The Southern Ontario Chapter elected the following members to serve on the 2023 Board of Directors:
President: Adam Gotfraind
Vice President:  Jake Skinner
Secretary:  Meagan Kikuta
Treasurer:  TBD
Immediate Past President: Kevin Voorberg
Director: Blair Gamracy
Director:  Jordan Swail
Director at Large: Gary Hamilton
Social Director:  Jay Campbell
Membership Director:  Lora Bourck
Advocacy Director: Shawn Irani
Industry Outreach Director:  John Mills
Technical Director: Richard Shaw
Maritime Branch Director:  Jamie Slipp
Director:  Paul Johannesson
Region VII Director:  Stephanie Robinson
A call was made for any volunteers to join the chapter's committees. Please reach out to any of the board members, Christine Kebezes or Betty Quan if you wish to join an IIBEC Southern Ontario Committee.
Awards

Vice President Adam Gotfraind announced that the IIBEC Southern Ontario Chapter achieved the Platinum Chapter Status in in IIBEC's Outstanding Chapter Award Competition for work completed in 2022.
The following chapter awards were presented:
• The President Recognition Award was presented to Kevin Voorberg
• The Outgoing Director Award was presented to Allen Lyte
• The Outstanding Committee Chair Award was presented to Blair Gamracy
• The Outstanding Sponsor Awards were presented to Nortex Roofing and Atlas-Apex Roofing
• The Lifetime Achievement Award was presented to Marc Allaire