August 17, 2023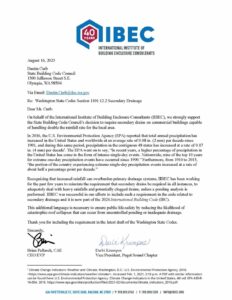 By John Boling
In an August 16 letter to Washington's State Building Code Council, IIBEC Executive Vice President and CEO Brian Pallasch joined with IIBEC Puget Sound Chapter Vice President Darbi Krumpos to express appreciation for including more robust requirements for design of secondary drainage in a package of expedited rules expected to go into effect this fall.
The package of expedited rules (WSR 23-14-125) issued by the council requires that  secondary drainage on commercial buildings be capable of handling double the rainfall rate for the local area.
IIBEC has been working for several years to reinstate the requirement that secondary drains be required during reroofing to adequately deal with heavy rainfalls and potentially clogged drains unless a ponding analysis is performed. IIBEC's efforts led to the reinstatement and improvement of secondary requirements during reroofing in the 2024 International Building Code and the 2024 International Existing Building Code.
"This additional language is necessary to ensure public life-safety by reducing the likelihood of catastrophic roof collapses that can occur from uncontrolled ponding or inadequate drainage," IIBEC's letter stated.