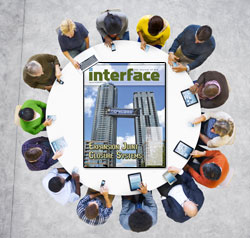 The Industry's Leading Building Enclosure Design Publication – Now Delivered Electronically
IIBEC Interface is the technical journal, and hallmark publication of IIBEC. Few publications are as highly regarded among those who practice as building exterior design professionals.  The valuable content of the peer-reviewed journal is now available beyond the printed page, delivered by email, and offered in digital, flip-book format.
Each month (with the exception of June), IIBEC members and nonmember subscribers (~ 11,500) receive an email announcing the publication and availability of the digital version of IIBEC Interface. A featured technical paper, access to the flip-book version of the journal, and several useful news items are featured in each email publication.
As an advertiser, your ad will be included in this widely read email. The IIBEC Interface digital edition email is sent monthly to over 11,500 recipients.
See past versions of IIBEC Interface digital edition email here:
---
Advertising Rates
1x = $1,100
3x-5x = $900
6x-11x – $800
Insertion reservations and ad copy should be submitted 10 business days prior to the first day of any given month.
---
Specifications
Ad size is "Large rectangle" (336 pixels wide x 280 pixels tall)
Ad file types: .jpg, .gif, or .png
File size: 50KB maximum
Include the URL the ad should link to. No special coding beyond specification of target URL will be performed by IIBEC.
To reserve advertising, contact Chris Barnes at cbarnes@iibec.org. 
See all IIBEC advertising opportunities HERE.