October 13, 2022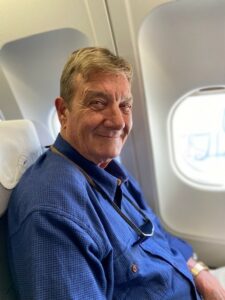 This update is long overdue, and I apologize for my tardiness. You deserve periodic updates from me as to what is happening with your generous donations.
Giving Tuesday
On Tuesday, November 29, 2022, both foundations will be holding our annual Giving Tuesday. Mark your calendar, put Post-it notes all over your office, and put a reminder on your phone. Our lofty goal this year is to bring 40 students to the 2023 IIBEC International Convention and Trade Show in honor of IIBEC's 40th anniversary. Based on our average cost for sending students to Orlando this past March, we plan to raise $72,200 in donations. We need your help. Will you consider joining me in making a significant gift to the Joe Hale Student Sponsorship Fund on or before Tuesday, November 29?
Here is the link for the RCI-IIBEC Foundation donation page:
https://rci-iibecfoundation.org/donate.aspx
Here is the link for the RCI Foundation Canada donation page:
https://rcifoundation.ca/donate.aspx
Thank you in advance for your consideration of this most valuable fundraiser for the future of our industry.
Research on Unit-Price Procurement
We have funded an in-depth effort to dispel myths, rumors, and other inconsistencies with regard to the very controversial system of bidding roofing and repairs in our ever-changing industry. The final draft is due any day now. I have been very impressed by our researchers, and I believe you will appreciate the findings.
Golf Outing at Convention
The RCI-IIBEC Foundation will become the host organization for the golf tournament at the 2023 IIBEC International Convention & Trade Show in Houston. The tournament is now a charitable fundraising event where all of the proceeds will support student programs through the RCI-IIBEC Foundation and RCI Foundation Canada.  The golf outing will be on Friday, March 3, 2023, at the Wildcat Golf Club Lakes course in Houston, Texas. The format will be a four-person scramble with 120 players maximum. The $250 cost per golfer will include golf fee with cart, range balls prior to golf, breakfast taco bar, BBQ lunch buffet, drinks, and beverage cart service. Performance Roof Systems (formerly Derbigum) and Soprema will be the title sponsors of the event, which will include cash prizes for the longest drive and longest putt.
I'm going to need volunteers at this event. Our goal in taking over the golf outing is to not only generate funds for the foundation student scholarships and sponsorships, but to have an enjoyable round of golf that doesn't take over six hours.
Here is a link to sign up for the golf outing:
https://birdease.com/2022RCIIIBECFoundationsGolf
Changes to Foundations' Auction
Change is good. We have had great success with the silent auction over the years, but the time and effort for staff, volunteers, costs of shipping, and coordination have come with a price that is now too high. Therefore, the silent auction has been discontinued.
The live auction is still on. This year the Foundations Live Auction will take place on Monday, March 6, at 6:00 p.m.,  prior to the Annual Banquet. Sponsored by GAF, the auction will focus on live bidding for 10–12 big-ticket items such as trips and unique experiences.
Thanks to all who contribute and support our auction endeavors.
$40K Sweepstakes
In addition to the auction changes, our newest event will be a special $40K Sweepstakes. We have partnered with TapKat, an online sweepstakes platform, to give away one $40,000 prize. The sweepstakes is open to everyone 18 and over in the US and Canada, with no limit to the number of times you enter. The more you donate, the more entries into the sweepstakes you receive. You do not need be present to win. Drawing will be the week following the convention.
Here is the link to the sweepstakes with more information and rules:
https://www.tapkat.org/rci-iibec-foundation/aED8OE
Finally, my heartfelt thanks go out to all who have supported us in the past and those that continue to do so. The gifts we receive come with great responsibilities, and we do not take this lightly. My best to you and your family in the coming months.
Sincerely,
Mike Blanchette
Chair, RCI-IIBEC Foundation