February 3, 2022
By Rick Gardner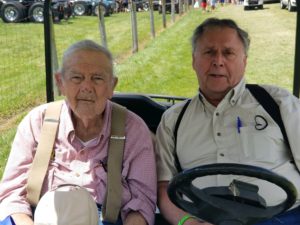 Tim Barrett loves creating winning situations. As the end of 2021 approached, he saw the possibility to create another winning opportunity. Barrett made the first donation to the RCI-IIBEC Foundation stock brokerage account. His donation was directed specifically to the Joe Hale Library in Fort Chiswell, Virginia.
"Tim has always been generous with his giving and support of the foundation," said Foundation Chair Mike Blanchette, F-IIBEC, RRC, RRO. "We appreciate the impact this gift has created, and hope others will follow his example."
"For me, it was a win-win-win situation. It's a great deal for people who have appreciated stock," Barrett said. "You donate appreciated stock, save money on capital gains taxes, support the foundation, and honor my good friend Joe Hale. Your stockbroker can walk you through how easy it works."
Barrett's gift continues IIBEC members' support of the new library named after IIBEC and foundation leader Joe Hale.
"Joe must be smiling knowing that his library project is getting continued support from his friends even after he is gone. He provided us with a vision, a purpose, and now an example of cheerful giving," Blanchette said.
"We appreciate Tim's support of this project and hope others will consider contributing with the foundation's support for the Joe Hale Library or the ongoing research projects the foundation supports through our general fund for research and education."
For more information about donating stock for the Joe Hale Library, contact Foundation Development Officer Rick Gardner at Rgardner@iibec.org or 919-859-0742.