March 6, 2019
The RCI Foundations Auction at this year's RCI 2019 International Convention and Trade Show will boast a number of great items, as always.
The auction is sponsored by the Foundations and is not included in your Convention registration. Admission is $20, for which you will receive three Tricky Tray (raffle) tickets.
Tickets and drawings: Admission tickets may be purchased on the Trade Show floor on Sunday morning or at the event starting at 5:15 p.m. 50/50 tickets may be purchased for $5 each or 5 for $20. New this year, we will be doing a $20 50/50 raffle drawing. Tickets are $20 each or 6 tickets for $100. Drawings for the Tricky Tray items and 50/50 drawings will be conducted throughout the evening. You must be present to win.
Bidding on the silent auction: Each item has a minimum starting bid and minimum bid increment. Bids that do not observe these minimums shall be disqualified. Write your name and bid amount legibly on the bid sheet.
Listed items are subject to change and may be categorized or grouped at the discretion of the RCI Foundations management. Please rely on actual bid sheets for item information.
New this year: Each section has one Mystery Item. The item is unknown; however, you are given a clue by the category of the item, i.e., Cooking, Wine and Spirits, etc.
Payment: Winning bidders must pay for items on site. We accept cash, checks, VISA, MasterCard, and American Express.
Shipping: Available through the hotel business center. The Foundations can assist for the cost of shipping plus an additional $25 donation for the RCI Foundation. Shipping and fees will be directly billed to the bidder as a separate transaction. Visit the auction checkout table for assistance. Due to federal laws, we are unable to ship alcohol or firearms.
Live Auction Items
1—Columbian Emerald Ring
14K gold free-form open-splash-style setting set with a 2.21-carat square-faceted step-cut natural Columbian emerald in 4-prong basket setting surrounded by 5 round brilliant-faceted clear topaz accent stones set in white-gold 4-prong settings, size 7.
Donor: RCI Foundations
Donor Value: $3,500.00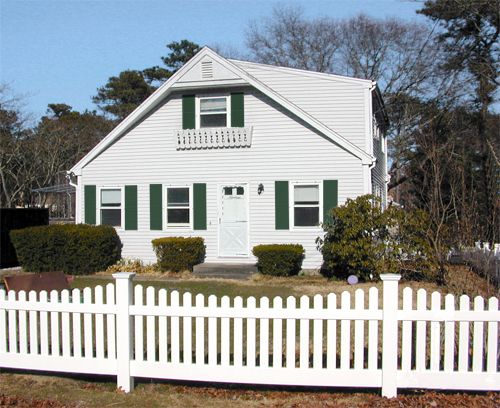 2—Rest and Relax on Cape Cod
Come and relax on Cape Cod in this lovely and spacious four-bedroom Cape Cod-style family home in Dennisport (sleeps 8). Spend 9 days/8 nights (September 10 – 18, 2019) at Georgia's Hideaway, located on a quiet dead-end lane near the warm waters and sandy beaches of Nantucket Sound. Stroll 1/4 mile to the ocean beaches or enjoy the excellent local restaurants within easy walking distance. Over 2100 square feet of living space to stretch out and relax in!
Donor: Peter and Nancy Brooks
Donor Value: $2,228.00
3—Seven Days at Orlando Marriott Imperial Palms Villas
Relax and enjoy this luxurious three-bedroom condo at the Marriott Imperial Palms Villas, July 27 – August 3, 2019. Nestled in the heart of Orlando's major attractions, enjoy the comfort and convenience of having separate living and dining areas, a fully equipped kitchen, a furnished balcony or patio, master suite, and accommodations for up to 10 people. Take a dip in the heated outdoor pool or head to the fitness center for a quick workout. As part of the package, you can also enjoy the amenities of the neighboring Orlando World Center Marriott Resort & Convention Center – from championship golf to outstanding restaurants, lounges and specialty gift shops. Alternate dates and destinations may be available subject to availability.
Donor: Albert & Mary Beth Duwyn
Donor Value: $2,100.00
4 & 5—$3,500 Gift Cards to Vegas.com
What happens in Vegas stays in Vegas. We agree. That's why we're not going to tell you when to go, where to stay, or what to do. We're just going to provide the means. With a $3,500 gift card to Vegas.com, you can book flights, hotels, shows…even a wedding in Sin City. With the Vegas.com card, everything is covered except gambling (sorry). So, enjoy, and good luck! Proceeds to the Canadian Foundation, but anyone can bid.
Donor: Siplast
Donor Value: $3,500.00 (Two identical items will be auctioned)
6—Indianapolis 500 – Firestone Extravaganza
Vroom, vroom, you are off to the Indy 500 as a Firestone VIP! This trip for two includes 3 nights' lodging in downtown Indianapolis and special events. On Friday evening, get up close and personal with all 33 drivers at a closed autograph session and dinner for Bridgestone / Firestone guests
only. On Saturday, guests will tour the Indianapolis Motor Speedway grounds, then attend the Firestone Legends Day Concert with the Zac Brown Band in a private, covered hospitality area. Finally, on Sunday morning, with a police escort to the Speedway, feel the exhilaration of the race in an air-conditioned chalet with visits by legendary owners/drivers before the race and a quick visit by the winning driver and team owner following the race.
Donor: Firestone Building Products
Donor Value: $2,500.00
7—Lizard Lounge T-Shirt Quilt
This one-of-a-kind quilt is made from 12 previous Lizard Lounge t-shirts. Quilt is 62″ by 78″.
Donor: David & Carol Hawn
Priceless!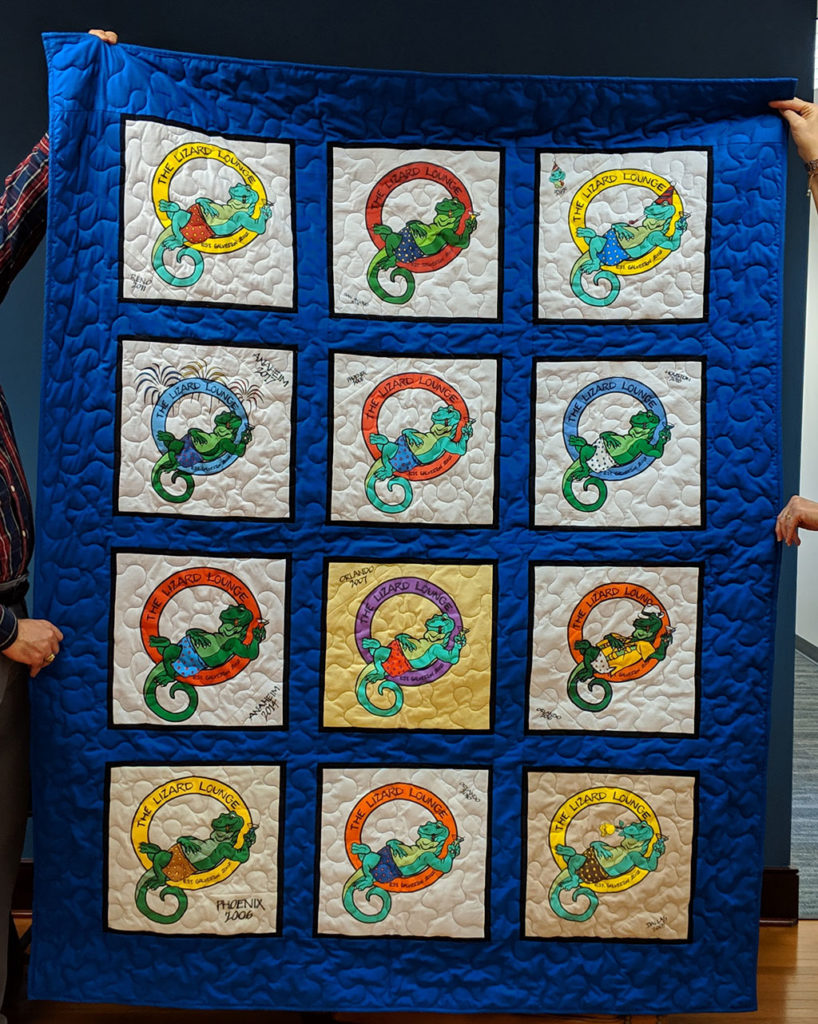 8—2019 Building Envelope Symposium Package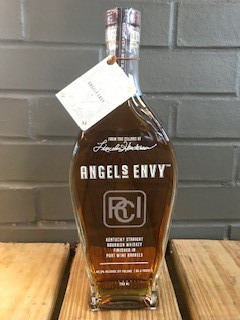 Enjoy the 2019 Building Enclosure Symposium (BES) in Louisville, Kentucky. Package includes registration; two-night complimentary stay at the Louisville Marriott Downtown from November 10 – 12, 2019; a Louisville welcome basket; as well as a bottle of Angels Envy Kentucky Bourbon* with the RCI logo and two rock glasses. The Symposium is a two-day educational program offering cutting-edge information regarding design, construction, maintenance and repair of modern and/or older building enclosures. Restrictions: Package may not be redeemed for dates outside of the symposium. Rental cars, parking and other incidentals are not included. Subject to availability. *Please note, shipping of alcohol is prohibited via state and federal law. Winning bidder must transport this item to its final destination.
Donor: RCI Inc., Louisville Marriott Downtown and
Louisville Tourism
Priceless!
9 & 10—Farewell Yellow Brick Road Concert with Elton John
Enjoy one of the final shows by Elton John on his Farewell Yellow Brick Road Tour at the Rogers Arena in Vancouver, British Columbia, Canada on Tuesday, September 24, 2019! This package includes two tickets in section 116 (lower bowl), three nights at the Wedgewood Hotel (September 23-25), round-trip airfare from the U.S. or Canada, and ground transportation in Vancouver from the airport to the hotel. This package gives you the experience of a lifetime, seeing one of the last live concerts by Rock and Roll Hall of Fame artist Elton John. Proceeds to the Canadian Foundation, but anyone can bid.
Donor: SOPREMA Canada
Donor Value: $4,000.00
11—Mission Bay San Diego Fishing Trip
All-day fishing trip for up to four people, including food, drinks, and fishing on the Eagle Roofing Products' private boat, The Cruiser, located off the coast of San Diego in Mission Bay. Date to be coordinated with donor and winning bidder.
Donor: Eagle Roofing Products
Donor Value: $5,500.00
12—Coca-Cola 600 Memorial Weekend Package
Enjoy one the biggest events in NASCAR! Experience the Coca-Cola 600 on Sunday, May 26, 2019 (Memorial weekend) in Charlotte, NC. Package includes two grandstand tickets for the race, accommodations May 24 through 27 at the Embassy Suites Hotel in Concord, and two tickets for the NASCAR Hall of Fame in Charlotte. Tickets to Hall of Fame are valid anytime until December 31, 2019.
Donor: REI Engineers, Charlotte Motor Speedway,
and NASCAR Hall of Fame
Donor Value: $1,600.00
13—Handmade Raggedy Ann and Andy by Patsy Hale
Always a hot auction item, these 36″-tall handcrafted Raggedy Ann and Andy dolls are made by fabric artist Patsy Hale. These dolls are heirloom quality and traditionally made.
Donor: Joe & Patsy Hale Donor Value: $200.00
14—Week at St. Simons Island
Three-bedroom/bath condo located in Brockinton Marsh, two miles from the village and public beach areas. St. Simons Island, GA, is home to fabulous beaches, golfing, charter fishing, spas and salons, and a variety of restaurants, fun events and entertainment for everyone. The unspoiled beauty of St. Simons and its distinctively charming beach lifestyle that is unhurried and under-developed are what make it so special. Come see what the rest of the country is so excited about, and welcome to the best of the island lifestyle! Blackout dates are weeks of April 14 and 21, and December 23, 2019.
Donor: Mike & Kitty Clark
Donor Value: $1,750.00
15—2020 Houston Convention Package
Attend the 2020 IIBEC Convention and Trade Show in Houston, Texas. Package includes a full convention registration, hotel stay at the Marriott Marquis, a spa gift certificate, two sets of City Passes and a leather blanket from Visit Houston. City Pass Houston includes passes to five of the top attractions in the Houston area (Space Center Houston, Downtown Aquarium, Houston Museum of Natural Science and your choice of Houston Zoo or Museum of Fine Arts and your choice of Kemah Boardwalk or the Children's Museum of Houston).
Donor: RCI, Marriott Marquis Houston, and Visit
Houston
Donor Value: $2,000.00