November 1, 2022
Tuesday, November 29, is Giving Tuesday, and the RCI-IIBEC Foundation (US) and RCI Foundation Canada will be participating in this day of support for charities all over the world. This year the foundations' goal is to raise $72,200 for the Joe Hale Student Sponsorship Fund to send 40 students to the 2023 IIBEC International Convention and Trade Show in Houston, Texas, in March.
"Last year, we were fortunate to send 30 students to Orlando for the convention," said Mike Blanchette, chair of the RCI-IIBEC Foundation. "Since 2023 is the 40th Anniversary of IIBEC, the board decided sending 40 students to Houston was a worthy goal."
Blanchette added, "This month we are sending 25 students (15 from the US and 10 from Canada) to the Building Enclosure Symposium in Milwaukee. I know Joe Hale would be happy to see so many students have the opportunity to interact with professional members of IIBEC and be given the chance to learn more about our industry."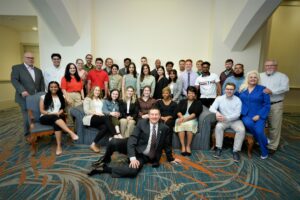 Since its inception, the IIBEC Convention Student Participation Fund has helped sponsor 205 students to attend the IIBEC International Convention and Trade Show by covering registration, hotel, meals, and up to $500 in travel expenses. Additionally, these students receive one year student membership in IIBEC. Many of these students now have careers in the building enclosure industry.
"The IIBEC experience is unlike any other," said University of Kentucky alumni and previous student sponsorship recipient Montre'ale L. Jones. "The community and wealth of knowledge shared as part of my experience has been a significant enrichment to my personal and professional development as a young emerging architect and urban designer. I am currently the business development coordinator at BIG (Bjarke Ingels Group) in New York City."
Here's how you can help:
Between now and midnight of November 29–30 , 2022, individuals, families, and industry can make gifts online at:
(US) RCI-IIBEC Foundation
https://rci-iibecfoundation.org/donate.aspx
(Canada) RCI Foundation Canada
https://www.rcifoundation.ca/donate.aspx
Additionally, if you or your company would like to donate stock, make a pledge, and/or be invoiced, please contact Rick Gardner, foundations development officer, at rgardner@iibec.org.