September 1, 2019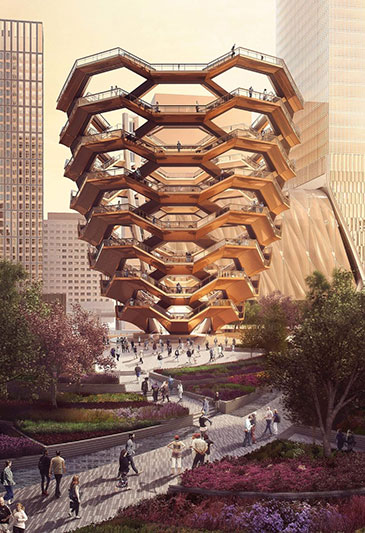 Hudson Yards, currently under construction, is the largest private real estate development in the history of the United States and the largest development in New York City since Rockefeller Center.
In the midst of this city within a city is one of the most original sculptures in New York: the Vessel. The climbable sculpture, designed by Thomas Heatherwick, looks a little like a pagoda with wings. The soft copper color of its 154 interconnecting staircases shines above a sprawling public garden. With almost 2500 individual steps and 80 landings, there is a mile of pathway within the sculpture. The maze of stairways is like a labyrinth of levels reminiscent of an M.C. Escher painting.
Heatherwick explains the concept behind his sculpture in the video below.