Sellado de estanqueidad: diseño y desempeño/ Creating a Watertight Seal: Sealant Design and Performance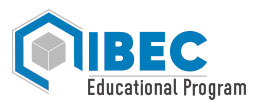 Sellado de estanqueidad: diseño y desempeño
Creating a Watertight Seal: Sealant Design and Performance
El seminario web se presentará completamente en español
IIBEC's first webinar presented in Spanish.

Webinar Date
17 de Agosto 2021 / Tuesday, August 17, 2021
1:00 PM – 2:00 PM ET
A
Program Cost (Precio de introducción/ Introductory Rate):
Miembro/Member: $20 USD | Público en general/Nonmember: $25 USD
Educational Credits: IIBEC: 1 CEHs
Descripción del curso/webinar: Para que una especificación, diseño e instalación de un sellador sea exitoso, requiere la consideración de las características únicas de los diferentes selladores. El tratamiento genérico de los selladores probablemente conducirá a la falla del sellador y la pérdida de hermeticidad del edificio. Esta presentación mostrará al alumno la importancia de un diseño adecuado de las juntas con selladores, incluidos los factores que causan fallas en las juntas, como un diseño o aplicación deficientes de las juntas. Además, esta presentación se centrará en las guías de comportamiento y movimiento de las juntas, el movimiento del sustrato durante el curado, los materiales incompatibles, la resistencia a los rayos UV y la preparación de la superficie.
Objetivos del curso/webinar:
1. Entender el propósito de la instalación de selladores
2. Reconocer y discutir las causas de falla de un sellador y como prevenirlo
3. Determinar cuál es el sellador más apropiado basado en el tipo de junta y su diseno y aplicación.
Webinar/Course Description: Successful specification, design, and installation of sealants requires consideration of the unique characteristics of different sealants. Treating sealants generically will likely lead to the failure of the sealant and the loss of building watertightness. This presentation will introduce the learner to the importance of proper sealant joint design, including factors that cause sealant failures, such as poor joint design or application. In addition, this presentation will focus on joint-movement guidelines, substrate movement during curing, incompatible materials, UV resistance, and surface preparation.
Webinar/Course Objectives:
1.Understand the purpose of a sealant.
2.Recognize and discuss why sealant joints fail and how to prevent it.
3.Determine the appropriate sealant based on the application and joint design. 
Presentado por:
Frank Zhong

Ingeniero Arquitecto Frank Zhong, Assoc. AIA-US, es un especialista técnico en aplicación de Ingeniería para Dow Chemical Corp. Él supervisa la región oeste de los Estados Unidos, que incluyendo Hawaii y Alaska, y México. Es parte de HPB Soluciones para edificios de alto rendimiento, Frank se graduó de la Universidad de Texas con una licenciatura en Arquitectura en Ciencias, especialidades que incluyen innovación para mejorar la libertad de diseño, aumentar la eficiencia energética, asistencia y soporte de diseño, fachada de edificios, impermeabilización, y pruebas.
Presented by:
Frank Zhong
Frank Zhong, Assoc. AIA, is an AETS Application Engineer Technical Specialist for Dow Chemical Corp. He oversees the west region of United States, which includes Hawaii and Alaska, and Mexico. He is part of the HPB High Performance Building Solutions, Frank graduated from the University of Texas with a degree in Bachelor of Science Architecture, specialties include innovation to improve design freedom, increase energy efficiency, design assistance and support, building enclosure, waterproofing, and testing enclosure performance.