Region V Meeting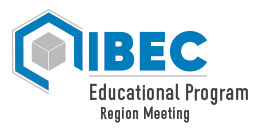 IIBEC Members: Early $175 | Regular $200
WSRCA Members: Early $175 | Regular $200
Nonmembers: Early $195 | Regular $220
Exhibitors: $500 – Limited space available and includes one attendee registration.

Note WSRCA Registrants: If a current member of WSRCA, IIBEC member rates will be honored.

Early Registration Deadline: May 31, 2020; Breakfast and lunch is included with each registration.
6.25 IIBEC Continuing Educational Hours (CEHs) and AIA learning units will be available to each registrant.
Trade Show access to the Western Roofing Expo on June 7-9 is complimentary for all contractors and consultants; please pre-register through Western States Roofing Contractors Association.
MEETING LOCATION & ACCOMMODATIONS
PARIS Hotel & Casino
3655 S Las Vegas Boulevard
Las Vegas, NV 89109
Hotel Cutoff: May 7, 2020, space-available basis
Reservations:
Paris-Las Vegas: 877-603-4389
Planet Hollywood: 866-317-1829
Bally's-Las Vegas Hotel: 800-358-8777
Group Code:
Paris-Las Vegas: SPWSR0
Planet Hollywood: SMWSR0
Bally's-Las Vegas Hotel: SBWSR0
Room Rate:
Paris-Las Vegas Hotel: $111-$155.00 per night+ tax
Planet Hollywood: $111-$131 per night + tax
Bally's-Las Vegas Hotel: $81-$121.00 per night+ tax
IIBEC REGION V PROGRAM SCHEDULE ~ WEDNESDAY, JUNE 10, 2020
7:30 AM – 8:15 AMtRegistration, continental breakfast, visit with program sponsors and networking
8:15 AM – 9:30 AMtReroofing: A Humbling Review of Things I've Learned
ttttRick Ziegler, PE, RRC, RRO – Morrison Hershfield, Salt Lake City, UT

9:30 AM – 10:45 AM Trends in Roofing Sustainability and the Lessons Learned in Denver tttt Kade Gromowski, PE, RRC, RWC – Terracon, Wheat Ridge, CO
tttt Dustin T. Smoot, RRC, RRO, CDT, Legacy LEED – Terracon, Wheat Ridge, CO
10:45 AM – 11:00 AM Morning Break – coffee – visit with program exhibitors and networking
11:00 AM – 12:15 PM Mock-Ups: Essential to Remedial Designt
ttt Eric Reynolds, PE – McGinnis Chen Associates, Inc., Long Beach, CA
tttt Jeff Chen, AIA – McGinnis Chen Associates, Inc., San Francisco, CA
12:15 PM – 1:15 PM Lunch
1:15 PM – 2:30 PMtWindow Replacement and Retrofit Strategies – Options and Best Practicesttt Joe Piñon, PE – RDH Building Science Inc., Oakland, CA
2:30 PM – 3:45 PMtRepair or Reroof? Case Study Reroofing Concha Townhome Project
ttt Gary Manlove, RRO, CSRP, HCI – JBA Consulting, Larkspur, CO
3:45 PM – 4:00 PMtBreak – soft drinks – visit with program exhibitors and networking
4:00 PM – 4:30 PMtIIBEC Region V Business Meeting