November 13, 2019
SRWA Honors Kamszik and Clark
The Sustainable Roofing & Waterproofing Alliance (SRWA) recently honored individuals and companies at the organization's Fall Conference dinner with achievement awards.
Micki Kamszik, recently retired after 23 years at IIBEC, was recognized for "outstanding leadership and service to the industry" for her leadership in the registration process. It was noted that she had held several positions at IIBEC and "was instrumental in establishing many of the protocols and processes the organization uses today." She previously received IIBEC's William C. Correll award for "demonstrating a high degree of professionalism, leadership, ethics, unselfish dedication, and significant contributions to the growth and recognition" of IIBEC.
"It was truly an honor to receive this special recognition from SRWA and greatly appreciated." -Micki Kamszik

Honored for "exemplary leadership in growth and diversity of industry organizations" was IIBEC Immediate Past President Michael Clark of Michael E. Clark and Associates, Inc. His leadership in "launching a new strategy to truly represent the organization and the changes needed for the future" through its rebranding and working with a new CEO/EVP were applauded.
"I was very gratified to accept this award on behalf of all the staff and volunteer members of IIBEC. Rebranding from RCI, Inc. to IIBEC was a group effort and was only accomplished after a lot of hard work by both groups and was years in the making. Many thanks to the SRWA for recognizing this collective achievement." -IIBEC Immediate Past President Mike Clark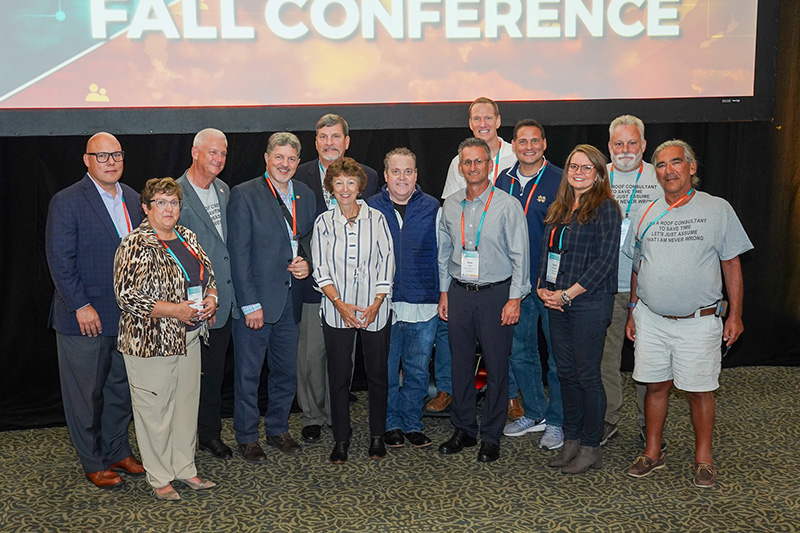 ---
New Registrations in October 2019
| Name | Registration Date | Program | Region | State |
| --- | --- | --- | --- | --- |
| Stephen Baxter | October 19, 2019 | RRC | Region VI | AB |
| Skyler N. Doornberg | October 17, 2019 | RRO | Region VI | BC |
| Kevan R. Doxtater | October 18, 2019 | RRO | Region V | TX |
| Andrew Franklin | October 3, 2019 | RRO | Region III | VA |
| Patrick Giblin | October 31, 2019 | RRC | Region III | IL |
| Jat Malhi | October 15, 2019 | RRO | Region VI | BC |
| Ryan L. Nierengarten | October 3, 2019 | RRO | Region III | MN |
| Allen M. Sensel | October 22, 2019 | RRO | Region V | WA |
| Casey Sneed | October 11, 2019 | RRO | Region IV | TX |
| Seth Tanner | October 30, 2019 | RRC | Region IV | TX |
| Colin J. Tougas | October 17, 2019 | RRO | Region VI | BC |
| Robert L. Worthing | October 4, 2019 | RRC | Region V | CA |
---
New Members in October 2019