February 3, 2020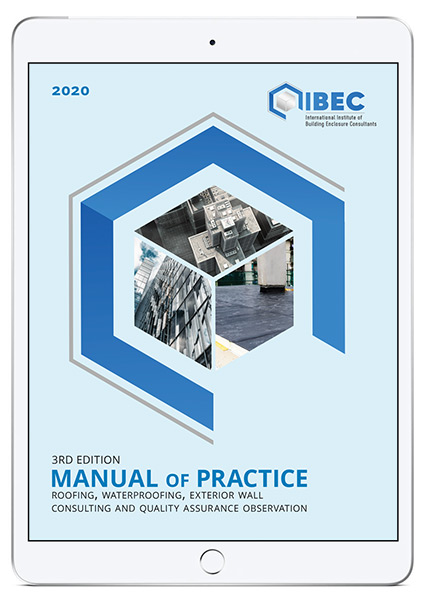 The 2020 IIBEC Manual of Practice: Roofing, Waterproofing, and Exterior Wall Consulting and Quality Observation, is the long-awaited and all-new third edition on industry standards of practice for building enclosure consultants and quality assurance observers. The Manual, with over 300 pages of information, photos, graphics, and fillable forms, provides recommended best practices in all areas of building enclosure consulting, including specialized areas such as commissioning, testing, and expert witness services. New topics, topical to building enclosure consulting today, are drone use for roof and façade examinations, electronic leak detection for locating breaches in membranes, and whole-building air leakage testing for determining the airtightness of enclosures. Also included are procedures for construction contract administration, contract administration forms, a complete glossary of industry terms, and standards pertinent to building enclosure consulting.
One of the co-leaders of the IIBEC task force that developed the revision is Rick Craig. He explains the Manual's revision was necessary due to the ever-expanding activities of IIBEC, its consultants, and observers, coupled with technological advances that have occurred in practices. He states: "The previous version of the Manual focused primarily on best practices for roof consultants and observers. The revised edition addresses best practices for all aspects of building enclosure consulting and observation." By way of example, he points out that IIBEC now has consulting and observation credentials that were not in existence when the previous version of the Manual was developed a decade ago.
The fully digital Manual is now available for pre-order. Order your manual now and pay only $295 for members and $375 for nonmembers by March 25. A five-day-only (March 26-31) convention rate will be $325 for members and $399 for nonmembers. As of April 1, the price will be $349 for members and $429 for nonmembers.
Professionals who follow the practices, principles, and precepts of this Manual will provide valuable service to their clients.
To purchase the Manual of Practice, visit the IIBEC store here.