May 5, 2022
IIBEC Senior Director of Technical Services Emily Lorenz, PE, FACI, attended the ASTM committee week in Seattle, Washington, April 24–28, 2022, and participated in meetings for committees E06 on Performance of Buildings and E60 on Sustainability. During the meeting Amy Costello (pictured, left), current ASTM Committee E60 on Sustainability chair, presented an award of appreciation to Emily Lorenz (pictured, right) for her previous work as chair of ASTM E60.
Notable items addressed during committee week include: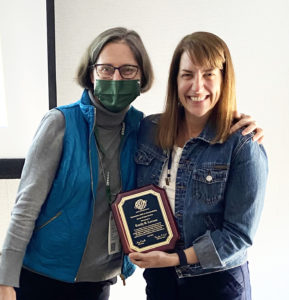 Revisions to the two commissioning standards under the purview of ASTM E06.55 subcommittee on Performance of Building Enclosures. ASTM E2813 is being edited to clarify the minimum requirements of the testing table. A new work item is going to be taken out for ASTM E2947 to eliminate repetition within the standard guide.
In E06.41, Air Leakage and Ventilation Performance, a draft report is under review on an interlaboratory study related to whole-building testing. The findings from that report will be balloted as part of a revision to ASTM E3158.
In ASTM E60, a work group is modifying the Standard Guide for General Principles of Sustainability Relative to Buildings (ASTM E2432) to be applicable to all structures. Another work group is developing a general principles of resilience document (WK54254).