August 23, 2018
Levine and Palmer Join WJE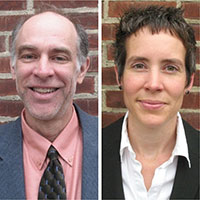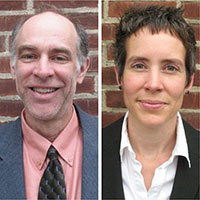 Wiss, Janney, Elstner Associates (WJE) announces that Jeffrey Levine has joined the firm as an associate principal, while his colleague, Julie Palmer, will join as a project associate. The operations of Levine & Company, founded in Ardmore, PA, in 2006, will be brought into WJE. Levine is a recognized industry expert in slate and metal roof systems with 30 years in the business of building materials conservation. Palmer has more than 15 years of roof consulting experience with a focus on historical buildings. They will be located in WJE's Philadelphia office. Both are members of RCI.
RCI CBES Will Offer AIA Credits
The American Institute of Architects (AIA) has chapters that operate in Canada. As such, those who attend sessions offered at the Canadian Building Envelope Technology Symposium in Missisauga, ON, in September will be eligible to receive AIA LU/HSW credits.
RCI on Rally Congress
RCI has created a more effective way for members to contact their congressional representatives and alert them to key issues of interest to the building envelope industry through the "Rally Congress" link on our website. The link is in the footer—the very bottom left of every page of the RCI website. You can read more about our Rally Congress initiative here, or go straight to the RCI Rally Congress page.
New Registrations in July 2018
| Owner | Certification Date | Program | Region |
| --- | --- | --- | --- |
| William G. Biletzskov | July 3, 2018 | RRO | Region II |
| Matthew T. Castillo | July 20, 2018 | RRO | Region IV |
| Jody J. Collins | July 2, 2018 | RRO | Region II |
| James Dougherty | July 6, 2018 | RRC | Region II |
| Shawn E. Doyle | July 31, 2018 | RRO | Region VII |
| Jeorge Hopkins | July 17, 2018 | REWO | Region V |
| R. Keith Parker | July 23, 2018 | REWC, RBEC | Region II |
| Bradley H. Waters | July 27, 2018 | RRO | Region II |
| David Willers | July 9, 2018 | RWC, RBEC | Region II |
| John C. Wylie, PE | July 24, 2018 | REWC | Region II |
New Members in July 2018
| Name | Company | State | Type | Primary Chapter |
| --- | --- | --- | --- | --- |
| Kevin Ainscow | Roof-Spec Consulting Alberta Limited | AB | Consultant | Region VI |
| Slaymaan Altasaini | Stantec Architecture Ltd. | AB | Student | Region VI |
| Brian Barlow | Stonebridge Construction Services, LLC | FL | Industry | Region II |
| Matthew Castillo | Building Exterior Solutions, LLC - A Terracon Company | TX | Consultant | Region IV |
| Gavin Chenery | Midpac Building Services | HI | Consultant | Region V |
| Stephen Childs | OMG Roofing Products | MA | Industry Affiliate | Region I |
| David Clark | PEA, Inc. | MI | Consultant | Region III |
| Dylan Dedrick | Raymond Engineering-Georgia, Inc. | GA | Consultant Affiliate | Region II |
| Jerry Evans | Crenshaw Consulting Group LLC | TX | Consultant Affiliate | Region IV |
| Arkeem Frazier | Raymond Engineering-Georgia, LLC | GA | Consultant Affiliate | Region II |
| J. Grant Gillum | Berridge Manufacturing Company | TX | Industry | Region IV |
| Sara Hagos | IKO Industries | ON | Industry | Region VII |
| Steve Hall | Building Exterior Solutions, LLCA Terracon Company | TX | Consultant | Region IV |
| Christian Hartnett | GAF Materials Corp. | CA | Industry | Region V |
| Jeremy Hill | RoofConnect | AR | Industry | Region IV |
| Joseph Jernigan | Jernigan International LLC | TX | Consultant | Region IV |
| Jennifer Keegan | GAF Materials Corp. | NJ | Industry Affiliate | Region I |
| Ross Kimble | Rimkus Consulting Group Inc. | KY | Consultant Affiliate | Region II |
| David Liccione | Bodis Group Inc. | CO | Consultant Affiliate | Region V |
| Brian Linc | Technical Assurance Inc. | OH | Consultant Affiliate | Region I |
| John Mahan | Mahan Slate Roofing Co. Inc. | MA | Industry | Region I |
| Todd Moss | EFI Global Inc. | NC | Consultant Affiliate | Region II |
| Joseph Ortiz | Technical Assurance Inc. | OH | Quality Assurance Observer | Region I |
| Randy Pimpler | Jim Whitten Roof Consultants LLC | TX | Consultant Affiliate | Region IV |
| Scott Riley | Wiss, Janney, Elstner Associates, Inc. | CO | Consultant Affiliate | Region V |
| Nader Rizk | The Canadian Engineers | ON | Quality Assurance Observer | Region VII |
| Benjamin Scales | MRB Contractors, LLC | TX | Industry | Region IV |
| Dan Smallwood | Polyglass USA, Inc. | FL | Industry Affiliate | Region II |
| John Sughrue | Pella Windows & Doors | MA | Industry | Region I |
| Edward Sullivan | Building Engineering-Consultants Inc. | GA | Consultant | Region II |
| Sherman Vines | EFI Global Inc. | GA | Consultant | Region II |
| Anthony Weaver | Roof Asset Management Inc. | AL | Consultant Affiliate | Region II |
| Mark Westbrook | C4 General Contractor, LLC | TX | Industry | Region IV |
| Sara Wolfe | Amtech Solutions Inc. | TX | Consultant Affiliate | Region IV |