August 9, 2021
IIBEC's premier annual event features over 17 hours of live, in-person educational seminars, a two-day trade show, and live product demonstrations.
IIBEC's 2021 International Convention and Trade Show provides a forum for professionals who share a common goal of sustaining the highest standards and a desire to learn from one another. It provides an opportunity to explore current products and technologies; exchange ideas, solutions, insights, and information; attend cutting-edge educational sessions; and learn from renowned experts.
Attendees broaden and enhance their awareness of the industry and develop close working relationships with peers and vendors. By attending the convention and trade show, participants also add value to the services they provide their customers. Table 1 presents a high-level schedule of events.
This year's event is being held in Phoenix, Ariz., where lush desert landscapes give way to an inviting and revitalizing city. Hiking trails, iconic sunsets, a vibrant downtown, and award-winning cuisine await you.
TRADE SHOW
The 2021 IIBEC International Trade Show offers attendees the chance to meet and learn from representatives of roofing, waterproofing, and exterior wall product manufacturers. Industry leaders, large and small, display their products and answer technical questions.
Discover Products for Better Building Enclosures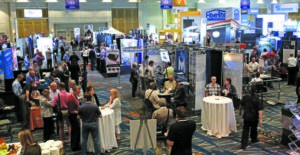 Exhibiting companies send knowledgeable staff to the IIBEC trade show to provide building enclosure consultants with answers to important questions about material characteristics and applications. Research and development professionals attend to trade valuable insights into the future direction of today's building enclosure materials.
Earn CEHs for Attending the IIBEC Trade Show
Attendees will earn 2.0 Continuing Educational Hours (CEHs) for spending up to four hours on the trade show floor. Attendees who spend more than four hours at the trade show will receive 3.0 CEHs.
Trade Show Exhibit Dates and Product Demonstrations
The trade show will take place on Friday, September 17, and Saturday, September 18, 2021. The live product demonstration schedule is shown in Table 2.
EDUCATION
The latest in industry research and practices is presented in technical seminars, where attendees may ask questions and earn CEHs. An overview of the many educational offerings is included in Table 3.
NETWORKING EVENTS
Other events include administrative and committee meetings to determine IIBEC's future direction, auxiliary seminars, a golf tournament, regional meetings, an awards luncheon, and a celebratory banquet with entertainment.
President-Elect's Golf Tournament
The tournament will be organized as a shotgun, four-person scramble. A golfers' breakfast, tournament buffet luncheon, and snacks on the course will be provided. The event will conclude with an awards ceremony. Raven Golf Club Phoenix's spectacular championship golf course, array of world-class amenities, and unparalleled guest service have earned it recognition among the nation's top daily-fee golf courses. The exclusive sponsor for this event is DERBIGUM.
IIBEC Opening Reception
Begin your convention experience by renewing old acquaintances and making new, meaningful connections. Whether this is your first IIBEC event or you've been a longtime member, the opening reception is the perfect opportunity to expand your network and find new ways to get involved. The exclusive sponsor for this event is Versico Roofing Systems.
Opening Ceremony and Keynote Speaker: Adam Markel
Are you looking for insights and strategies for creating a resilient culture and embracing change that will elevate you and your team's performance? Our keynote presenter, Adam Markel, guides and empowers high achievers to navigate change, transform cultures, and drive growth. Markel is an attorney, entrepreneur, executive mentor and strategist, and author of the book Pivot (#1 Wall Street Journal, USA Today, Los Angeles Times, and Publisher's Weekly bestseller). His specialty is resilience and change management, helping individuals and companies create sustainable, high-performance strategies. The exclusive sponsor for this event is Johns Manville.
Trade Show Grand Opening and Reception
Enjoy a complimentary reception as the excitement and buzz of the trade show floor where exhibitors and sponsors share information and demonstrate the latest in industry innovations, technologies, products, and services. Be sure to check the schedule of live product demonstrations occurring each day. The exclusive sponsor for this event is SITURA, Inc.
Trade Show with Full Breakfast Buffet
A full breakfast buffet is provided Saturday morning. Attendees may enter to win cash prize giveaways at the trade show Saturday morning. The exclusive sponsor for this event is Carlisle SynTec Systems.
Awards Luncheon
Don't miss this celebratory gathering as IIBEC recognizes its outstanding members and volunteers. Support your peers and enjoy the camaraderie at this delicious luncheon. Discover the history of the IIBEC awards: the Herbert Busching Award, William C. Correll Award, Michael DeFrancesco Award, Richard M. Horowitz Memorial Award, and
Lifetime Achievement Award. The exclusive sponsor for this event is Sika Corporation.
IIBEC-RCI Foundations' Reception and Event — Back in the Saddle
All attendees are encouraged to attend the combined fundraiser for the United States and Canadian IIBEC Foundations. There will be live and silent auctions, a 50/50 raffle, and door prizes. The exclusive sponsor for this event is GAF.
President's Reception
This celebration and finale of the convention is your chance to reminisce with fellow members over a sumptuous meal and enjoy lively entertainment. The exclusive sponsor for this event is Firestone Building Products.