February 13, 2019
Geoffrey Charles Garabedian Passes Away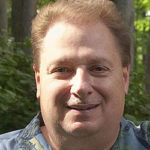 Geoffrey "Geof" Charles Garabedian died Nov. 27, 2018, at the age of 62 in Rochester Hills, Michigan. He is survived by his wife Andrea, son Zorek, sister Pat Hrycyszen, and brother Gregory Garabedian. Geof was employed by Weathertech Consulting Group Inc. in Utica, MI since 1998. Previous to that, he was president of Tri-Ply and director of research and development for U.S. Intec. In 2001, Garabedian became a principal and then president and CEO for WeatherTech. He was a Consultant member of RCI, having formerly been the treasurer and then president of RCI's Great Lakes Chapter.
Hanelt Hired by Raven Roofing
Stefan Hanelt, RRO, AScT, RSE, has been hired as an estimator and project manager by Raven Roofing Ltd., based in Coquitlam, BC, Canada. He started his career in 1991 as an apprentice working for RUBEROID Germany. He studied construction engineering at Baufachschule in Dresden, Germany. Since moving to Canada in 2007, he has become an Applied Science Technologist and earned his RRO. He is a member of RCI Western Canada Chapter's Technical Committee.


Rice Joins Amtech
Amtech Solutions has announced the appointment of Alison Rice, MBA, RRO, CDT, as Amtech's director of sales and marketing. Rice spent the past 11 years in a variety of technical, sales, marketing, and business leadership roles. She graduated from West Virginia University with a bachelor of science in industrial engineering degree before going on to earn her master's in business administration from Denver University. She is a Registered Roof Observer (RRO), a Construction Document Technologist (CDT), and a member of RCI. Based primarily in Amtech's Denver office, Rice will focus on national business development, client relations, and global marketing and branding initiatives. She can be reached at alisonrice@amtechsls.com.
Hunter Hired by IR Analyzers/Vector Mapping
IR Analyzers/Vector Mapping announces that Sheryl Hunter has joined their sales team in account management and business development. Hunter has extensive experience in the automotive industry, where she received national recognition for her exceptional customer service. She is a member of Chicago Women in Roofing, National Women in Roofing, and RCI.
New Registrations in January 2019
| Name | Registration Date | Program | Region |
| --- | --- | --- | --- |
| David Berthold | January 8, 2019 | RRO | Region I |
| Jordan A. Bowie | January 28, 2019 | RRO | Region V |
| Cory Couture | January 1, 2019 | RRO | Region VI |
| Tricia C. Cramer | January 30, 2019 | RRC | Region II |
| Paul A. Dombrowski | January 14, 2019 | RRC | Region III |
| Heather K. Downey | January 30, 2019 | RRO | Region III |
| Adam Geszvain | January 10, 2019 | RRO | Region III |
| Luis A. Lugo | January 16, 2019 | RRO | Region II |
| Max P. Noblin | January 10, 2019 | RRO | Region II |
| Eric R. Raatz | January 21, 2019 | REWC, RBEC | Region III |
| Michael P. Sexton | January 15, 2019 | RRO | Region III |
| Jon Solland | January 10, 2019 | RRC | Region VI |
| James D. Younger | January 16, 2019 | RRC | Region V |
| | | State | Type | Region |
| --- | --- | --- | --- | --- |
| Brett Adamson | SKA Consulting Engineers, Inc. | NC | Consultant | Region II |
| Rod Ali | FiftySeven | MB | Industry | Region VI |
| Matt Allen | H.B. Fuller Company | IL | Industry | Region III |
| Brian Altvater | Centimark Corp. | PA | Industry | Region I |
| Douglas Ault | Fishburn Sheridan & Associates Ltd. | ON | Consultant | Region VII |
| Andrea Baird | Raths Raths & Johnson | IL | Consultant | Region III |
| Simone Ballard | J.Watson Roofing Consulting | BC | Quality Assurance Observer | Region VI |
| Scott Balot | J.S. Held LLC | GA | Consultant | Region II |
| Charles Barnicott | Hunter Allan Building Services Ltd. | AB | Consultant | Region VI |
| John Beattie | Roof Maintenance Systems | NJ | Industry | Region I |
| William Benesch | Madsen, Kneppers & Associates, Inc. | IL | Consultant Affiliate | Region III |
| Chad Board | Rugged Roofing and Construction, LLC | OK | Industry | Region IV |
| Jason Bolanz | ARMKO Industries Inc. | TX | Industry Affiliate | Region IV |
| Bill Boucher | Nederveld Inc. | IN | Consultant Affiliate | Region III |
| Kent Bozlinski | Wetherholt and Associates Inc. | WA | Quality Assurance Observer | Region V |
| Terry Bruce | Tremco Inc. | AB | Industry Affiliate | Region VI |
| Roger Burns | Sherwin Williams | TX | Industry Affiliate | Region IV |
| Scott Burton | Hal Industries Inc. | BC | Industry | Region VI |
| Steve Butler | Dynamic Fastener | MO | Industry | Region III |
| Gerry Caplette | Tremco Inc. | ON | Industry Affiliate | Region VII |
| Stephen Carroll | Heritage Roofing Inc. | WV | Industry Affiliate | Region I |
| Joshua Chambers | RDH Building Science Inc. | BC | Consultant Affiliate | Region VI |
| Viken Cholakian | Terrapex | ON | Consultant | Region VII |
| Jonathan Clark | Raymond Engineering-Georgia, LLC | GA | Consultant Affiliate | Region II |
| Jonathan Clements | J.S. Held, LLC | AZ | Consultant | Region V |
| Stuart Collie | RMIS Engineering | SK | Consultant Affiliate | Region VI |
| Thomas Cote | Roof 1 Consultants Ltd. | NB | Quality Assurance Observer | Region VII |
| Quin Couture | Roof Management Consultants Inc. | MA | Consultant Affiliate | Region I |
| Ian Cranston | Madsen, Kneppers & Associates, Inc. | TX | Consultant Affiliate | Region IV |
| Dan Crates | Georgia-Pacific Gypsum LLC | OR | Industry | Region V |
| Ron Doddridge | Moisture Intrusion Solutions | FL | Consultant Affiliate | Region II |
| Paul Dombrowski | Roth/Sodexo | MI | Quality Assurance Observer | Region III |
| Jessica Dues | GAF Materials Corp. | TN | Industry | Region II |
| Samuel Eyle | J.S. Held LLC | FL | Consultant | Region II |
| David Felleti | Wiss, Janney, Elstner Associates Inc. | IL | Consultant Affiliate | Region III |
| Eduardo Frias | RMIS Engineering | SK | Consultant Affiliate | Region VI |
| Brian Gamble | Curtainwall Design & Consulting Inc. | TX | Consultant Affiliate | Region IV |
| Robert Gordon | MRB Contractors, LLC | TX | Industry | Region IV |
| Michael Hayes | Convoy Supply Ltd. | ON | Industry Affiliate | Region VII |
| Lisa Hess | CTL Engineering Inc. | FL | Consultant | Region II |
| Matthew Hines | MRB Contractors, LLC | TX | Industry | Region IV |
| David Horton | Building Envelope Technologies Inc. | MA | Consultant Affiliate | Region I |
| Erin Humphrey | Wiss, Janney, Elstner Associates, Inc. | CA | Consultant | Region V |
| Sheryl Hunter | IR Analyzers / Vector Mapping | VT | Consultant Affiliate | Region I |
| Connor James | Dow Chemical Company | ON | Industry | Region VII |
| Bryan Jones | Terracon | KS | Consultant Affiliate | Region III |
| Sam Jouppi | Tremco Inc. | ON | Industry | Region VII |
| Jim Kaylor | Durability Consultants | CA | Industry | Region V |
| Taylor King | American Roofing Sales Inc. | GA | Industry Affiliate | Region II |
| Evan Landis | Simpson Gumpertz & Heger Inc. | DC | Consultant Affiliate | Region I |
| Frank Largen | Curtainwall Design & Consulting Inc. | TX | Consultant | Region IV |
| Erik Laverdiere | Soprema Inc. | MA | Industry | Region I |
| Randy Lerp | Raba-Kistner Consultants Inc. | TX | Consultant | Region IV |
| Michael Ludwig | MRB Contractors, LLC | TX | Industry | Region IV |
| Lisa Madden | Sika Corporation | MD | Industry Affiliate | Region I |
| Andrew Matanovic | Pinnacle Group Inc. | ON | Quality Assurance Observer | Region VII |
| Kevin McCarthy | SKA Consulting Engineers, Inc. | NC | Consultant Affiliate | Region II |
| Logan McCraw | SKA Consulting Engineers, Inc. | NC | Consultant Affiliate | Region II |
| Willy Meyer | Pinchin Ltd. | ON | Consultant | Region VII |
| Jose Miranda | Uniflex Fluid Applied Roof Systems | AZ | Industry Affiliate | Region V |
| Rick Montoya | Acme Cone Company LLC | OR | Industry | Region V |
| Samuel Moore | Tremco Inc. | ON | Industry Affiliate | Region VII |
| Matt Motolko | University of Notre Dame | IN | Associate | Region III |
| John Mulholland | MRB Contractors, LLC | TX | Industry | Region IV |
| Brian Munson | Wetherholt and Associates, Inc. | WA | Quality Assurance Observer | Region V |
| Ryan Nierengarten | Terracon | MN | Consultant | Region III |
| Rob Noviello | Siplast | AB | Industry | Region VI |
| Michael Ozenich | The Stone House Group | SC | Consultant | Region II |
| Dennis Parker | ARMKO Industries Inc. | TX | Industry Affiliate | Region IV |
| Michel Paulin | Fishburn Sheridan & Associates Ltd. | ON | Consultant | Region VII |
| Jim Peterson | J & F Facility Services Inc. | WI | Facility Manager | Region III |
| Jodi Pierce | P & A Roofing and Sheet Metal Inc. | FL | Industry | Region II |
| Joseph Pretz | DERBIGUM Americas Inc. | MO | Industry Affiliate | Region III |
| Andrew Ramsay | North 49 Sales Agency Inc. | ON | Industry Affiliate | Region VII |
| Lance Robson | Building Envelope Technologies Inc. | MA | Consultant | Region I |
| Christopher Sanchez | Madsen, Kneppers & Associates, Inc. | TX | Consultant Affiliate | Region IV |
| Chris Sherwood | Conley Group, Inc. | TX | Quality Assurance Observer | Region IV |
| Andrew Singeltary | Madsen, Kneppers & Associates, Inc. | TX | Consultant | Region IV |
| Shawn Sinnott | Tremco Inc. | ON | Industry Affiliate | Region VII |
| Greg Smith | Atlas Roofing Corp. | WA | Industry | Region V |
| John Smith | Raymond Engineering-Georgia, LLC | GA | Consultant Affiliate | Region II |
| Mark Smith | Walsh Construction Co. | WA | Industry | Region V |
| Melinda Sokoloski | MS Aerial | MA | Associate | Region I |
| Andrea Sonan | Building Envelope Technologies Inc. | MA | Consultant Affiliate | Region I |
| Colin Soutar | Tri-Tech Pinnacle Group Inc. | ON | Quality Assurance Observer | Region VII |
| Richard Swensen | Terracon | CA | Consultant | Region V |
| Bill Tierney | Morgan Hayden/ShieldWorks Dust & Debris Containment | KY | Industry | Region II |
| Savannah Vetter | MTE Consultants | ON | Consultant | Region VII |
| Tedd Waddell | Aquatech Consultancy Inc. | CA | Consultant | Region V |
| Steven Wasilefsky | University of South Florida | FL | Facility Manager | Region II |
| Scott Wasuk | Carlisle Syntec Systems | MA | Industry | Region I |
| Glenn Williamson | Conley Group Inc. | TX | Consultant Affiliate | Region IV |
| Todd Wolf | Nexus Building Envelope Consultants | WA | Consultant Affiliate | Region V |
| David Wyatt | Braun & Steidl Architects | OH | Consultant Affiliate | Region I |