September 9, 2016
Death Notice
William J. "Jack" Gibson joined RCI in May of 1996, and was a member for many years. He passed away on August 27, 2016. You can view his obituary and leave a memory in the guestbook.
Cattel Retires
After 40 years in the industry,
Gary Cattel
,
RRC
, FRCI, PE will officially retire on September 30, 2016. To honor this occasion,
REI Engineers, Inc.
hosted a celebration at the Angus Barn in Raleigh, NC on August 26. Guests included current and former REI employee owners, clients, contractors, manufacturers, two past presidents of RCI (Albert Duwyn and Mike Blanchette) and RCI's VP and CEO Jim Birdsong.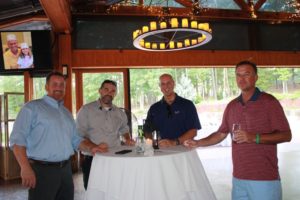 Gary earned his bachelor of science in civil engineering from Wayne State University in 1978. Prior to graduation, he began his career in the roofing industry at Roofing Consultants, Inc. in Michigan. In 1981, he relocated to Ohio to continue his career with a different firm, and ultimately migrated to North Carolina in 1988. In 1997, Gary founded Roof Engineering, Inc. (which later became REI, Inc.) in the bonus room of his home in Raleigh. Gary was a founding member of the Carolinas Chapter and ultimately served as president of RCI from 2006 to 2007. After several successful years at the helm of REI, he executed his succession plan by converting the company to a fully employee owned ESOP in 2008. In 2010, Gary stepped down as president and promoted Scott Hinesley, RRC, PE to take his place to lead the company.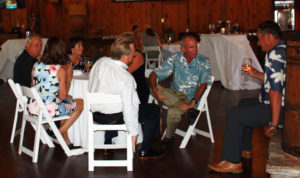 To recognize Gary's accomplishments and humanitarian endeavors, REI Engineers made a donation to Overflowing Hands Nicaragua outreach program in his honor.
In his spare time, Gary plans to continue hustling friends on the golf courses of Florida and North Carolina while continuing to support Overflowing Hands.
New Contact Information
John K. Aleksic, RRC, RRO, CDT
Unified Building Sciences, Inc.
Senior Consultant
Board VP NTCRCI
209 E. Greenbriar Lane
Dallas, TX 75203-1013
Office: 214-942-0385
Cell: 214-606-5158
johna@unifiedgroup.com
www.unifiedgroup.com
——
Steven C. Grant, RRO,
MRICS, PMP, RS, RSS, PRA,
Certified Thermographer
Director of Operations
Amtech Solutions
Carillon Towers
13601 Preston Road, Suite W1030
Dallas, TX 75240
Office: 972-690-6044
Cell: 571-247-3733
stevegrant@amtechsls.com
——
Scott Toller, RRO, CDT
Senior Project Manager
DryTec Moisture Protection
Technology Consultants
8750 N. Central Expressway, Suite 1725
Dallas, TX 75231
Office: 214-818-0563, ext. 31
Fax: 214-818-0567
Cell: 469-693-1423
stoller@drytecmptc.com
Other News

John Aleksic, RRC, RRO, CDT has accepted a full-time position as a senior consultant with Unified Buildings Sciences, Inc. in Dallas. John is the Vice President of the North Texas chapter of RCI, Inc, and has been an RCI member since 2008.
Steve Grant, RRO, MRICS, PMP, RS, RSS, PRA, Certified Thermographer, has joined Amtech Solutions, recently relocated to Carillon Towers in Dallas, TX, as their Director of Operations. Steve joined RCI in 2013, and earned his RRO in 2015.
Scott Toller, RRO, CDT, is now a Senior Project Manager with DryTec Moisture Protection Technology Consultants, in Dallas, TX. Scott has been a member of RCI since 2004 and earned his RRO in April of this year. He also won first place for small projects in the 2007 Document Competition for a roof project on Dallas Hall at Southern Methodist University.
20-year RCI Member Edis Oliver, of Wiss, Janney, Elstner Associaties, Inc. has been appointed to the Industry Advisory Council at Texas A&M. Oliver was a speaker at the 30th RCI International Convention & Trade Show, has served on the Advocacy Committee since 2013, and won third place large projects in the 2015 Document Competition for Littlefield and Carothers Dormitories at UT Austin.
New RRCs for August 2016
Full Name
Company
State
Certification Date
Region
Kathryn Gromowski, RRC, PE
Pie Consulting & Engineering
CO
8/25/2016
Region V
New Members for August 2016
Full Name
Company
State/
Province
Category
Region
Ben Ansley
Hixson Consultants, Inc.
AL
CA
II
Justin Arendale
Versico Roofing
GA
I
II
Chad Augspurger
Unified Building Sciences, Inc.
TX
CA
IV
Emma Cardini
Wiss, Janney, Elstner Associates, Inc.
MA
CA
I
James Corcoran
Building Envelope Technologies, Inc.
NY
FM
I
Scott Curry
Malarkey Roofing Products
OK
IA
IV
Tim Duffy
DTR Consulting Services
CA
CA
V
Gary D. Elliott
Benchmark, Inc.
KS
CA
III
Jim Flickinger
Mule-Hide Products Co., Inc.
MD
I
I
Nicholas S. Gauvreau
Roof Solutions, Inc.
NC
QAO
II
Ken Gieseke
McElroy Metal, Inc.
LA
IA
IV
Aaron Gould
VaproShield LLC
TN
I
II
Jeremy Gwinner
McDonald & Wetle
WA
IA
V
Brandon Hagerman
Roof Solutions, Inc.
NC
QAO
II
Charles L. Hall
HDH Associates, P.C.
VA
QAO
II
Sandy Hembroff
Design Works Engineering & Inspections Ltd.
AB
CA
VI
Derrick Hutchinson
United States Gypsum Company
IL
IA
III
Jason Johnson
SFS Intec
CA
S
V
David Lee
B&L Sheet Metal & Roofing
IN
I
III
Guy Long
PROSOCO, Inc.
FL
IA
II
Shawn Mackie
Roof Management Consultants
MA
CA
I
Ross Neag
Chicago Building Inspections
IL
A
III
David Niles
Simpson Gumpertz & Heger Inc.
MA
CA
I
Richard O'Brien
Xpera Inc.
CA
C
V
Vince O'Hanlon
Heritage One Roofing
TX
I
IV
Bruce B. Owens
REI Engineers
SC
CA
II
Garrett Pope
BE-CI
TX
CA
IV
Kenn Reff
Tremco, Inc.
IN
I
III
Zachary Ross
WNC Roofing, LLC
NC
I
II
David Sbraccia
Owens Corning
MI
I
III
Dave Sommer
Interra Enterprises, Inc.
WA
I
V
Ronald P. Soto
Allana, Buick & Bers
HI
CA
V
Richard Spreen
Shredded Tire, Inc.
FL
I
II
Harold R. Stephens
PBK, Inc.
TX
CA
IV
Jesus J. Torres
Raymond Engineering-Georgia, LLC
GA
QAO
II
Shawn Vetere
Knollmeyer Building Corp.
MA
I
I
David J. Wyatt
TC Architects
OH
C
I