June 28, 2021
The RCI-IIBEC Foundation and RCI Foundation Canada auction is set for 5:30 p.m. on Saturday, September 18, at the 2021 IIBEC Convention and Trade Show in Phoenix, Ariz. The Auction is an opportunity to help grow the building enclosure industry by supporting both Foundations and their missions to fund research, advance education, and disseminate information on issues important to the industry.
Why is growing the building enclosure industry important to consultants? A growing industry helps consultants perform their jobs more effectively and efficiently, find qualified staff, and keep up with the latest industry standards and trends, and consequently garner more work.
Your participation in the auction, donations, gifts, and other support help the Foundations fund research grants, publish educational materials, and create convention sponsorships and academic scholarships for students studying architecture, engineering, and building and construction sciences. With your contributions this past year, the Foundations updated the Roof Drainage publication, awarded eight academic scholarships across the country totaling $30,000, and supported the creation of the Joe Hale Library of Fort Chiswell, Va.
This year's event has "Back in the Saddle" as its theme and will feature silent and live auctions, a 50/50 drawing, random drawings for $50, $100, and $250 VISA gift cards and a "call to heart" to support the student convention fund. You must be present to win. You will find something among the numerous auction items for every taste and budget—including a Mason County (Texas) diamond pendant in the live auction!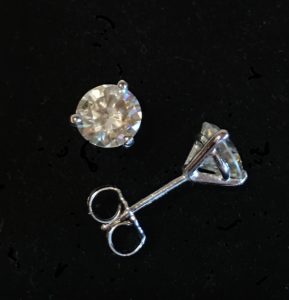 Carried over from last year's is the "Diamonds Are a Student's Best Friend" promotion, a very special drawing for a $3,000 pair of diamond earrings. This drawing was created to benefit the IIBEC Convention/Student Participation fund. For a gift of $100 or more, the first 100 individual donors will receive a 1-in-100 chance to win earrings. These earrings, which come with a certificate of authenticity, showcase round brilliant diamonds mined in Brazil (total carat weight of 1.72 [0.85 + 0.87]) with faceted girdle edges in a 14k white gold, champagne-style setting with double click rings.
The auction will be held in the Phoenix Ballroom A-C on the third level of the Sheraton Phoenix Downtown. Tickets are $20 each and are available through convention online registration, on the tradeshow floor on Saturday (September 18), or at the door. (Pre-purchasing your ticket before the auction is encouraged.) Cash, check, and credit card will be accepted.
Thank you for taking part in this special evening, and for your ongoing support of the Foundations!
For more information, contact Foundations Development Officer Rick Gardner at rgardner@iibec.org or 919-859-0742.