September 27, 2018
---
Chicago Area Chapter Supports Scholarships, Hosts Summer Program
By Chicago Area Chapter Treasurer Patrick Reicher
CAC Building Envelope Foundation Awards Scholarships
The CAC Building Envelope Foundation is proud to announce 2018 fall semester scholarship recipients, who are all seniors at the Illinois Institute of Technology (IIT), and are majoring in either architectural engineering or civil engineering: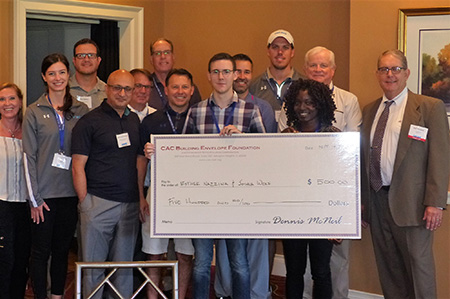 Xavier John
Esther Nazziwa
Khadijah Nesbitt
Joshua Wolf
Two of the recipients attended and were recognized at the Chicago Area Chapter of RCI, Inc. (CAC-RCI) summer meeting and program on Friday morning, September 14, 2018.
About the CAC Building Envelope Foundation:
CAC-BEF is a not-for-profit 501 (c) (3) Illinois corporation established to assist in meeting the needs of building envelope professions. The mission of the CAC-BEF is to create opportunities for the advancement of building envelope professions. The Foundation will accomplish its mission by providing financial assistance to:
Individuals for developing or advancing their careers in the building envelope professions
Groups to undertake or continue research that advances the building envelope sciences
Organizations that develop or promote education in the building envelope sciences and practice
To learn more, please visit: www.cac-bef.org or contact CAC-BEF Secretary Rolf Snobeck, RRC, at 630-514-1867.
CAC-RCI Summer Program Summary and Upcoming Fall Event
The Chicago Area Chapter of RCI, Inc. (CAC-RCI) conducted its summer program on Friday, September 14, 2018, at Arrowhead Golf Club in Wheaton, IL. The event was attended by approximately 50 CAC-RCI members, speakers, guests, and exhibitors. Tabletop exhibitors included Tecta America, A&D Building Products, and Architectural Building Solutions.
The first program presentation was "Adhered Masonry Veneer Walls – Design Through Construction" by Renae Kwon and Rich Koziol of Wiss, Janney, Elstner Associates, Inc. The second presentation was "Quality Assurance Observation of Below-Grade Waterproofing" by Ray Makiejus of Flood Testing Laboratories. Both presentations were well received and provided an opportunity for participants to ask questions along the way. Immediately following the educational program, CAC-RCI held their 2nd Annual Golf Outing at the on-site golf course.
With autumn on the horizon, CAC-RCI is currently gearing up for the fourth and final education program of 2018. Please join us on Friday, November 2, 2018, for another day of great speakers, networking, and catching up with friends and colleagues. Program registration includes a brewery tour following the education program.
Registration is at https://www.cac-rci.org/cac-rci-event-registration/.
Program agenda:
11:00 – 12:00 PM – Registration, tabletop exhibits, networking, welcome, introductions & announcements
12:00 – 12:30 PM – Luncheon
12:30 – 1:30 PM – Tech session #1: "Managing Project-Specific Details – Real-Time Collaboration Between the Design Professional and Product Specialist" by Dave Kimball, PROSOCO
1:30 – 1:45 PM – Break and tabletop exhibits
1:45 – 2:45 PM – Tech session #2: "Wind Warranties vs. Wind Uplift Requirements for Roofing Systems" by Joe Schwetz, Sika Sarnafil
2:45 – 3:00 PM – Chapter business meeting
3:00 – 4:00 PM – Brewery tour
Location:

The chapter hopes to see you there!
---
Georgia Chapter Enjoys a Day at the Park
By Georgia Chapter Vice President Rich Chapman
On September 5, 2018, the Georgia Chapter of RCI hosted its annual event, "A Day at the Park." The first-place Red Sox were in town to take on the hometown Braves. The Red Sox won 9-8 with a two-run shot in the ninth by Brandon Phillips.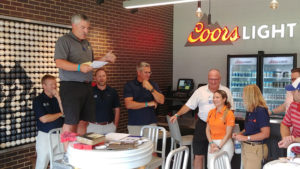 Sixty-nine roofing and waterproofing consultants, manufacturers' representatives, and contractors showed up for the event. Georgia RCI would like to thank their sponsors: USG, SOPREMA, Versico, Sarnafil, Carlisle, Southern Wall, and Tecta America. Without the support of our sponsors, these events would not be possible. This event and others like it make possible the Georgia Chapter support of the RCI Foundation, RCI Georgia scholarships, and other causes of note.


The Georgia Chapter hosted the event in the "Below the Chophouse" suite at Suntrust field. The suite is located at field level in right field. All that separates you from the warning track is a chain link fence. New products were introduced, new sponsors met, networking done, and attendees got to watch the Braves at field level. Food and drinks were provided, and a good time was had by all.
---
Mid Atlantic Chapter Will Host RTQA Class in November
By Mid Atlantic Chapter Secretary Julie McDonald
The Mid Atlantic Chapter will be hosting the RCI Rooftop Quality Assurance course at the SOPREMA Training Center at Convoy Supply at 231 W. Hampton Pl., Capitol Heights, MD, 20743 on Tuesday, November 6, 2018, from 8:00 a.m. to 5:00 p.m. Registration will be $275 for RCI member attendees and $375 for nonmember attendees. This one-day course will provide information regarding duties of the roof quality observer and prepare individuals to provide an independent measure of quality and to assist with project communications and coordination. Instructors will cover fundamentals of quality assurance, component assembly, and quality practice guidelines for a variety of roofing systems, including the role of the roof observer, construction contract documents, daily reports, low-slope and steep-slope roofing, ethics, and codes. This course provides useful information for individuals preparing for the RRO registration. Attendees will receive 8 CEHs from RCI/LUs from AIA. RCI Mid Atlantic and their sponsors will be pleased to provide breakfast, breaks, and boxed lunch. Please visit the chapter's website for details on registration and hotel accommodations.
For more information about this event and future events or other chapter information, visit the Mid Atlantic Chapter website at www.rcimidatlantic.org, or contact Julie McDonald at secretary@rcimidatlantic.org, or Dan Mathews at president@rcimidatlantic.org.

---
So Cal Chapter Hosted Membership Drive, Summer Social, and Technical Meeting
By So Cal Chapter Industry Director Arturo Ortiz, Jr.
The So Cal Chapter of RCI, Inc. hosted its annual Membership Drive & Summer Social on July 18th at Laguna Beach Beer Company in Laguna Niguel, CA.
The venue was located between the scenic hills of Laguna Beach, where approximately 39 attendees got to enjoy some much-needed tranquility from the usual work week hustle and bustle. Attendees sampled delicious food and refreshments, which included some noteworthy artisan flatbreads and craft beverages. The event gave local So Cal RCI members and nonmembers alike the opportunity to mingle in a relaxed social setting while enjoying games and raffle prizes that were awarded throughout the evening. Special congratulations to lucky Kevin Taylor of SOPREMA for winning the one-year So Cal RCI membership prize.
The chapter appreciates everyone who made the time to attend the So Cal Chapter of RCI's Membership Drive & Summer Social, and hopes you all had a great time. It was a wonderful and fun-filled experience for chapter members, and they would especially like to extend their gratitude to Robert Larez with ILD (International Leak Detection) for sponsoring the event.
So Cal Chapter Hosts Technical Dinner Meeting
The So Cal Chapter of RCI, Inc. successfully hosted its third technical dinner meeting of the year on August 28, 2018, at JT Schmid's Restaurant & Brewery in Tustin, CA.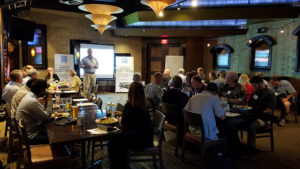 Approximately 40 attendees made it out to JT Schmid's at the District at Tustin Legacy to enjoy some great networking along with refreshing beverages and some delicious dinner plates. The guest speaker was Ken Konczal, a senior technical sales representative with Sika Sarnafil. Konczal presented on "Concrete Deck Moisture Issues," covering a wide array of topics, including root causes and preventative measures, along with the industry perspectives from organizations such as NRCA and FM Global. He also highlighted some current moisture assessment test methods, as well as their applications and limitations. Konczal rounded out the meeting with several case studies on moisture-related roof failures over concrete decks. The presentation concluded with an engaging Q&A session that had widespread audience participation.
The event was an achievement, as the chapter hosted the greatest number of attendees for a technical dinner meeting this year so far. The chapter would like to thank Ken Konczal for his time in providing an informative presentation. Attendees earned 1 hour of continuing education approved by RCI and AIA. The chapter would also like to send their appreciation to all in attendance for making this event a success.
Upcoming Chapter Events
October 1, 2018: New England Chapter – 2nd Annual Golf Classic
October 4, 2018: Delaware Valley – Educational Event at Allied | Puget Sound Chapter – Chapter Meeting
October 4-5, 2018: RCI Leadership Workshop
October 9, 2018: So Cal Chapter – Joint TDM w/ OCCCSI: Specifications for the Other 99%
October 11-12, 2018: Florida Chapter – Building Envelope Quality Assurance and Rooftop Quality Assurance
October 12, 2018: RCI Georgia Chapter – Stanley Gerson Annual Golf Outing
October 17, 2018: Mid-South Chapter – Chapter Meeting and Lunch-and-Learn
October 18, 2018: Portland Chapter – Lunch and Learn
October 18-19, 2018: Western Canada Chapter – Rooftop Quality Assurance and Roof System Thermal and Moisture Design
October 19, 2018: Ontario Chapter – Breakfast Seminar & Lunch Social
October 25, 2018: Great Lakes Chapter – 2018 Fall Technical Session
October 31, 2018: North Texas Chapter – 9th Annual Golf Tournament