May 26, 2022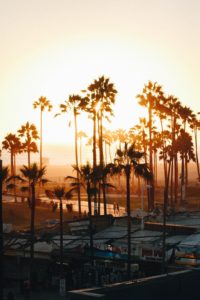 What geographical region do you serve?
Our chapter serves all of Southern California.
Your chapter has had some really successful meetings this year, do you have anything else currently planned?
We have! We brought back the Hawaii Winter Workshop in January of 2022 at the beautiful Turtle Bay Resort on the island of Oahu. After two years of not having it due to the COVID-19 pandemic, there were 10 presentations by 11 presenters and 63 attendees.
Our sponsors included IB Roof Systems, Versico Roofing Systems, EPRO, Polyglass, GE Silicones, Malarkey Roofing Products, Protecto
Wrap Co., S&K Marketing Group, Strategic Building Products, AQUAFIN Inc., Senergy Wall Systems, General Coatings Manufacturing Corp., AVM Waterproofing Industries, and Polyguard.
Our next event will be on September 23 for a golf tournament at Monarch Beach Golf Links.  Registration will be open soon.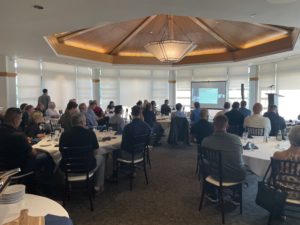 Does your chapter support any nonprofits or charities?
We donate to the RCI-IIBEC Foundation every year at the IIBEC  International Convention and Trade Show.
Our fundraising comes from our various events we offer throughout the year including technical dinner meetings (the last being held on May 24), the annual Golf Tournament, and Hawaii Winter Workshop.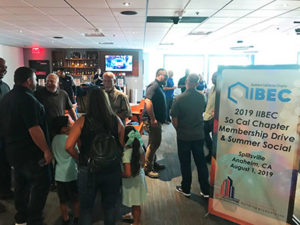 How has chapter involvement enhanced or opened doors in your career?

Erica Reynolds, Vice President – Through networking at IIBEC events I have been referred to three or four projects for my company. Additionally, by building relationships with other consultants, I can call on friends in the industry to discuss some of their experiences when dealing with some unusual circumstances I have encountered in my professional career.
Robert Larez, Consultant Director – Being involved in IIBEC has reintroduced me to old clients on the international stage. I have always helped them even after I left that market six years ago; however, I have shared the IIBEC spirit with them and many have started to join. There is now a chapter in Mexico. I have met other professionals and have been able to collaborate more with them. Opportunities have come my way because of my IIBEC involvement. Because of what we do, we have been able to assist other consultants with electronic leak detection.
 What has been your greatest benefit from chapter involvement, either personally or professionally?

Robert Larez, Consultant Director – Personally, I have made lifelong friends. Professionally, I have added to my toolbox. I am in a better position to provide greater services and support to my customers because of the ability to share knowledge and experiences with other IIBEC colleagues.

What would be your advice to the next generation of consultants? 
Erica Reynolds, Vice President – Participate in professional organizations and attend as many educational events as possible. Broadening your experience beyond your company will help you more than you can imagine.
Tell us a little about your board!  We wouldn't be here without our volunteers, but some just seem to shine.  Do you have any exemplary members or board members?
Robert Larez, Consultant Director – Danielle Ward of the So Cal Chapter. I met her a few years ago and I am in awe of how much she does and how much she supports the organization. Her ability to multitask is unparalleled. She is a consummate professional and always finds time to help or provide guidance. She is one of the reasons that I decided to stay a member of the organization.
Also, Arturo Ortiz, we met when I joined the SoCal Chapter. We quickly learned that we had shared experiences representing Carlisle. He represents them in SoCal and I had represented them in Latin America and the Caribbean. We work together periodically and refer each other on projects. He continues to dedicate much of his time to the organization. A true professional.
Are you currently looking for any volunteers to join your leadership team?

Yes, we're currently looking for someone to head the golf tournament committee.  Danielle Ward has done an amazing job serving as committee chair for several years and is ready to hand off the reins.
2022 IIBEC Southern California Board of Directors: 
President: Rick Mosco, AIA
Vice President:  Erica Reynolds
Secretary:  Danielle Ward
Treasurer:  Paul Miller
Immediate Past President:  Arturo Ortiz, Jr.
Director (Consultant):  Robert Larez
Director (Consultant):  Tracy Myers, RRO, AIA, LEED AP, NCARB
Director (Consultant):  Ramon Olsen, RRO
Director (Consultant): Jason Mullis
Director (Industry):  Saboura Rokhsari
Director (Industry):  Dave Erney