IIBEC SoCal Chapter Hosts Joint Event
By Rick Mosco, IIBEC Southern California Chapter President
The IIBEC Southern California Chapter was pleased to host its first in-person meeting of 2022 and joint meeting with the Southern California Roofing Contractors Association (RCA) on April 19, 2022.
Approximately 18 IIBEC Southern California members ad 36 Southern California RCA members were able to mingle prior to the presentation and dinner.   The chapter was able to provide this technical dinner meeting thanks to event sponsors Axis Building Detection and Caliber Building Solutions, Inc.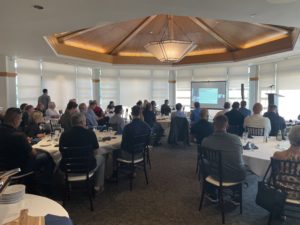 Guests were greeted by Chapter President Rick Mosco and RCA Chapter President Dave Chapman, who kicked things off with local chapter updates along with upcoming RCA and IIBEC event reminders. Prior to the presentation, RCA played a video and thanked their Project Re-Roof program which provides re-roofing services to non-profit organizations.
The technical speaker for the evening was Trent Cotney, attorney of Cotney Attorneys and Consultants in Tampa, Florida.  Cotney presented virtually on the legal implications of the recent material volatility in the construction market. He presented many real world scenarios showing the impact supply chain issues are having for contractors, manufacturers, and consultants. He provided several recommendations for contract provisions and best practices to help protect against market forces. Many attendees commented on the timeliness of the presentation and appreciated how Mr. Cotney was able to present complex legal information in an interesting and understandable manner.
This was the IIBEC Southern California Chapter's first in-person meeting since the onset of the COVID-19 pandemic, and the meeting was considered a great success. Guests earned 1-hour of continuing education approved by both IIBEC and AIA. We look forward to providing more in-person education opportunities to Region V.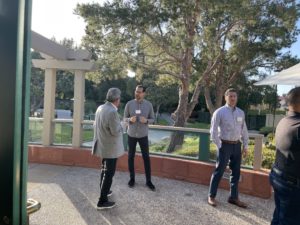 On May 24, 2022 the chapter will be hosting another technical dinner meeting titled Methane Mitigation presented by Sean Kaligi, PE or Sway Features.  The chapter would like to extend its appreciation to Cotney for his efforts in providing an informed presentation, Axis Building Leak Detection for their support of our chapter, Southern California RCA for joining them, and to all of those who took the time to attend.