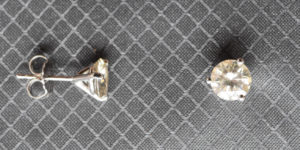 This year, as part of the Foundations' Auction, there will be a very special drawing to benefit the IIBEC Convention/Student Participation Fund. For a gift of $100 or more, the first 100 donors will receive a 1-in-100 chance to win a $3,000 pair of diamond earrings. These earrings are of 1.72 (0.85 + 0.87) total carat weight, with round brilliant diamonds in faceted girdle edges in a 14k white gold, champagne-style setting with double click rings. The pair comes with a certificate of authenticity and was mined in Brazil.
The goal of this drawing is to generate at least $10,000 for student attendance and participation in future IIBEC International Convention and Trade Shows.
For your chance, make a donation to the Student Convention Fund between now and the night of the Foundations' Auction (March 29). You will be randomly assigned a number. During the live auction, a number will be pulled, and the person with that number wins the earrings! You need not be present to win. Donations can be made online at https://rci-iibecfoundation.org/donate.aspx.
Chances, if still available, can be purchased at the Foundations' Auction until the time of the drawing.
For more information, contact Foundations Development Officer Rick Gardner at rgardner@iibec.org or 919-859-0742.