December 7, 2022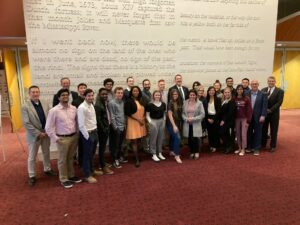 The RCI-IIBEC Foundation and RCI Foundation Canada provided funding for 25 full-time college students from all over the US and Canada to attend the 2022 IIBEC/AEI Building Enclosure Symposium, November 14–15, 2022, in Milwaukee, Wisconsin.
Universities represented at the BES included:
Ashworth College
Durham College
George Brown University
Illinois Institute of Technology
Louisiana State University, Shreveport
Michigan State University
Mississippi State University
Ohio Northern
Southern Alberta Institute of Technology
Texas A&M University
University of Kentucky
University of New Haven
University of Ottawa
University of Texas at Arlington
University of Victoria
Virginia Tech University
Western Florida University
Western Ontario University
Here is what the students had to say about their experience:
"BES is one of the few experiences that involves and connects students directly to industry professionals and allows them to experience the conference as if they are already industry professionals themselves. It is a great opportunity to understand the wide range of professions available to anyone involved with architectural engineering or building science. Through these conferences, I have earned scholarships and internships, and I have expanded my network across state lines, which is a priceless experience for any college student."—Elizabeth Sirkman, Illinois Institute of Technology

"My experience at BES was both educational and eye-opening. As a student who is new to this 'world' or 'industry,' I gained insight at the symposium into what professionals do daily, as well as learning about the innovations they should consider to have a well-built, sustainable environment. The symposium was a chance for students to meet professionals and learn more about the industry they are about to embark on, and I cannot be grateful enough to have had such an opportunity. It is one that students need to attend!"—Ashley Saquic, Texas A&M University

"BES was a phenomenal experience! I was able to network with industry professionals, gain insight into building enclosure/architectural engineering practices, and meet students with different backgrounds. BES and other IIBEC conventions have opened employment opportunities for me throughout my undergraduate/graduate studies. If you are in an architecture/engineering/building science program, I highly recommend you apply to the BES student sponsorship program so that you can see for yourself what the building enclosure industry is all about. The industry is growing fast and is looking for the next generation of talented, hardworking, and knowledgeable building enclosure specialists!"—Philip Pachade, Western Ontario University

"IIBEC is the best when it comes to treating students well. Including us in everything and treating us as adult members of these professional meetings is the key. Other organizations may have student meetings separate from the general membership, but they do not expose students to the real activities of the organization." —Devin Gelband, Ohio Northern University
"I think the biggest takeaway I received from the event was that there are resources at our fingertips, and it's all about taking advantage of them. By partaking in the BES, I was able to gain invaluable networking and learning experiences, whether it be from the presenters, hosts, exhibitors, or attendees. I was able to learn about different ways to get involved and about resources for expanding my learning. Not to mention that there are so many people who want to help and give mentorship. All it takes is to show interest and stay curious! Thanks for hosting this amazing event!"—Alyssa Wang, University of Ottawa
These student sponsorships to attend BES were made possible by donors to the RCI-IIBEC Foundation's Joe Hale Student Sponsorship Fund and RCI Foundation Canada's Student Convention Fund. Applications for students to attend the 2023 IIBEC International Convention and Trade Show in Houston, Texas, will be available beginning the second week of January. For more information about donating or sponsorships, contact Rick Gardner, Foundations Development Officer at Rgardner@iibec.org or 919-551-6227.