February 24, 2020
IIBEC Chicago Area Chapter Donates to Children's Hospital
By IIBEC Chicago Area Chapter Immediate Past President Charles T. Sietmann
As part of its continuing philanthropic efforts, IIBEC Chicago Area Chapter made a donation of $560 to the Ann & Robert H. Lurie Children's Hospital of Chicago. A portion of the registration fees from IIBEC Chicago's Fall Meeting and Holiday Social, held on November 20, 2019, was donated to Lurie Children's. On January 31, 2020, IIBEC Chicago chapter members visited the hospital for a brief tour and presentation of the check in front of the beautiful Crown Sky Garden space. Located on the hospital's 11th floor, this space includes light, sound, water, and wood elements to create a calming effect. Replicating an outdoor garden, the garden's two-story windows also frame a great view of the city. As part of evidence-based design features intended to improve care for children, the Crown Sky Garden is always open for patients and families to relax and seek respite.
Ann & Robert H. Lurie Children's Hospital of Chicago is consistently regarded as one of the nation's top children's hospitals. Lurie Children's provides superior pediatric care in a state-of-the-art hospital that offers the latest benefits and innovations in medical technology, research, and family-friendly design. Located in downtown Chicago on the campus of its academic partner, Northwestern University Feinberg School of Medicine, Lurie Children's relies on philanthropic support to care for more than 173,000 children each year.  Learn more at www.luriechildrens.org. IIBEC Chicago is proud to support Lurie Children's and hopes to continue with these efforts.
Chicago Area Chapter Holds Annual Meeting and Program
By IIBEC Chicago Area Chapter President Patrick Reicher
The IIBEC Chicago Area Chapter hosted its Annual Meeting and Program for the 17th consecutive year on Wednesday, January 15, 2020.  The meeting was held at Hamburger University in Oak Brook, IL.  Approximately 110 consultants, architects, engineers, contractors, facility managers, and manufacturers participated in the one-day program that featured four technical presentations worth six CEHs, and ample networking opportunities.
Tabletop exhibitors included: Architectural Building Solutions, International Leak Detection, SJ Mallein & Associates, Tecta America, Siplast, Velux, Sika Sarnafil, and Soprema.
Technical sessions included:
Following the technical sessions, the chapter convened for a brief IIBEC Chicago Area Chapter business meeting before proceeding to the CAC Building Envelope Foundation's 5th Annual Cocktail Reception.
As in previous years' programs, IIBEC Chicago Area Chapter coordinated efforts with the Chicago Roofing Contractors Association (CRCA). which held its 37th Annual Trade Show at the nearby Drury Lane Conference Center the two days following the IIBEC Chicago Area Chapter Annual Meeting.
With 2020 now in full swing, the chapter is gearing up for spring programs and events.  On April 24, the chapter will sponsor the IIBEC Educational Program: Roof System Thermal Moisture and Design.  A full calendar of chapter events can be found at https://chicagoarea.iibec.org/calendar/.
Great Lakes Chapter Recognizes Members
By IIBEC Great Lakes Chapter Treasurer Rick Bresso
The following awards were presented at the Great Lakes Chapter's Annual Membership Meeting on December 6, 2019:
Presidents Award – Natalie Thompson (chapter president)
Committee Chair Award / Finance – Rick Bresso (chapter treasurer)
Volunteer of the Year – Heather Hadley (Southeastern Michigan Roofing Contractors Association)
Outstanding Sponsor – Schena Roofing and Sheet Metal Co., Inc.
Lifetime Achievement Award – Dan Davis (retired), Royal Roofing Company
Commemorative plaques were presented for each award.
Great Lakes Chapter Sprouts New Branch
We have our first new branch of 2020!  The Great Lakes Chapter has submitted notification of the new West Michigan Branch, to be located in Grand Rapids, MI.  Elise Love will be assuming the role of Branch Liaison.
---
New England Chapter Will Host Building Enclosure Boot Camp
Please join the IIBEC New England Chapter for Building Enclosure Boot Camp on Thursday, May 7, 2020. Attendees will be eligible for six continuing education credits.
DATE/TIME:
Thursday, May 7, 2020
11:00 AM – 5:00 PM: Boot Camp sessions (including sponsor trade show tabletops)
Lunch and snacks will be provided.
5:30 PM – 8:00 PM: Dinner (provided)
WHERE:
Boston Park Plaza Hotel
50 Park Plaza
Boston, MA 02116
Dinner: STRIP by Strega Restaurant
Located within the Boston Park Plaza Hotel
www.stripbystregaboston.com
COST:
Boot Camp – IIBEC members: $300.00
Boot Camp – Nonmembers: $350.00
Trade Show Tabletop Sponsors: $300.00
RSVP:
Tuesday, May 5, 2020 @ 5:00 PM
Registration will be available on our new website soon or RSVP to:
• Kimberly Kilroy, Chapter Secretary: kak@gainc.com
• Stuart Lyons, Chapter President: slyons@wje.com
---
IIBEC So Cal Hosts Another Successful Winter Workshop
By IIBEC So Cal Secretary Erica Reynolds
The IIBEC So Cal Chapter (formerly the So Cal Chapter of RCI, Inc.), hosted the 20th Annual Hawaii Winter Workshop on January 16 and 17, 2020, at the Westin Hapuna Beach Resort in Waimea, HI.
Approximately 87 attendees took a break from enjoying the beautiful Big Island coastline to attend the chapter's offering of 10 informative and interesting presentations about the advancement of modern building enclosures, for up to 12.5 hours of AIA LU|HSW and IIBEC CEH credits.  As we enter a new decade and a rapidly changing and dynamic environment, the 2020 workshop theme was appropriately entitled "Adapting to Change: Building for the Future and How to Get There."  IIBEC So Cal Chapter President Ivan Chak introduced each of the accomplished and skillful presenters, whom the chapter would like to recognize for their technical contributions and being an integral part of the event:
Kenrick Hartman, PE, RBEC, LEED AP / WJE Associates Inc. / New York, NY
Megan Cross-Wilkinson / RDH Building Science Inc. / Oakland, CA
Erin Andes, PE (CA) / RDH Building Science Inc. / Oakland, CA
Erica Reynolds, PE (CA) / McGinnis Chen Associates, Inc. / Long Beach, CA
Jeff Chen, AIA / McGinnis Chen Associates, Inc. / San Francisco, CA
Chad Herrick, EIT / Detec Systems / Bellingham, WA
John R. Guill, FCSI, CCS, CCCA, IIBEC, SCIP, AIA / DTR Consulting Services, Inc. / Santa Rosa, CA
Jeff Neilson, AIA / WJE Associates Inc. / Pasadena, CA
Rick Mosco, AIA / WJE Associates Inc. / Pasadena, CA
Dennis Richardson, PE, CBO, CASp / American Wood Council / Santa Rosa, CA
Joseph Buccini, CPHC, LEED Green Associate / WJE Associates Inc. / Emeryville, CA
Andrew Bishop / WJE Associates Inc. / Emeryville, CA
Marc DiZinno / Westcoat Specialty Coating Systems / San Diego, CA
Chris Tapia / Westcoat Specialty Coating Systems / San Diego, CA
Navid Gohardani, PhD, IWE / Luxiero Homes Inc. / Orange County, CA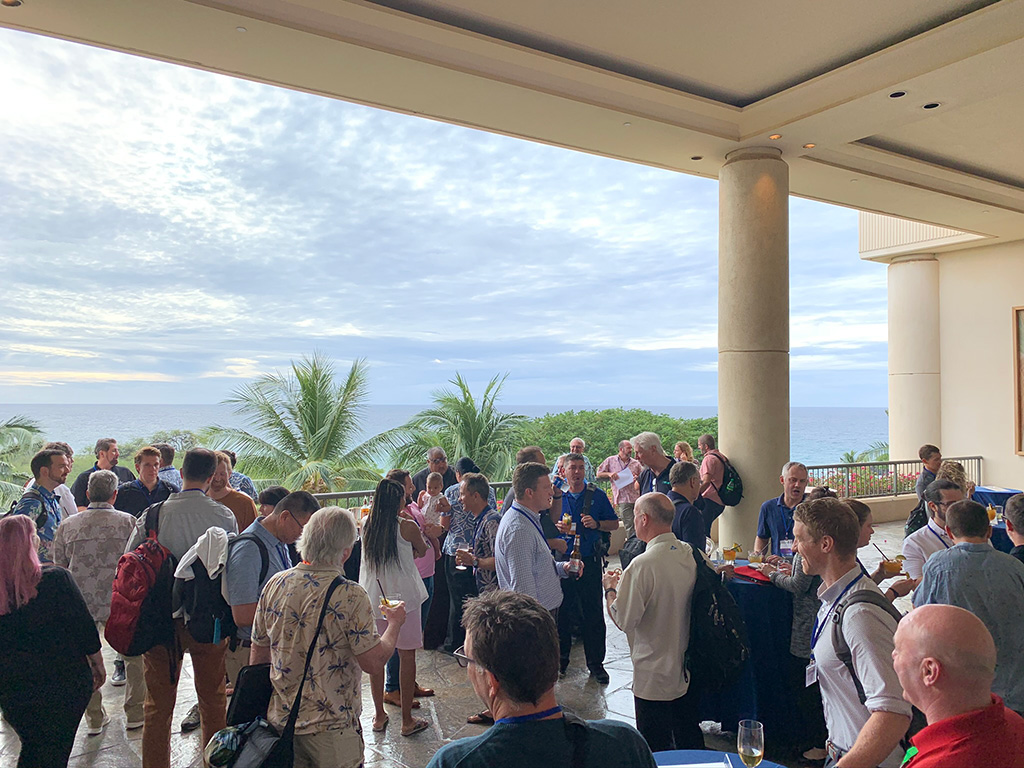 The IIBEC So Cal Chapter's 2020 workshop received an unprecedented amount of sponsorship support, with 20 tabletop exhibitors and one banner sponsor. On Thursday afternoon, participants attended an hour-long "speed dating"-style exhibitor tour where attendees interacted with exhibitors over a fast-paced three-minute interval to connect and discuss new or improved products. The chapter would like to recognize the event sponsors for their avid participation in facilitating networking opportunities and providing the latest industry updates on construction product developments.
Thursday evening ended with a lovely ocean view networking reception, sponsored by platinum event sponsor Versico.  This year's raffle prize was won by one of the technical presenters, IIBEC So Cal Chapter Consultant Director Rick Mosco.  The chapter hopes he enjoys his new Bose SoundLink Revolve+ Bluetooth smart speaker.
On both days, attendees started their mornings off with a delicious breakfast spread, including pastries, energy bars, fresh tropical fruit, granola and yogurt, coffee, tea, and fruit juices, sponsored in part by Evonik Corporation.
The chapter appreciates everyone who made the time to attend and help make the 20th Annual Hawaii Winter Workshop a wonderful and truly memorable experience.  The chapter would like to thank each event sponsor for helping to make the event possible:
New West Michigan Branch Announces First Event
By IIBEC West Michigan Branch Liaison Elise Love
The first meeting of the West Michigan Branch of IIBEC, a branch of the IIBEC Great Lakes Chapter, will take place on March 19, 2020, from 11:30 AM to 1:30 PM at the Gravity Taphouse Grille in Grand Rapids, MI.
Consultants, architects, engineers, manufacturers and their representatives, and contractors who work with the building enclosure are all invited to attend.
A formal invitation will follow. Please save the date. If you have questions, please contact Elise Love at elove@wje.com.