June 21, 2021
Joe Hale Passing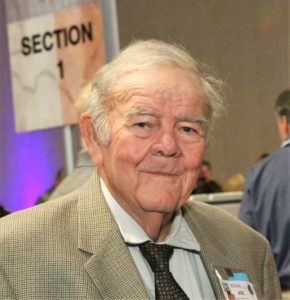 Joe Hale, longtime member of IIBEC (formerly of RCI) passed away peacefully on June 6, 2021, at his home in Max Meadows, Virginia. Hale is a past RCI President, RCI-IIBEC Foundation Chair, and Fellow of IIBEC. Hale has been a member of IIBEC since 1985; he was the first recipient of the Lifetime Achievement award as well as the first honorary Registered Roof Consultant designation. Hale is also co-owner and founder of HDH associates PC and HDH Technical in Christiansburg, Virginia.
"Joe gave incredible amounts of energy to IIBEC, from its humble beginnings right up to the present day," said Ted Sheridan, IIBEC President.  "More than that, he personally touched the lives of hundreds, maybe thousands, of IIBEC members by making each of us feel important and encouraging us to be part of something bigger, something that would improve our industry.  And he did that one relationship, one anecdote at a time.  An enormous void is left by his passing."
In lieu of flowers, donations may be made to the RCI-IIBEC Foundation in support of the Joe Hale Library of Fort Chiswell.
IIBEC Member Profile – Jennifer Keegan
Jennifer Keegan is the GAF director of building and roofing science. Keegan started her career at Wiss, Janney, Elstner Associates working on failure investigations, repair design, and construction litigation for 10 years in Northern California. She then transitioned to working for Western Construction Group, a restoration contractor covering the entire West Coast region. When she moved back home to the East Coast, Keegan focused on construction defect litigation at Navigant Consulting, and new construction design as the Northeast regional manager for Intertek. After 20 years of consulting, her career took a turn in 2018 when she joined GAF. Read her full write up on the
IIBEC website
.
Malcolm Receives Grant, Works to Better Community

IronShore Contracting, owned by IIBEC Industry Member Gregory Malcolm, was one of seven small businesses owned by black individuals to receive a $20,000 grant from Siemens and its partner, Atlanta MBDA Business & Advanced Manufacturing Centers at Georgia Tech. Malcolm has also partnered with the city of Baltimore (Maryland) regarding its proposed legislation to create the Dante Barksdale Career Technology Apprenticeship Fund, which offers a school-to-career pipeline for students in the city. Named after community activist Dante Barksdale, who was fatally shot while working, the fund focuses on providing career opportunities to prevent violence in communities.
IIBEC Member Joseph Schwetz Retires After 22 Years at Sika Sarnafil
After more than 37 years working in the roofing industry, the last 22 at Sika, Schwetz will be retiring this summer as vice president of technical services. Schwetz has been an Industry Affiliate member of IIBEC since 2012.
Sika Sarnafil Promotes IIBEC Member Darryl Terry, RRO
Darryl Terry, RRO, has been promoted to director of technical services, West, for Sika. Terry joined the company in 1994, having most recently served as the technical manager for the West-South region.
New Members in April and May 2021
| Full Name | Company | State | Type | Region |
| --- | --- | --- | --- | --- |
| Nicholas T. Ehlers | RoofTech Consulting Inc | MO | Consultant Affiliate | Region III |
| James Rohr | BranchPattern | NE | Consultant | Region III |
| Bruce Raulukaitis, Jr. | The Imperial Company | CT | Industry | Region I |
| Hunter Pierce | Helping Hands General Contracting | TN | Industry | Region II |
| Jean-Loup Yale | CIMA+ | QC | Consultant | Region VII |
| Jordan M. Swail, EIT | Read Jones Christoffersen Ltd | ON | Consultant | Region VII |
| Daniel Prazenica | PRAZ Consultants LLC | FL | Consultant | Region II |
| Adam Rohrbaugh | A7 Group, Inc. | CA | Consultant | Region V |
| Matthew S. Sutherland, RRO | Unified Building Sciences Inc. | TX | Consultant Affiliate | Region IV |
| Vincent Moseley | Arrow Construction Products | NS | Industry | Region VII |
| Stephanie Knifong-Ryan | Construction Defect Consulting | OR | Student | Region V |
| Kevin Ferreira | Polyglass USA, Inc. | ON | Industry | Region VII |
| Lance Merrifield | Epic Roofing & Exteriors Ltd. | AB | Industry | Region VI |
| Marsha Derbyshire | Martin Riley Architects/Engineers | IN | Consultant Affiliate | Region III |
| Anthony Avina | Terra-Petra | CA | Quality Assurance Observer | Region V |
| Ryan Parker | Architectural Systems | UT | Industry | Region V |
| Daryl W. Cruickshank, RRO | Firestone Building Products | ON | Industry | Region VII |
| Lionel Francis | Empire Roofing | GA | Industry | Region II |
| Glenn Benner | Advanced Roof Technologies, Inc. | OH | Consultant | Region I |
| Todd Denhalter | BEAM Professionals | CA | Consultant Affiliate | Region V |
| Robert Kyle | GAF Materials Corp | TX | Industry | Region IV |
| Richard Adams | | WI | Quality Assurance Observer | Region III |
| Ryan Vonck | Preferred Roofing Solutions | WI | Consultant Affiliate | Region III |
| Paul Novak, RRO | CBRE | CO | Consultant | Region V |
| Clarence White | Martin Riley | IN | Consultant Affiliate | Region III |
| Jose Nunez | Aurora Consulting | FL | Consultant | Region II |
| Nathaniel Isnor | Fishburn Sheridan & Associates Ltd. | NS | Quality Assurance Observer | Region VII |
| Jeff Warden | Moisture Intrusion Solutions (MIS) | FL | Quality Assurance Observer | Region II |
| Robert J. Gardere | ECS Southwest, LLP | TX | Consultant | Region IV |
| Daniel L. Zachreson, Jr., PE | EFI Global Inc | CA | Consultant Affiliate | Region V |
| Toni Cornelius | Cornelius Consulting, PLLC | NC | Consultant | Region II |
| Gretchen J. Cobb | Raymond Engineering-Georgia, Inc. | NC | Consultant Affiliate | Region II |
| Joel Israel | Seaman Corporation | FL | Industry | Region II |
| Kirk Swor | Smart Roof Solutions, LLC | TN | Industry | Region II |
| Ryan Corbett | EPIC ROOFING & EXTERIORS COMMERCIAL | AB | Industry | Region VI |
| Jason Cantu, AIA, NCARB, LEED AP O+M | The University of Southern Mississippi, Gulf Park Campus | MS | Facility Manager | Region II |
| Jeff Wetzstein | Pankow Builders | CA | Industry | Region V |
| Brian Dunn | Preferred Roofing Solutions | TX | Consultant Affiliate | Region IV |
| Tamara Higgins | Pie Consulting & Engineering | TX | Consultant Affiliate | Region IV |
| Troy C. Guichard | Intertek | TX | Consultant | Region IV |
| Jordan Brod | Bedrock Exterior Contractors Inc | IL | Industry | Region III |
| Michael W. Smith, PE | Geohazards | FL | Consultant | Region II |
| Jared Crowder | HDH Associates | VA | Quality Assurance Observer | Region II |
| Anelia Gomez | P & A Roofing and Sheet Metal Inc | FL | Industry Affiliate | Region II |
| Diego Sauceda | Terra-Petra | CA | Quality Assurance Observer | Region V |
| Jason A. Fetterley, RRO | Nederveld Inc | MI | Associate | Region III |
| Flonja Shyti | National Research Council of Canada | ON | Associate | Region VII |
| Brittany Haagsma | DK Haney Roofing | TX | Industry | Region IV |
| Bradley Curtis | David Taylor Construction Inc | FL | Industry | Region II |
| Thomas Pennington, II | YOUNG & Associates | NM | Consultant | Region V |
| Linda Porras-Pirtle | American Construction Investigations, Ltd. | TX | Consultant | Region IV |
| Stephen K. West | Clayco Inc | MO | Industry | Region III |
| Bobby Kurtzeborn | RoofTech Consulting Inc | MO | Consultant | Region III |
| Rocco Romero, AIA | Wiss Janney Elstner Associates Inc | WA | Consultant | Region V |
| Phillip Vanciel, PE | U.S. Forensic, LLC | FL | Consultant Affiliate | Region II |
| Suzanne Thorpe | Wiss, Janney, Elstner Associates, Inc. | VA | Consultant Affiliate | Region II |
| Jason Melton | NV5 | FL | Consultant | Region II |
| Anthony Seraphin | Global Wrap Environmental Containments, Inc. | PA | Industry | Region I |
| Eddie De Haro | Master Builders Solutions | TX | Industry Affiliate | Region IV |
| Jasmine Campbell | Cross Country Roofing | TX | Industry | Region IV |
| Matt Staublin | MMS Design Build Consulting | CA | Consultant | Region V |
New Registrations in April and May 2021
| Owner | Registration Date | Program | Region | State |
| --- | --- | --- | --- | --- |
| Ahmed Al Dulaimi | 4/18/21 | RRO | Region II | VA |
| Michael L. Baker | 4/21/21 | RRC | Region II | GA |
| Justin L. Bell | 5/4/21 | REWC | Region VI | AB |
| Justin L. Bell | 5/6/21 | RBEC | Region VI | AB |
| Taylor J. Bird | 5/7/21 | RRO | Region IV | TX |
| Keith Black | 4/12/21 | RRO | Region V | CA |
| Zachary G. Blankenship | 5/11/21 | RRO | Region II | VA |
| Eric D. Corsaro | 4/15/21 | REWO | Region IV | TX |
| Daryl W. Cruickshank | 5/6/21 | RRO | Region VI | ON |
| Canaan Forslund | 5/3/21 | RRO | Region V | CO |
| Louis A. Hackney | 4/19/21 | RBEC | Region II | NC |
| Louis A. Hackney | 4/9/21 | RWC | Region II | NC |
| Charles P. Hammond | 4/10/21 | RRO | Region IV | TX |
| Robert Hemphill | 4/14/21 | REWC | Region V | CA |
| Robert Hemphill | 4/15/21 | RBEC | Region V | CA |
| Jonathan Hernandez | 4/16/21 | RRO | Region II | FL |
| Kurt T. Hodges | 5/14/21 | RRO | Region V | OR |
| Scott Horton | 4/20/21 | RRO | Region II | AR |
| Bradley E. Kaye | 4/7/21 | RRC | Region V | WA |
| Ryan R. Kohl | 5/7/21 | RRC | Region III | MN |
| Christopher Kottra | 5/11/21 | REWC | Region III | IL |
| Brian Lauderdale | 5/27/21 | RRC | Region II | GA |
| Randy Lerp | 5/28/21 | REWO | Region IV | TX |
| Noah Monhemius | 4/20/21 | RRC | Region I | OH |
| Aaron Niles | 5/21/21 | RRO | Region V | CA |
| Paul Novak | 5/25/21 | RRO | Region V | CO |
| Ruben A. Osorio | 5/19/21 | REWO | Region I | MD |
| Andrew R. Owen | 4/29/21 | RRC | Region II | NC |
| Matthew P. Ritchie | 5/21/21 | REWC | Region IV | TX |
| Matthew P. Ritchie | 5/25/21 | RBEC | Region IV | TX |
| Anthony S. Runge | 5/28/21 | RRO | Region IV | TX |
| Keegan Schaack | 5/28/21 | RRO | Region IV | TX |
| David Sleight | 4/16/21 | RRO | Region III | MI |
| Joshua H. Smith | 4/20/21 | RRO | Region VI | ON |
| Thomas J. Socks | 4/13/21 | RRO | Region I | MD |
| Joseph D. St. Germain | 5/19/21 | RRO | Region I | MA |
| Katharine Tozier | 4/30/21 | RRO | Region II | VA |
| Cody S. Varcoe | 5/8/21 | REWO | Region V | WA |
| Billy J. Verret | 4/23/21 | REWO | Region II | SC |
| Verne Westnedge | 5/4/21 | RRO | Region VI | BC |
| Benjamin R. Wisniewski | 4/22/21 | RRO | Region I | CT |
| Jacob D. Woody | 4/5/21 | RRO | Region I | IN |
| David J. Wyatt | 4/30/21 | RRO | Region I | OH |
| Adam Q. Wynn | 5/6/21 | RRO | | OK |