By Rick Gardner
Jennifer Keegan is the GAF director of building and roofing science. Keegan started her career at Wiss, Janney, Elstner Associates working on failure investigations, repair design, and construction litigation for 10 years in Northern California. She then transitioned to working for Western Construction Group, a restoration contractor covering the entire West Coast region. When she moved back home to the East Coast, Keegan focused on construction defect litigation at Navigant Consulting, and new construction design as the Northeast regional manager for Intertek. After 20 years of consulting, her career took a turn in 2018 when she joined GAF.
With IIBEC, Keegan started as a learner. Her mentors told her, "This is the place you need to go. Attend these conferences, listen, and learn." Since that time, her involvement has come full circle from being a student in the audience to being a frequent presenter, and from networking with her peers to this year being the Education Committee chair for IIBEC.
Can you tell me more about your background, your education, and what brought you to the building enclosure field?
Growing up, I wanted to be architect. I loved designing buildings. I was good in math and science, so my teachers kept telling me that I should be an engineer.
I went to Lehigh University in Pennsylvania. I definitely had an engineering mindset, but I couldn't let go of my dream of being an architect. Engineering was black and white, while architecture makes you think outside the box. When I graduated, I had the choice of any job I wanted. I went on several interviews in New York City, but none of the positions felt right for me. During the same timeframe, my teaching assistant from Lehigh finished her masters and interviewed with WJE. I decided to follow her recommendation. They took me to job sites, up on the roof, and showed me hands-on work in the building enclosure field. That was it. I said "YES! This is It!" I had no idea this was a career. I fell into it. I feel extremely fortunate.
What kind of projects are you working on right now? Is there a particular project you have worked on in the past that made an impact on you?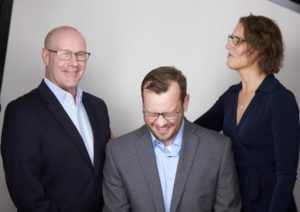 My role at GAF is very outward facing. We have had to reinvent our approach to education to make it more interactive and engaging. We have been teaching a wind design workshop and launched a weekly technical trivia challenge. We are progressing our research through the RCI-IIBEC Foundation on the thermal bridging of roof fasteners in collaboration with Virginia Tech and Simpson, Gumpertz and Heger. Additionally, we are continuing our research on retrofitting single-ply roof systems in collaboration with Missouri University of Science and Technology.
As far as projects from the past that made an impact on me, one of my favorites was during my time at Navigant Consulting. I was working with one of my favorite clients, So Others Might Eat (SOME), on pre-litigation issues we helped resolve. Given the success of that project, they hired us to oversee the design and construction of their flagship building in DC. It was a corporate office that featured a combination of low-income housing, recovery support, job training, and everything else under one roof. It was amazing being hired at the conception of the project.
It was the first project I worked on where I was able to help select the architect, influence the design, and  perform the quality assurance and testing. It was everything from soup to nuts. The best part was that it was for an organization I believe in. It was really special. The organization set the tone. To this day, it was the most collaborative project I have ever worked on. It was a once-in-a-lifetime project.