March 15, 2019
Region Meetings Saturday Morning
Even if you're not sure which RCI region you belong in (see adjacent map), you should attend your regional meeting Saturday following the morning educational sessions. Meet other members from your part of the continent. Network and learn what's happening in your back yard and at RCI International. Enjoy a box lunch and camaraderie, and plan to get more involved in a chapter near you.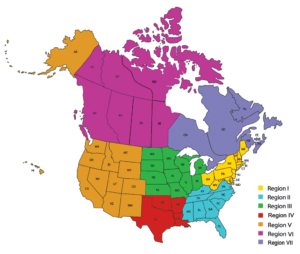 Region I – Conway, Level 1
Connecticut, Delaware, District of Columbia, Maine, Maryland, Massachusetts, New Hampshire, New Jersey, New York, Ohio, Pennsylvania, Puerto Rico, Rhode Island, Vermont, West Virginia.
Region II – Wekiwa 6-7-8, Level 2
Alabama, Florida, Georgia, Kentucky, Mississippi, North Carolina, South Carolina, Tennessee, Virginia.
Region III – Suwannee 13-14-15, Level 2
Illinois, Indiana, Iowa, Kansas, Michigan, Minnesota, Missouri, Nebraska, North Dakota, South Dakota, Wisconsin
Region IV – Suwanee 16-17, Level 2
Arkansas, Louisiana, Oklahoma, Texas
Region V – Sandlake, Level 2
Alaska, Arizona, California, Colorado, Hawaii, Idaho, Montana, Nevada, New Mexico, Oregon, Utah, Washington, Wyoming
Region VI – Suwanee 18-19, Level 2
Alberta, British Columbia, Manitoba, Northwest Territories, Nunavut, Saskatchewan, Yukon
Region VII – Suwanee 20, Level 2
Newfoundland/Labrador, Quebec, Prince Edward Island, Nova Scotia, New Brunswick, Ontario
An Opening Ceremony to Remember
You won't want to miss this year's explosive opening ceremony. Jamie Hyneman, formerly of Discovery Channel's long-running series Mythbusters, will be our keynote speaker. He will be discussing "When Things Go Seriously Wrong" and what to do about it.
Mistakes in the construction industry can be extremely expensive, and can have a snowball effect the longer they go undiagnosed. While Hyneman doesn't have specific experience in construction, he does, he notes, have extensive experience in contingency planning. "It's not about the stuff that you know you have to worry about… it's about the stuff you don't know you're going to have to worry about," he says.
You can hear him speak on Saturday, March 16, from 1:30-3:15 p.m. on Level 1, in Panzacola F-G.
Trade Show Grand Opening and Reception Saturday Afternoon
Immediately following the conclusion of the Convention Opening Ceremony, follow the crowd down to Gatlin BCD on Level 1 for the Grand Opening of the RCI Trade Show from 3:15 to 7:15 p.m.
Learn about the latest technology and products on display by our supportive manufacturers, sponsors, and other industry associations. Watch informative product demonstrations. Check out the Document Competition winners and put in your ticket for a chance to win cash. Snack on delicious goodies at the trade show reception. All this while earning Continuing Education Hours (CEHs)!
Don't forget to haul yourself out of bed Sunday morning for more! There are more product demos, more cash prize drawings (must be present to win), and a full breakfast buffet from 8:30 to 12:30.