March 17, 2017


---
Keynote Speaker Bill Walton
Basketball legend Bill Walton will tipoff RCI's 32nd Annual Convention and Trade Show with the keynote speech at the Opening Ceremony from 1:30 to 3:15 Saturday afternoon in the California Ballroom.
The record-breaking NBA player, lauded broadcaster, and number one Grateful Dead groupie will share his triumph over catastrophic health issues and a lifelong stutter to offer a message of how to catch the rebounds and center one's life.
The welcoming ceremony will offer entertainment and convention updates by RCI President Robért Hinojosa and Convention Chairman Mike Clark. Directly afterwards, proceed across the plaza to Hall B at the Anaheim Convention Center for the opening of the Trade Show.

What's Your Region?
Directly after Saturday morning's educational sessions, join attendees from your region for a box lunch and meeting to catch up on what's happening in your neck of the woods.
Not sure what region you're in? Conveniently placed maps on the 4th Floor of the Hilton will direct you to the appropriate room. Meetings start at 11:15 and go to 1:15. Room assignments are:
Region I San Simeon
Region II Avila
Region III El Capitan
Region IV Huntington
Region V Laguna
Region VI Palos Verdes A
Region VII Palos Verdes B
Ambassadors R Us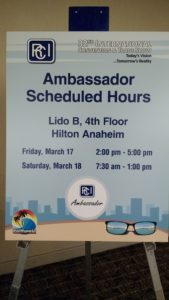 Am•bas•sa•dor: "A person who acts as a representative or promoter of a specified activity." All members of RCI are, in effect, ambassadors when they represent or promote our association. But we have some special designated ambassadors at convention time.
The convention Ambassador Program connects experienced RCI members with first-time attendees to the convention. They are available to answer questions and may be found at a table near the RCI Registration area. Ambassadors draw on their own experience to answer questions, and for RCI areas with which they are not versed, they will connect the questioner with the right person. This year's schedule is:
Friday
2:00-3:30 Fred Wellers, David Hawn, Dave Liebal
3:30-5:00 Bruce Hall, Luke LeGrand, Michelle Whelan
Saturday
7:30-9:30 Bill Cypher, Brian Gardiner
9:30-11:30 Gerald Delaune, Mike Gada, Julie McDonald
11:30-1:00 Jim Ripley, Robert Boessen
Mentors Minting (Potential) Members
Since 2012, the RCI Foundation has provided funding for college students studying architecture, architectural engineering, structural or civil engineering, construction management, or other related areas of study in the construction industry to attend the RCI annual convention. Due to the continued success of the program, 29 students from all over the United States and Canada are attending this year, representing a record dozen institutions of higher learning. Twenty-four are undergrad students, while five are graduate students.
In an effort to make their attendance at convention as meaningful as possible, RCI started a new mentoring program this year, pairing the convention sponsorship recipients with an RCI member in the same field of expertise. The volunteer mentors met their student(s) at the Opening Reception on Friday, where they answered questions, coordinated schedules, and made plans to stay in touch throughout the convention. They will provide valuable insights on their experiences in the industry and provide guidance to help shape the potential building envelope consultants of the future.
Mentors are Jennifer Hogan, Kenrick Hartman, Joe Sorrentino, David Slough, Helene Hardy Pierce, Elizabeth Grant, Alison Rice, John Guill, Bas Baskaran, Jesse Torres, Ben Michiels, Dave Liebal, and Gerald Delaune. Staff liaison Melany Elwell coordinates the program.
Golf Tournament Results
Thirty-three foursomes teed off early this morning at the Oak Creek Golf Club to play 18 holes in the President Elect's Golf Tournament.
Winners
First place went to the team of Peter Hicks, David Johnson, Ron Erdman, and Tim Rainey, with a score of 15 under 56.
The second place team scored a 14 under 57, and included Christopher Giffin, Scott Hinesley, Rick Kiger, and Chris Dawkins.
The third place team was team 9A, consisting of Nathan Rockwell, Gerald DeLaune, Bill Hobgood, and Carl Ward. They came in at 11 under 60.
The closest to the pin for ladies on hole number 3 was Stephanie Duguay at 42′.
For men, closest to the pin on number 7 for the men was Scott Gipson, at 6'9″. Jake Jacobson was closest to the pin for men on number 11, at 10'4″.
In the long drive, the ladies' winner on hole number ten was Kathy Schoch. For the men, the winners were Carl Ward on hole number 5, and Charles Taylor on hole number 15.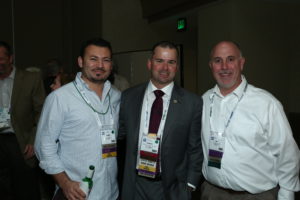 Opening Reception
New this year to the RCI Annual Convention and Trade Show, was the opening reception on Friday night from 6-7 p.m. in the Pacific Ballroom. Convention attendees networked and enjoyed the drinks and hors d'oeuvres. Outgoing president Robért Hinojosa was also presented with a cake in celebration of his birthday.