March 3, 2023
The first full day of the 2023 IIBEC International Convention and Trade Show, March 3–6, 2023, lifted off in Houston, Texas, with networking events, auxiliary seminars, and a variety of receptions comprising the mixture of learning and networking opportunities attendees have come to expect from the building enclosure industry's premier event.
Convention education kicked off with two morning auxiliary seminars. The first, "Use of UAS and Reality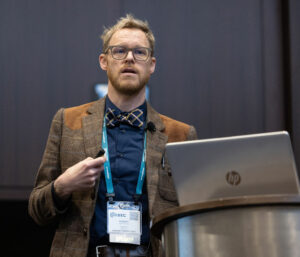 Capture Technology in Transforming the Future of Enclosure Assessment," at the Marriott Marquis Houston, consisted of three parts: "Drone-based 3D Photogrammetry in Building Enclosure Consulting Practice," "Introduction to LiDAR and Its Uses in Building Enclosure and Beyond," and "Eye in the Sky: Mitigating Facade Access Risks Through UAS Aerial Imagery." A second auxiliary seminar, "Fall Protection for Roof Consultants—Hazards, Solutions, and the Law," was held at the 3M facility in Pasadena, Texas.
Also Friday m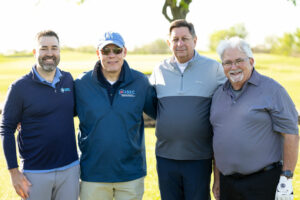 orning, the RCI-IIBEC Foundation Golf Tournament took place at the Wildcat Golf Club. Windy conditions didn't dampen turnout at the event—one of several networking opportunities offered during the convention—which concluded with an awards luncheon honoring the top performers.
Attendees returned to the Marriott Marquis for an afternoon of committee meetings—periodic gatherings that help set the direction of the association for the coming months.
Evening events got underway with a well-attended IIBEC Opening Reception, followed by separate receptions from Carlisle, Johns Manville, and USG.
Saturday's highlights will include the Opening Ceremony featuring keynote speaker Seth Mattison, who will address the future of work and leadership. The grand opening of the trade show will take place at 3:15 p.m. CT, followed by three product demonstrations and receptions hosted by Siplast and Soprema.
The 2023 IIBEC International Convention and Trade Show concludes March 6. The 2024 IIBEC International Convention and Trade Show will take place March 8–11, in Phoenix, Arizona.