September 19, 2018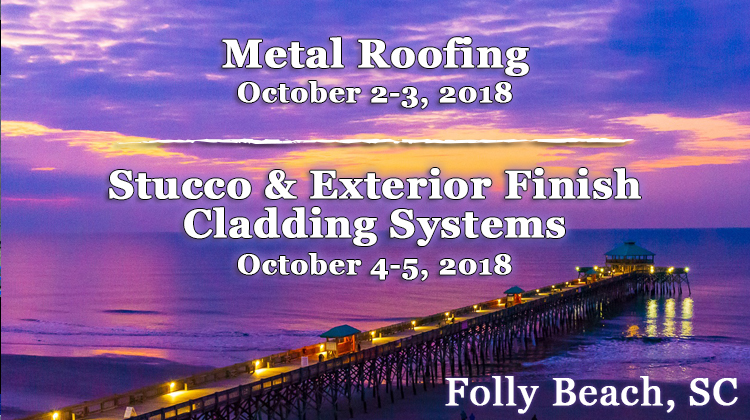 Metal Roofing
– 16 RCI Continuing Educational Hours
– 16 AIA Learning Units and HSW credit
October 2-3 | Register Today
Stucco & Exterior Finish Cladding Systems
– 12 RCI Continuing Educational Hours
– 12 AIA Learning Units and HSW credit
October 4-5 | Register Today
Meeting Location & Accommodations
Tides Folly Beach
1 Center Street
Folly Beach, SC 29439
Reservations: (843) 588-6464
Airport: Charleston Airport to Tides Folly Beach is 19.9 miles / ~36 minutes
Transportation: Taxi service or rental cars. All taxis are metered at $2.52 per mile up to two (2) passengers. For three or more passengers a fee of $7 per passenger will be charged. All taxis accept MasterCard, American Express, VISA, or Discover credit cards. A taxi from the airport to the Tides is approximately $51 one way.
Parking: Complimentary self-parking for overnight guests. The property does not allow buses/boats/trailers. Non-guests can utilize street parking or one of eight (8) parking lots within two blocks of the hotel. There is a lot directly across the street from the hotel at Rita's restaurant.
Hotel is ocean front and to downtown Charleston is approximately 9 miles / 15 – 20 minutes.
2 responses to "Folly Beach/ Charleston, SC Education Course"