January 16, 2017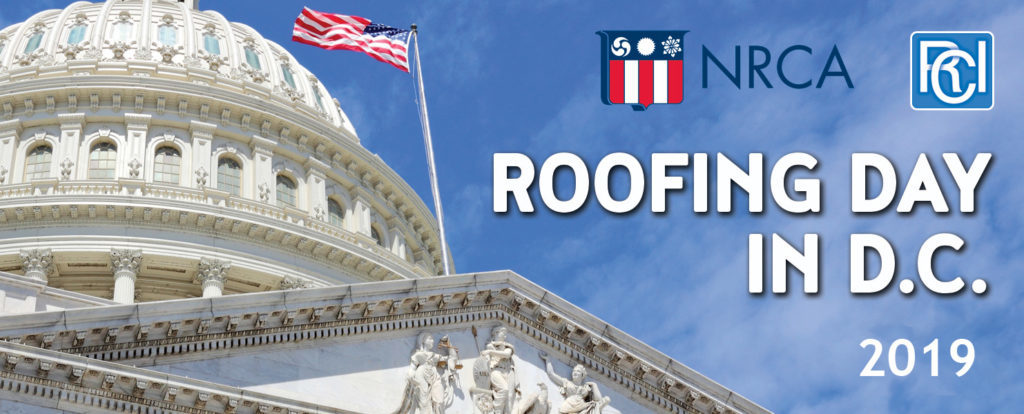 Last March, the roofing industry came together some 400-strong to make our collective voices heard in our nation's capital during the inaugural Roofing Day in D.C. 2018. This year's event will take place April 3-4, 2019.
RCI is partnering with the National Roofing Contractors Association (NRCA), organizers of the event, and multiple roofing industry associations and organizations in a coalition of voices. Together we can make a difference on critical issues facing our industry surrounding regulatory reform (including procurement), workforce development, and immigration reform. RCI is an official sponsor of the event, and last year sent more representatives—72 individuals from 55 different companies—than any other organization besides the NRCA. This year, we want to send someone from all 50 states.
This is a unique and exciting opportunity, as we will arrive on Capitol Hill and speak as a united industry! RCI members will be able to present their concerns to their Congressional representatives.
RCI is asking you to participate. The event includes a keynote speaker, advocacy training on how best to communicate with members of Congress and their staffs, issues updates, and a reception on Wednesday, April 3. Congressional appointments (three to five per attendee) will be arranged for registrants to take place from 9 a.m. to 5 p.m. on Thursday following breakfast. These will be scheduled based on your business address, matching you to the appropriate representatives and senators.
Registration for Roofing Day is $75 to help cover a portion of the event expenses. To learn more about the event, visit http://www.nrca.net/roofingday. Register at https://lobbydayregistration.wufoo.com/forms/roofing-day-in-dc-2019/. Make sure to tick the box noting your membership in RCI.
To learn more and register to participate in the event, visit the Roofing Day page on NRCA's website at http://www.nrca.net/roofingday and watch a video about the event here: https://www.youtube.com/watch?time_continue=5&v=Ota29LOonOg. If you have questions, call NRCA's Washington office at 800-338-5765.
RCI's Incoming 2019 President, Bob Card, and its CEO/EVP, Lionel van der Walt, will be there representing RCI. Join them in D.C. April 3-4.
3 responses to "RCI to Join Roofing Coalition at Roofing Day in D.C. 2019"