April 7, 2022
By Helena Kim
Growing up in New York City, I was always impressed by the aesthetics of skyscrapers. So it was exciting to discover a sponsorship opportunity to attend the IIBEC Convention and Trade Show while in my undergraduate program at Drexel University. IIBEC is an organization that is dear to my heart, as it introduced me to other professionals in different fields with common goals and interests. It opened my eyes to the many opportunities of the building enclosure industry—roofing and waterproofing systems, inspection, and project management.
With the generosity of the RCI-IIBEC Foundation, this year, 30 students from the United States and Canada had the opportunity to attend the 2022 IIBEC Convention and Trade Show in Orlando, Florida, to learn about the organization, the building enclosure industry, networking, and career opportunities. I was fortunate to receive a sponsorship for the 2019, 2021, and 2022 IIBEC International Convention and Trade Shows.
This year's conference was especially meaningful to me as it was my third sponsorship. Now a master's student attending Columbia University, I wanted to provide these helpful guidelines for both building-enclosure-focused students and their mentors.
For the Students
Most schools do not offer building enclosure courses as a part of their curricula, so we are grateful to be able to attend all the educational seminars during the IIBEC International Convention and Trade Show. These seminars can be challenging for students who are not used to industry jargon, so my first piece of advice to students attending the IIBEC Convention and Trade Show is to research industry-specific words and concepts before attending the conference. These words include:
Air Filtration
Air Barriers
Building Envelope
Cladding
Curtainwall
HVAC
Insulation
LEED
Moisture Control
Moisture Durability
Retrofit
Vapor Barriers
Wall Assembly
Water Infiltration
Water Resistance
It is a great pleasure to represent the students and ask professionals the common questions that have been raised. Below is a Q&A I conducted with several industry experts during the show.
Question 1: How do students get involved and network further after attending the convention?
Get involved in your local chapter. (They are always looking for ways to support students with scholarships, product demonstrations, and educational workshops.)
Connect with them on LinkedIn.
Email your resume to the professionals. (Also bring a printed copy to the convention!)
Follow-up with your mentor about your summer plans and keep in touch.
Question 2: What kind of questions can students ask when networking?
What is your educational background?
What do you specialize in? What specific type of work do you do?
What classes do you recommend, or what should I do before I graduate to prepare to go into this industry?
How did you hear about IIBEC?
How did IIBEC help your career?
How engaged are you in IIBEC?
How did you transition to the engineering/management side?
Who has been the greatest influence on you?
Do you offer student internships at your company?
Is there an opportunity for me to attend one of your company events such as a staff meeting?
Is it possible to shadow you for a day?
Question 3: What is your advice for students who are not sure of their career goals?
Do not be afraid to switch and try out different areas of study
Try internships in different areas to help you narrow your focus.
Take classes that are not just related to your major. Elective courses can help you find other passions.
Reach out to professionals via LinkedIn to find out more about various job backgrounds.
Put yourself out there.
Say "yes" to opportunities.
Question 4: How should students get involved in other professional organizations?
Reach out to your career service network in school.
Attend club fairs and see what clubs/organizations your school offers.
Talk to your mentor and see if you can come to their regional or chapter meetings, and ask about what other organizations, they are involved in.
For the Mentors
I had the opportunity to be paired with two mentors, Julie Palmer and Jeremy Bridwell, RRC REWC, PE, over the course of my three sponsorships. They were tremendous mentors who helped me both understand the purpose of IIBEC and network with other professionals. For future mentors, I have provided a guideline that they can use for their future mentees.
Pair with someone in your region.
It is easier for both mentor and mentee to have an introductory meeting prior to the conference and to follow up afterwards. It is also beneficial for your mentor to help connect you with an internship or a full-time job if you are looking to stay in the same area.
Have a preliminary call/meeting to get to know each other before the convention
A quick call or a meet-up for coffee is a good way to get to know one another. It can be hard for mentees to find their mentors on the first day of the convention.
Attend one of the educational seminars with your mentee.
Pick at least one educational seminar that may interest both of you or that may be beneficial for your mentee. Some terminology can be difficult, so attending a seminar with your mentee is a great opportunity for them to ask questions and clarify unknown concepts.
Walk around the trade show with your mentee.
This helps you connect with the manufacturers and see product demonstrations. As a mentor, you can also demonstrate your soft skills of communicating and networking with others on the trade show.
Introduce other IIBEC members to your mentee.
If you see someone you know, you can introduce them to your mentee.
Any professional will be happy to meet a student.
Ask if your mentee is looking for an internship or a full-time position and how
you can help them. This can provide a great opportunity for the mentee to gain
industry experience.
Encourage your mentee to join the local IIBEC chapter.
Many students do not know that they are invited to these meetings. Help them get involved after the IIBEC Convention and Trade show.
Check in with your mentee after the conference.
Keeping in touch and maintaining the connection is important for both parties.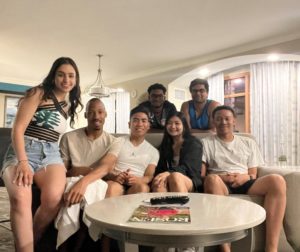 From My Experience
I strive to be a holistic engineer—an engineer with comprehensive knowledge who knows more than one's area of expertise. When I first came to the 2019 IIBEC Convention and Trade Show, I was not sure how this organization related to my studies as a structural concentration. However, as I spoke to more IIBEC members, I got to see how we are all problem solvers who think outside of the box. I realized that IIBEC was the perfect place for me to be a holistic engineer. I was surrounded by so many different people—consultants, manufacturer representatives, technicians, and government representatives. With this diversity, I was able to engage in so many different conversations and grow from their wealth of knowledge and willingness to share. I also loved being in an industry that embraced my interests: historic preservation and sustainability. It made me want to come back again.
In addition, IIBEC is a family-like organization that works as a unit. Everyone was so happy to reconnect with each other as we got to attend both the 2021 and 2022 Convention and Trade Shows in-person. When I came back again this year, I was touched at how some people remembered me from the 2021 conference. Through networking, I learned about the availability of scholarships, internships, and full-time job opportunities for students.
The IIBEC Convention and Trade Show also helped me approach problems with a forensic mindset. As I continue my education in graduate school, I am now taking classes not only in structural design but in construction management as well. I see the value both of knowing design codes and working on a team. Therefore, the IIBEC International Convention and Trade Show specifically helped me accumulate more knowledge and build my network.
Through the convention, I realized how the building system is not just math; it's coordination, communication, and collaboration within the disciplines of architecture, civil engineering, and construction management, and they are crucial in all projects
Everything we do is important, but the data is impractical unless it is clearly conveyed to the people who will implement it, such as owners and trade partners. Therefore, the IIBEC Convention and Trade Show is the perfect place for students to practice their elevator pitch, to network, and to connect with professionals.
I am so grateful to have been given this wonderful opportunity, as I was able to connect with professionals and to make lifelong friends. The relationships I have built with the students will help me improve as a person socially and professionally. We also hope to contribute to the industry through our unique, diverse educational backgrounds, and to give back to younger professionals and students in the future by providing mentorship to them.
I would like to express special gratitude to Jeremy Bridwell, RRC, REWC, PE; Rick Gardner; Shelly Higgins; Bruce Hall, RBEC, RRC, RWC, REWC; Rebecca Hall; Jennifer Keegan, AAIA; Julie Palmer; and Gino Soroker for helping me to write this paper. Thank you so much to everyone I met at the 2019, 2021, and 2022 IIBEC International Convention and Trade Shows, and thanks to the RCI-IIBEC Foundation for sponsoring me. It was a blessing to be surrounded by all the problem solvers. I hope to meet everyone again in the future!
Helena Kim is pursuing a master of science in structural engineering from Columbia University.