June 1, 2020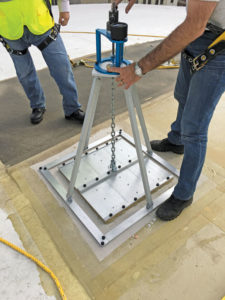 The Albany, New York "Egg," an iconic performing arts venue named for its shape, underwent a challenging roof restoration and installation of a new "cool roof" in 2019.
Built from 1966 to 1978, The Egg sits on a pedestal anchored to a reinforced concrete beam that extends six stories below the Empire State Plaza. It is now home to two theaters totaling 1,432 seats.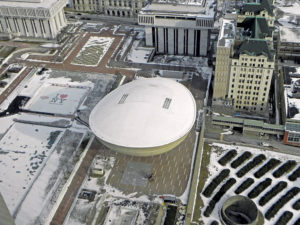 The existing 55,000-sq.-ft. roof showed signs of wear in 2017, and roof consultant Bell & Spina Architects of Syracuse, NY, was brought in to investigate and develop specifications. The roof "goes from completely flat to a 6.5/12 pitch," noted principal Dennis Spina, RRC, REWC, REWO, AIA. So a liquid-applied membrane system was chosen to create a "monolithic look."
Other involved entities in the project were roofing contractor Titan Roofing Inc. of Springfield, MA; moisture mitigation specialists AC Tech of Norfolk, VA; and manufacturers' rep for Kemper Systems, Building Envelope Technologies of Syracuse, NY. Kemper Systems named the project its "Project of the Year" for 2019.
Check out a video of the building below.