April 13, 2022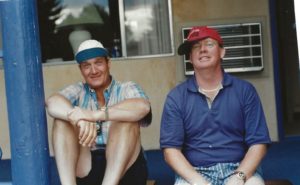 Longtime IIBEC member Bob Alford died unexpectedly last month at the age of 71.
An online obituary highlighted Alford's Michigan childhood, service in the Air Force, and the company Alford started, Amtech Roofing Consultants.
"In 1979, he moved to Dallas, Texas, to start his lifelong dream of having his own company, Amtech Roofing Consultants," the obituary stated. "With help and support of lifelong friends and plenty of hard work, Bob grew the company into one of the most successful roofing consultant firms in the country before finally selling the business in 2015."
In a LinkedIn post from AmTech Solutions Inc., the company expressed it sympathies over the loss of Alford.
"All of us at Amtech would like to offer our condolences to the family, friends, peers and former colleagues of Robert Alford, who tragically and suddenly passed away last week," the company posted. "Robert, known to most as Bob, founded Amtech back in 1982 and helped forge the company into what it is today. In a career spanning almost 40 years, Bob was a pioneer and a legend in the roof consulting industry. Bob retired from Amtech in 2019. Gone too soon, he will be missed by all who knew him. RIP Bob."
IIBEC colleagues recalled Alford's impact on the institute.
Mike Blanchette, F-IIBEC, RRC, RRO worked with Alford for more than three decades. "After being business partners for more than 35 years, it's really hard to believe Bob is gone," Blanchette said. "He passed doing what he loved: takeoff and landings in his plane. We'll miss you, man."
IIBEC member Brian Gardiner, F-IIBEC, CCS recalled Alford's effectiveness as a Texas-based roof consultant. "Bob had a tremendous impact in Texas as one of the very first Texas-based roof consulting firms," recalled . "He was a very early roof consultant pioneer. He inspired many others to take the plunge into this business (me included). I met Bob and Mike Blanchette in the early '80s, soon after they had formed Amtech. They were a class act. I will miss Bob as a colleague and most of all a good friend. May Bob rest in peace."
Albert Duwyn, F–IIBEC, RRC and director of growth initiatives at IRC Building Sciences Group, was a friend of Bob's for a quarter century. "I had the pleasure of knowing Bob for the past 25 years," Duwyn said. "Bob always liked to be around fun and was always fun to be around. He will be missed."
A memorial service is scheduled for April 22, 2022, 1 p.m.–4 p.m. at Tapatio Springs Hill Country Resort in Boerne, Texas.