August 30, 2017
The SoCal Chapter of RCI, Inc. is seeking abstracts for presentations at the 18th Annual Hawaii Winter Workshop, which will take place on January 11 and 12, 2018, at the Hilton Hawaiian Village in Honolulu, Hawaii.
The deadline for submitting presentation proposals for consideration is Wednesday, September 13, 2017.
The 2018 workshop strives to provide attendees with greater insight into building enclosure QA/QC by addressing aspects of manufacturing of products/systems, specification during design, installation during construction, and building maintenance, including investigation and repair.
Modern design and construction of buildings is growing increasingly complex, with a wide variety of building enclosure products for roofing, waterproofing, insulation, exterior wall cladding, and fenestration applications. To ensure that construction results in air-, and water-tight, thermally efficient and continuous, and fire-resistant buildings, quality assurance/quality control (QA/QC) is critical.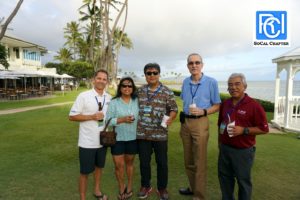 Building enclosure QA/QC is a fundamental, yet often not well-defined service provided by many project stakeholders including consultants, manufacturers, and designers, on new construction and renovation projects. It is comprised of a series of processes that start during product manufacturing and continue throughout the design, construction, and operations and maintenance phases of a building's life cycle. Elements of QA/QC can be specific or broad and may include factory in-house testing during production, independent lab testing, design document development/review, preconstruction testing, performance mock-up testing, third-party inspection/observation and testing, manufacturer-specific inspector training, maintenance inspections, warranty claims/extensions, etc. Identifying QA/QC processes and maintaining continuity throughout project execution can be complicated as they are influenced by many factors (e.g. budget constraints, owner expectations, schedule), are highly variable due to expertise or level of involvement, and often involve coordination of different parties (consultant, testing lab, contractor, subcontractor(s), architect, manufacturer, etc.).
Professionals from roofing, waterproofing, architecture, engineering, manufacturing and construction are invited to submit abstracts for presentations. Submitted abstracts should address any of the following topics, and include QA/QC processes and case studies:
Roofing
Waterproofing
Air barriers
Below-grade waterproofing
Building science
Exterior wall cladding
Fenestration
Building enclosure design
Energy-efficient design of the building enclosure
Building enclosure commissioning
Field observation and testing methods
The deadline for submitting presentation proposals for consideration is Wednesday, September 13, 2017. Proposals should be submitted as a 250-word (maximum) abstract. Any questions about presentation submissions should be sent to hawaii2018@socalrci.org.
The Hawaii Winter Workshop is a two-day educational program offering current information regarding design, construction, maintenance, and repair of roofing, waterproofing, and exterior walls. The program is designed to bring together professionals from throughout the industry to discuss building enclosure design, including roofing, waterproofing, walls, and building science. The So Cal Chapter of RCI, Inc. is an AIA- and RCI-approved education provider. Attendees will receive up to 12 learning unit hours or CEHs.
Exhibitor tabletop display and program sponsorship opportunities are available. Please e-mail hawaii2018@socalrci.org for information.