December 22, 2017
---
Outstanding RCI Affiliated Chapter Award Application Deadline Approaches
By Catherine Moon, RCI Director of Region & Chapter Relations
As the end of 2017 approaches, so does the deadline for the Outstanding RCI Affiliated Chapter Awards Program application. By January 15, a PDF of the application and necessary attachments from each submitting chapter must be received by RCI via e-mail to Catherine Moon at cmoon@iibec.org. Last year, only nine of the then 24 RCI Affiliated Chapters submitted complete applications in recognition of their work during 2016. However, we know all of our chapters are busy supporting members at the local level throughout the year and should be recognized. That is one of the reasons why the RCI Chapter Development Committee initiated the awards program in 2004.
The chapter awards program not only provides chapters with recognition at the annual convention and publicity in RCI Interface, it serves as a road map for annual operations and governmental requirements, an archival record of chapter activity and individuals filling leadership roles, and it aids chapter leaders during their annual transition meeting by providing documentation on the chapter's goals, objectives, and achievements. A couple of years ago, the Chapter Development Committee revamped the awards program application to further support its purpose by incorporating accountability measures and accommodating user needs with an electronic format.
Ideally, chapters begin recording data in the Outstanding RCI Affiliated Chapter Awards Program application during the first quarter of each calendar year. The chapter's vice president is charged with managing the application process. There are 12 sections in the application defined by topic. They are Chapter Administration, Finance, Membership, Education, Registration, Long-Range Planning, Archives, Marketing, Technical Services, Philanthropy, Industry Outreach, and Chapter Awards. Each section is scored individually. Scoring ranges from 0 to 100 points per section. Chapters are required to submit and pass the sections on Chapter Administration, Finance, Membership, and Education. Failure to pass these sections will cause the application to be deemed nonresponsive. Additional sections may be submitted to increase the overall score and document those areas of operation. Required items are indicated with red text. Items requiring additional documentation are noted as such. Failure to produce documentation will result in no score for that particular item. If additional documentation is not specifically requested, it is not necessary to provide it. A list of attachments is given in the instructions, and folders, set up by attachment name, are included in the chapter award program zip file.
It's easy to get a month or two behind in recording data in your chapter award program application, but we encourage chapters to capture the information at the time of activity. This eliminates countless hours of searching for documentation at the end of the year and running the risk of submitting an award application that is incomplete. Having your chapter's work for the year recognized by one of the four chapter award levels (Bronze, Silver, Gold, and Platinum) is quite the accomplishment and certainly feels good at the Annual Awards Luncheon before your peers; however, try not to lose sight of the other ways this operational tool benefits your chapter.
Once your chapter's award program application is complete, it must be reviewed and certified by the chapter president and secretary. After the PDF of the application and attachments is created and e-mailed to RCI, the RCI secretary/treasurer will review and accept or reject each chapter's award application. Chapters will be notified of the determination by RCI, and those accepted will be recognized at the annual convention.
We hope all of our chapters will be recipients of this award for their accomplishments in 2017; but most importantly, use this tool annually throughout the year to achieve successful management and operations.
---
Delaware Valley Chapter Hosts Annual Meeting and Supports Holiday Charity
By Delaware Valley Chapter Vice President Julie Palmer
On Wednesday, December 6, the Delaware Valley Chapter hosted its annual meeting and holiday party. This year's celebration was held at the Stone Terrace Restaurant in Hamilton, NJ, where guests were treated to an outstanding buffet dinner. During the annual meeting, attendees participated in lively discussion regarding the chapter's 2017 activities, the treasurer's report, and potential activities and approaches for 2018.
Elections for the Chapter's Board of Trustees for 2018 were held with the following results:
Julie Palmer – President
Joe Czaszynski – Vice President
John Farr – Treasurer
Rebecca Reilly – Secretary
Dave O'Brien– Trustee
Bob Zmijewski – Trustee
Bill Reisinger – Past President
The chapter is proud to continue its annual tradition of supporting the Marine Corps' Toys for Tots program. Attendees donated an impressive array of toys for the holiday drive. Thank you to all for your generosity! The Delaware Valley Chapter is looking forward to another exciting year in 2018. Next year's calendar of events will be announced shortly. Stay tuned to the Delaware Valley Chapter of RCI website for more information.
---
RCI Ontario Chapter and Affiliates Update
By Ontario Chapter Director Jay Campbell
The RCI Ontario Chapter and its affiliates were busy during the past month, with several events taking place. It started on November 3 with the Ontario Chapter's education committee hosting a breakfast seminar on "Exterior Walls Quality Assurance" at the TCA office in Richmond Hill, ON. The event was facilitated by former Region VII Director Ted Sheridan of Fishburn Sheridan & Associates. This was followed up by an "Exterior Walls Quality Assurance" seminar on November 29, hosted by the chapter's Maritime Branch in Fredericton, NB. That event was facilitated by Maritime Branch Director Gary Hamilton and Region VII Director Bryan Fishburn.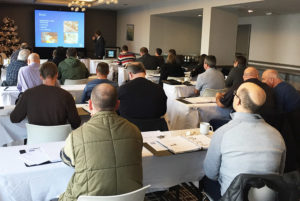 In both cases, the seminars were designed for professionals interested in performing observations to ensure that exterior wall systems are being installed in accordance with construction specifications. The course covered many wall assemblies, including EIFS, cladding, and metal panel systems, and the interfacing of waterproofing components to ensure a watertight assembly on the exterior of the building. This was the last chance of the year for members to grab a couple more CEHs.
On December 7, the Ontario Chapter held their annual Christmas luncheon at Le Jardin banquet hall in Vaughan, ON. The social committee had organized a "casino night" as part of the entertainment, where attendees were given a voucher upon entry to use to wager on various casino-type games, such as blackjack and roulette. The winners received donated prizes, with the grand prize being a set of Toronto Maple Leafs hockey tickets, which in this part of the continent are the hottest ticket in town!
Afterwards at the luncheon, Ontario Chapter President Jennifer Hogan presented the winners with their prizes and took the time to thank the Ontario Chapter Board for their hard work and dedication throughout the year. She briefly discussed that there will be a Canadian RCI Symposium happening for the first time next summer, which will be tailored to issues affecting consultants practicing in Canada, but will also be relevant for northern climates in general.
RCI Past President and Fellow Jean-Guy Levaque was in attendance, and took to the podium to announce his support for Ted Sheridan, the former Region VII director, who is now running for secretary/treasurer of RCI Inc. He introduced Sheridan and had him say a few words about the upcoming election and the merits of his candidacy.
Sponsors for the event were Tremco Roofing, Crawford Roofing, Dean-Chandler Roofing Ltd, Soprema, and Situra.
Prizes for the casino night were donated by Interior Tarp Protection and Polyglass U.S.A.
Upcoming events:
The RCI Ontario Chapter is holding a breakfast seminar on "Thermal Bridging and R Value and Hybrid Roofing Systems" in Ottawa at the National Research Council of Canada on January 16, 2018. Guest speakers David Kayll, FMA, PEng and director of Building Science East; and David Noel, PEng, of Building Science Ottawa will facilitate the event.
The RCI Ontario Chapter will hold its Annual General Meeting On January 31, 2018 at St. George's Golf and Country Club in Toronto. This will be followed by a curling social at the same location.
The RCI Ontario Chapter will host a seminar on January 31, 2018, on "Specifying Wind Loads." This event will also take place at St. George's Golf Club.
Visit the RCI Ontario Chapter website for details on all upcoming events.
Follow the chapter on Facebook and LinkedIn for up-to-date event information.
---
So Cal Chapter Members Enjoy Holiday Party
By So Cal Chapter Treasurer Ivan Chak
On December 11, the So Cal Chapter of RCI wrapped up 2017 with its annual meeting and holiday party at District Wine in Long Beach, CA.
Over 40 RCI members and industry associates attended the event that featured a successful Toys for Tots donation drive, cocktail party, year in review, treasurer's report, and awards ceremony. Our designated storage area was quickly overflowing with new, unwrapped toys to give to families in need, thanks to gracious donations from our guests.
So Cal Chapter President Szymon Zienkiewicz kicked off the evening with a snapshot of the busy 2017 year and announced upcoming events for the new year, as guests enjoyed delicious hors d'oeuvres, good company, and a festive atmosphere. Chapter Treasurer Ivan Chak provided a brief summary of the chapter's finances, reporting healthy revenues from both the So Cal Chapter and its NorCal Branch.
Vice President Danielle Ward presented awards of special recognition to chapter officers and volunteers, including:
2017 SoCal Chapter Board of Directors: Szymon Zienkiewicz, Danielle Ward, Kyle Eazor, Ivan Chak, Gary Weaver, Danny Westerfield, Jason Mullis, Ed Sapigao, Greg Morrow, Dave Erney, Dean Larsen, and notably, Industry Liaison Ron Johnston, who was recognized for 15 years of service
Golf Tournament Committee Chair: Danielle Ward
Education Chair: Kyle Eazor
Service Award: Road to the RRO – Greg Morrow
Volunteer of the Year: Moira Howmann
2017 NorCal Branch Founding Members: Jonathan Stafford, Jerome Jeffers, Eric Smith, Megan Cross-Wilkinson, Joe Bukovec, Rob Worthing, Tom Absher, Colin Shane, Joseph Buccini, Joseph Piñon, and Bill Gillette
Outstanding Sponsors of the Year: Union Roofing Contractors Association, and Brent Bonnell and John Segin of Versico Roofing Systems
Speaker of the Year: Phil Dregger
Golf Tournament Committee Co-Chairs, NorCal Branch: Jerome Jeffers and Rob Worthing
The fun evening ended with the opportunity drawing that included a fancy bottle of bourbon that was won by Brent Bonnell. The chapter extends a big thank-you to our event sponsor, EPRO, and opportunity drawing sponsor, APOC, for their generous support.
Chapter members are all looking forward to an exciting 2018. Please have a safe and very happy holiday season, and the chapter members hope to see you in January at their 18th Annual Winter Workshop in beautiful Honolulu!
---
January 2018 Calendar