June 27, 2017
---
Chicago Area Chapter Holds Spring Meeting and Seminar Program
By Jeffery Button, RRC, RWC, AIA, Past President and Director, CAC-RCI
The Chicago Area Chapter of RCI, Inc. (CAC-RCI) conducted its annual spring program on May 19, 2017, at the Village Links of Glen Ellyn in Glen Ellyn, IL, with 42 members, guests, speakers, and tabletop exhibitors attending. The tabletop exhibitors included Carlisle Syntec Systems, OMG Roofing Products, Hunter Panels, FiberTite, and Tecta America.
The meeting began with networking and tabletop exhibitor visits followed by lunch, and then the presentations were given. The speakers for the program were Grant Stahl with Hunter Panels, presenting "Continuous Insulation: Energy Efficiency and Performance Comparison," and Timothy Harris with the Federal Aviation Administration, discussing "How to Fly Your Drone for Business Safely and Legally."
Grant Stahl's presentation focused primarily on exterior wall insulation including the various types, properties, and ratings. He talked about polyisocyanurate, SPF, EPS, XPS, mineral wool, and fiberglass batts. He compared the global warming potentials of the various types, taking into account acidification, ozone depletion, and eutrophication. He explained construction difficulties and best materials and methods. He examined air flow and moisture flow through the various materials and computer modeling results. He presented the "ideal wall" with all insulation on the exterior side of the air barrier, and he also discussed the various types of insulation facers including glass fiber, paper, and foil, concluding that permeable glass fiber facer is best for exterior walls.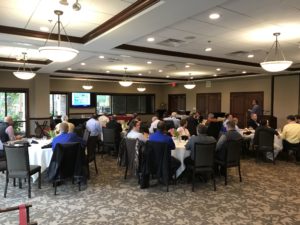 Unmanned Aircraft Specialist Timothy Harris, of the FAA, began his presentation discussing U.S. airspace rules for unmanned aircraft (UA). He discussed the difference between recreational and commercial use of small UAs. He stated that under 14 CFR (Part 107) for commercial use, an operator needs a remote pilot certificate, must be 16 years of age or older, and must pass a TSA vetting process. In addition, to properly operate the UA it must travel under 100 mph, must not be operating over people unless they are part of the operation, and must yield to manned aircraft. Further, for legal operation of the UA, the operator must maintain line of sight, must be 400 feet or less above ground level unless within 400 feet of the structure, must be operating a UA weighing less than 55 pounds, and must operate the UA during daylight hours. He indicated that information is available at FAA.gov/uas/. New unmanned aircraft systems (UAS) facility maps are available for use in obtaining airspace authorizations and waivers of the listed height restrictions, and the maps allow expediting of the petitions. He stated that there are UAS security-sensitive restrictions that protect military facilities, nuclear plants, and other critical facilities. He concluded by recommending that all unsafe UA activities should be reported to the FAA.
The next chapter program will be the CAC-RCI Summer Meeting and program, which will be held on September 15, 2017. Details will be forthcoming.
---
Delaware Valley Chapter Tours Brewery, Discusses Elastomeric Coatings
By Julie Palmer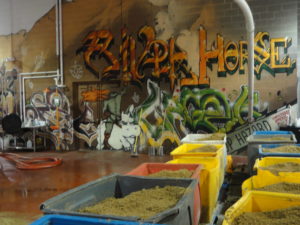 All work and no play? Not a chance! Earlier this month, Delaware Valley Chapter members gathered at the River Horse Brewing Company in Ewing, NJ for an evening of education and, of course, beer! The educational portion of the event focused on elastomeric roof and wall coatings with a presentation by Eric Bennung, VP of Acrymax Technologies in Media, PA. Chapter members were also treated to a private tour of the brewery and tastings. A good time was had by all!
Don't miss the Delaware Valley Chapter's next event on July 20, at the Wyndham Hotel in Mount Laurel, NJ. The day-long event will feature presentations about PMMA liquid-applied roof systems, lightweight insulating concrete, wind uplift and code compliance, aerial roof measurements, and interior protection for roofing and construction projects. Additional information is available at http://www.rcidelawarevalley.org/events/.
---
Great Lakes Chapter Goes Fishing
By Sue Baumberger, Industry Director, Great Lakes Chapter of RCI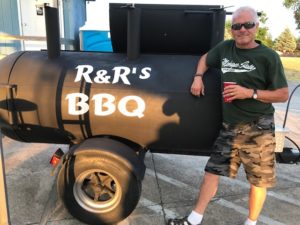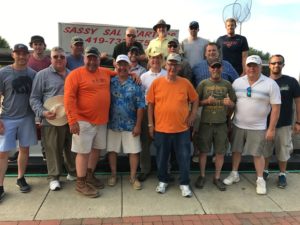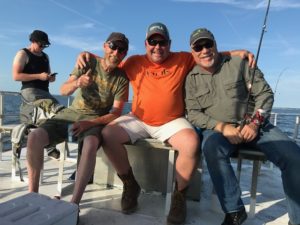 On June 15th, the Great Lakes Chapter held their very first fishing trip social event. The sun was shining and the walleye were biting! The chapter says, "mucho thanks" to Ron French with BRAVE Enterprises, who provided burgers and hot dogs prior to boarding the Sassy Sal, and a huge BBQ meal at the end of the day. Sue Baumberger of Johns Manville donated personal coolers bearing the Great Lakes Chapter logo for everyone's catches. The chapter thanks Sue! The fight of the day was a monster 16-pound catfish that gave Brian Davis a good battle; and at 20" long, the biggest walleye was brought in by Zack Davis, winning him the contest money. There were small ones and there were big ones, and all had a great time! If you couldn't join the chapter, don't miss it next year, as it's going to become an annual event!
| | |
| --- | --- |
| Zack Davis with his winnings. | Brian Davis with a big "cat" catch. |
| Russ Watson was just getting warmed up! | Nice walleye, Bob Reel! |
Upcoming Chapter events are shown below. Mark your calendars now!
| | |
| --- | --- |
| 7/28: | Chapter Tigers Game Social Event |
| 9/11: | Chapter Benefit Golf Outing |
| 10/12: | Fall Technical Session |
| 12/7: | Annual Banquet & Membership Meeting |
Details will be sent to the membership well in advance of all scheduled events.
Volunteers are important to any organization. If you would like to help, please call or email chapter President Ron Kinne at 734-591-4444 or rkinne@rtaltd.com.
---
Mid Atlantic Chapter Holds Golf Tournament
By Matt Schofield, RCI MAC Chapter Secretary
The Mid Atlantic Chapter (MAC) held its 15th annual golf outing. The event was held at the Little Bennett Golf Course in Clarksburg, Maryland on June 8, 2017. The tournament offered prizes for 1st and 2nd place, as well as competitions for closest to the pin and longest drive. Prizes were distributed immediately after the golf outing. A raffle was also conducted to distribute items, including apparel, pro shop gift certificates, and assorted golf equipment.
The tournament was organized as a shotgun with foursome assignments designed for interaction among consultants, building owners, contractors, and material suppliers involved with the industry in the Mid Atlantic Chapter area of Virginia, Maryland, and the District of Columbia. Foursomes were assigned to each hole. There were over 80 attendees present. All holes, events, and food were sponsored by various groups. The chapter thanks the sponsors and everyone who attended for helping make this a successful event.
For more information about this event and future events or other chapter information, visit the Mid Atlantic Chapter website at www.rcimidatlantic.org, or contact Matt Schofield at secretary@rcimidatlantic.org, or Steven Bohlen at president@rcimidatlantic.org.
---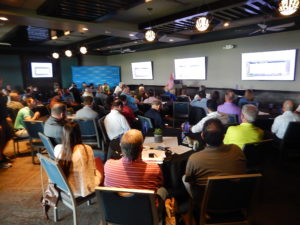 North Texas Chapter Holds Top Golf Event
By Bryan Staffel, PE, North Texas Chapter Secretary
The
North Texas Chapter of RCI
hosted its fourth annual Top Golf event on May 22, 2017. The event was headlined by Stephen Patterson of
RoofTech
, who presented to over 70 attendees on drainage design, roof collapses, and the code.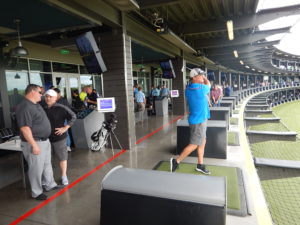 The presentation addressed the International Building Code (IBC), the International Plumbing Code (IPC) requirements for roof drainage, and the major changes that came about with the release of the 2015 edition of IBC. Patterson drew on his 40 years of roofing industry experience to educate attendees on how to calculate rainwater loads on drains and scuppers, and discussed key issues related to roof collapses.
After the presentation, attendees enjoyed food, drinks, and music while challenging one another to fun point-scoring golf games at the Top Golf complex in The Colony, Texas. The chapter thanks our 18 company sponsors for making this event happen. This was the chapter's largest ever Top Golf event, and the chapter looks forward to hosting again next year.
---
Ohio Valley Announces 2017 Programs
By Kate Hendrickson
The Ohio Valley Chapter of RCI, Inc. announces dates for the following events:
OVC RCI Annual Meeting — Cleveland Area November 1
OVC RCI Education Day — Cleveland Area November 2
OVC RCI Education Day — Indianapolis November 16
Additional information is to be released soon.
OVC also continues to seek outstanding contractor nominations for roofing contractors in Indiana and Ohio.
The Ohio Valley Chapter would also like to announce that they are hoping to fill the seat of treasurer for the remaining term of this year.
---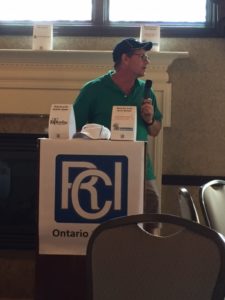 Ontario Chapter Learns over Breakfast, Plays Golf
By Jay Campbell, Ontario Chapter Director
Ontario Chapter's Annual Golf Tournament
Breakfast was offered at 7:00 a.m., followed by an 8:00 a.m. shotgun start. The weather was not overly cooperative, as rain showers swept past several times. However, the event was able to be completed in its entirety. RCI President Michael Williams made the trek north of the border to participate in the tournament, and despite the inclement weather, seemed to enjoy himself mingling with the Canadian contingency. Ontario Chapter President Jennifer Hogan, former Region VII Director Ted Sheridan, and new Region VII Director Bryan Fishburn were also in attendance.
Denis Theriault, tournament MC and Social Committee chair, thanked everyone for attending and supporting the RCI Ontario Chapter.
He extended a special thanks to breakfast sponsor DT Roofing, cart sponsor MJ Building Envelope Solutions, and lunch sponsors Crawford Roofing and Soprema.
Hole sponsors included:
Accu-Plane Enterprises
Fishburn / Sheridan & Associates Ltd.
June Breakfast Seminar
On June 14, the Ontario Chapter held a breakfast seminar at Braeben Golf Club in Mississauga, ON. It was a fabulous turnout with close to 50 registrants taking part in two educational seminars.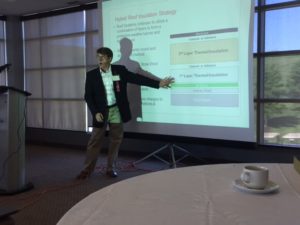 Firstly, Gary Osmond, technical sales specialist with Roxul, gave a very detailed presentation titled "Hybrid Roof Insulation Strategies – Utilizing the Benefits of High Performance Non-Combustion." The lecture covered LTTR Ratings in stone wool insulation and the cost analysis of installing a hybrid roof assembly compared to those of standard conventional assemblies. It was a very informative, well-presented session.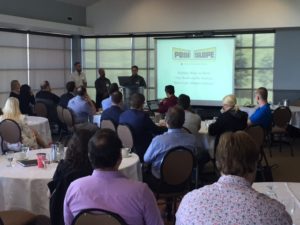 The second seminar was provided by Posi-Slope representatives Peter Basciano, Kevin Mallia, and Andrew Zammit, and covered the "Effective Use of Tapered Insulation in New and Re-roofing Applications." The discussion touched on how tapered insulation can be a key component in providing proper drainage of rainwater from roofs and how tapered insulation can often combat deflections and deviations in the roof structure to ensure the roof receives the slope that was intended.
The Ontario Chapter would like to thank Elastizell Canada, Kemper System, Lexsuco Corporation, ModulR TS and Velux Canada Inc. for their tabletop displays at the seminar.
Upcoming Events:
The Education Committee is holding an upcoming "Breakfast Seminar" at the Braeben Golf Club in Mississauga, Ontario, in September 2017 (exact date TBA).
The Education Committee is holding an upcoming workshop at the TCA Toronto offices in October 2017. Stay tuned for details.
The Education Committee is holding an upcoming RCI course, "Exterior Wall Quality Assurance," at the TCA Toronto offices on November 3-4, 2017.
Visit the RCI Ontario Chapter website, www.rci-onchapterinc.ca, for details on all upcoming events. Follow us on the Ontario Chapter of RCI Facebook page and LinkedIn for up-to-date event information.
---
San Antonio Branch Discusses Hail
by Pete Keener
The Central Texas Chapter of RCI's San Antonio Branch met on May 26, 2017, at Outback Steakhouse. The branch meeting was a huge success. Twenty-seven attendees enjoyed a great meal and an informative presentation on hail by Vernon Dunagin. The branch's next meeting will be September 22, 2017. There will be a three-panel discussion on wind uplift, wind speed warranties, and ANSI-10. The branch currently has 21 active attendees, six of whom are willing to help form a board and chapter.