May 25, 2018
---
Congratulations to the Northern California Chapter!
RCI, Inc. is pleased to announce the establishment of the newest affiliated chapter: The Northern California (NorCal) Chapter of RCI. The NorCal Chapter, previously a branch of the So Cal Chapter, has been approved by the RCI Board of Directors. This newest chapter was formed with the support and guidance of the RCI So Cal Chapter. After months of organizing and recruiting top-notch leaders, the Northern California Chapter of RCI is now a full chapter, operating independently from the So Cal Chapter, and ready to provide enhanced benefits and services to RCI members in the area. The Northern California Chapter of RCI is currently planning several events and will be launching a website soon.
"We couldn't (and probably wouldn't) have done it without RCI So Cal Chapter leadership and support."
– Jerome Jeffers II, RBEC, CCS, CCCA
Vice-President of the Northern California Chapter of RCI
---
Denver Chapter Hosts Educational Event
By Denver Chapter President Kade Gromowski, RRC, RWC, PE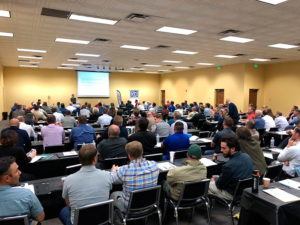 It was a full house at the RCI Denver Chapter's joint educational event with the Colorado Roofing Association (CRA) which took place on May 1. Over 150 people joined RCI Denver and CRA to learn about the Denver Green Roof Initiative. This Initiative has posed significant challenges to the construction industry in Denver, in particular the roofing industry. With potential substantial amendments to the Initiative looming in the near future, the educational event allowed us to get on the same page as an industry in preparation for what promises to be a busy summer.
---
Georgia Chapter Shoots Clay Pigeons
By Georgia Chapter Vice President Rich Chapman
The
Georgia Chapter of RCI
held its first annual Shotgun Blast on May 8, a clay pigeon shoot that will fund scholarships for members or relatives of members pursuing an education in construction, building science, or architecture. The Shotgun Blast was held at Garland Mountain in Walseka, GA. The Georgia Chapter raised around $8,000 for scholarships to be awarded at next year's event. This should fund four $2,000 scholarships. The Shotgun Blast had 81 attendees, including eight sponsors. The event not only included the clay pigeon shoot, but an expo and demos put on by the sponsors. A buffet lunch was served afterwards at the lodge.
---
Great Lakes Chapter Holds Spring Technical Session
By Great Lakes Chapter Past President Ron Kinne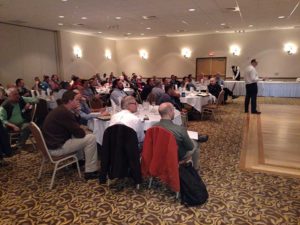 On April 26, the Great Lakes Chapter of RCI held its Spring Technical Session. Topics and speakers included:
Condensation in Roofing—Al Janni of Duro-Last
Moisture in Concrete Decks—Mark Graham of NRCA
NRCA Technical Issues Update—Mark Graham of NRCA
Recent Changes to the Michigan Energy Code—Tim Mrozowski, AIA
The Chapter had its largest turnout yet with 80 attendees present.
The RCI Great Lakes Chapter recently honored two members who were instrumental in reviving the chapter and setting it on its current successful course: Sue Baumberger and Mike Mathers. Baumberger retired from Johns Manville on December 31, 2017 and served as president of the Great Lakes Chapter from 2008-2009. Following her stint as chapter president, Baumberger continued to serve on the board as an industry director, invaluably helping the chapter by doing whatever was asked of her and more. Baumberger received a lifetime achievement plaque, a Bulova watch, and gained honorary member status. Mathers retired from Roofing Technology Associates, Ltd. on April 30, 2018 and served as chapter president from 2006-2008. Mathers received a lifetime achievement plaque, a Shinola watch, and gained honorary member status.
Upcoming Chapter events are shown below. Mark your calendars now!
9/11 Chapter Benefit Golf Outing
Details will be sent to the membership well in advance.
Volunteers are important to any organization. If you would like to help, please call or email Chapter President Joe Sobas at 248-943-1795 or jsobas@royal-roofing.com.
---
Mid Atlantic Chapter Hosts Design Competition, Announces Golf Outing
By Mid Atlantic Chapter Secretary Julie McDonald
Design Competition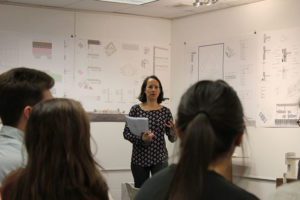 During the month of April, the
Mid Atlantic Chapter of RCI
hosted a Student Design Competition at
Virginia Tech
in Blacksburg, VA. Sixteen undergraduate architecture students engaged in a semester-long project to design a new sustainable elementary school facility in Blacksburg. The focus of the design competition was to challenge the students to prepare a typical wall section, building section, roof plan, elevation, and details.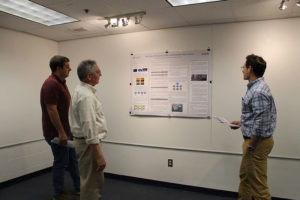 Students were required to present on a 48"x36" board and provide a 1/2"=1'0" section model of the building. Jurors Derek Cundiff, Rick Wagner, Mike Hebert, and Julie McDonald visited the university on April 16 for an afternoon of mentoring where students presented their draft presentations and jurors provided feedback and technical resources. Final presentations were given on April 30. The chapter set aside $4,000 for this scholarship, and awarded each participant a minimum award of $100 plus reimbursement for material expenses. The first place scholarship in the amount of $800 was awarded to April Foley. Second place in the amount of $500 was awarded to Bronwyn Redd.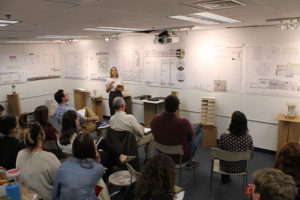 Three honorable mentions receiving $200 included Jackie Benfield, Jack Littrell and David Martin. The balance of the scholarship money was distributed amongst the remaining participants.
In addition to the Student Design Competition, the Mid Atlantic Chapter hosted a Student Research Competition where students were challenged to explore an element or system used in building enclosures and investigate the design-making process using that element. Presentation format was a 48"x36" poster board summarizing their research questions or hypotheses, methodology, results, and conclusions. First place in the amount of $500 was awarded to graduate PhD student Abdullah Abuzaid. Tied for second place in the amount of $250 each were graduate PhD students Soo Jeong Jo and Amos Kalua. We would like to thank Dr. Elizabeth Grant of the Mid Atlantic Chapter Blue Ridge Branch for organizing this program and our jurors for their time providing educational and mentoring opportunities for both the students and our chapter members.
Golf Outing
The Mid Atlantic Chapter will host its 16th annual Mid Atlantic Chapter of RCI, Inc. golf outing on Thursday, June 7 at Little Bennett Golf Course in Clarksburg, MD. Little Bennett is Montgomery County's premier public golf course, located in the foothills of Sugarloaf Mountain. The tournament will be organized as a shotgun four-person scramble, and will offer prizes for 1st and 2nd place, as well as longest drive and closest to the pin competitions. Immediately following the tournament there will be a catered lunch, awards ceremony, and a raffle. Raffle items include apparel, pro-shop gift certificates, and assorted golf equipment. We hope to fill the entire 18-hole field with golfers, and offer a variety of sponsorship opportunities. Registration is open!
For more information about this event and future events or other chapter information, visit the Mid Atlantic Chapter website at www.rcimidatlantic.org, or contact Julie McDonald at secretary@rcimidatlantic.org, or Dan Mathews at president@rcimidatlantic.org.
---
New England Chapter Seeks Golf Committee Members
By New England Chapter President Shawn Vetere
Following last year's successful first annual golf classic, the New England Chapter of RCI is seeking golf committee members for 2018. If you would like to volunteer as a committee member please email Shawn Vetere directly. He will act as the committee chairman alongside cochairs John Karman, of Noblin and Associates, LLC, and Bob Keenan, of Boston Envelope Consulting, Inc. Anyone who would like to join the committee is welcome. It is a great way to network and to rub elbows with some of our industry's most talented engineers and consultants. The second annual golf classic will take place on Monday, October 2, 2018, at the Granite Links Golf Glub in Quincy, MA.

---
So Cal Chapter
By So Cal Chapter Treasurer Ivan Chak
On April 19, the So Cal Chapter of RCI gathered with friends and colleagues at the Coyote Hills Golf Course in Fullerton, CA for the 16th annual golf tournament. It was yet another rousing success, with a sellout group of 160 golfers hitting the links. The chapter's annual event was supported by the generosity of the following sponsors:
Diamond Sponsor: ABC Supply Company
Premier Sponsors: Lowry's Inc. / Systems Waterproofing Supply
Platinum Sponsors: Carlisle, Sika Sarnafil, Sunshine Supply Company Inc., Roof Resources / Prism Marketing Group
We also had many other industry sponsors who came out to contribute tees, golf balls, snacks, beverages, and raffle giveaways, and line the course with their company signage and tabletop displays.
Attendees took photos next to the ABC Supply Company Indy Car showcase as we kicked off the event with an early morning registration. Our volunteers assisted golfers with check in, distributing goodie bags with So Cal RCI Under Armour golf shirts, and taking onsite purchases for raffle contest entries, putting contest tickets, and mulligans. A Bloody Mary and breakfast bar sponsored by Lowry's Inc. helped get golfers off to a good start on the course, with a tasty offering of sausage and bacon burritos, fruit salad, juices, and refreshing cocktails. Golfers hit the links with an 11 a.m. start, under light overcast skies with bursts of morning showers and sunshine that kept everyone cool and energized. By 6:00 p.m., the carts rolled in for a delicious BBQ dinner sponsored by Letner and USG with brisket, grilled chicken, and all the fixings, plus cookies and brownie desserts to top it off. Chapter President Danielle Ward and Moira Howmann of ABC Supply Company emceed the evening.
Tournament winners:
1st Place Team – Red Pointe Roofing: Aaron Martin, Tod Fritts, Larry Burks, Jamie Cunliffe
2nd Place Team – Lowry's Inc.: Jimmy Busak, Brian Keonings, Dave Erney, Alan Cantarini
3rd Place Team – Lowry's Inc.: Bill Bligh, Ignacio Salas, Kevin Taylor, Garrett Smith
Contest Winners:
Closest to the Pin – 6 ft, 7 in: Jamie Cunliffe
Straightest Drive: Lenny Fotopolis
Longest Drive, Men: Dan Brown
Longest Drive, Women: Kaylyn Camello
Putting Contest: Lenny Fotopolis
Following dinner, members had the opportunity for bonus prize drawings. The sale of opportunity drawing tickets allowed the chapter to offer an extensive array of tiered prizes, including premium-level prizes donated by vendors such as: a golf bag, a lawn chair, and a 58 in. Ultra HD LED TV.
Charity Golf International provided a pro driver on the course, fundraising $2,350 in donations for
Strength in Support
, with proceeds going to support military veterans and their families. Justin Paige with Strength in Support received a novelty check from the Charity Golf fundraising, and delivered a short acceptance speech on behalf of the organization. Participation and support in the golf tournament also helped the So Cal Chapter provide donations to both RCA's
Jim Nienow Scholarship
and URCA's
Don Banks Memorial Scholarship
. This year, $1,500 was presented to each of these industry scholarship funds.
Overall it was another tremendously successful day of golf, and we enjoyed the company/comradery of participants from every corner of our industry, along with great food, drinks, awesome prizes, and the privilege of being able give back to service members through Strength in Support and our industry via the scholarship funds.
Special thanks goes out to the Golf Committee, event volunteers, and especially Moira Howmann for all her hard work in her final year as chair of the Golf Committee, as the chapter could not have completed such a well-executed and enjoyable event without her leadership and dedication. Moira, the chapter hopes to have you back soon for a future golf tournament!
Calendar of Upcoming Events
June 1 – Chicago Area Chapter Board Meeting, Oak Brook, IL
June 6 – Delaware Valley Chapter Educational Event, Philadelphia, PA
June 7 – Mid Atlantic Chapter 16th Annual Golf Outing, Clarksburg, MD; Ontario Chapter Breakfast Seminar: High Performance Building Envelope: Air Barrier, Mississauga, ON; Building Envelope Quality Assurance, Minneapolis, MN
June 8 – Exterior Wall Quality Assurance, Minneapolis, MN
June 13 – Region V Meeting, Las Vegas, NV
June 14 – Great Lakes Chapter Fishing Trip, Monroe, MI
June 15 – Georgia Chapter Meeting, Dunwoody, GA
June 19 – Ontario Chapter Golf Tournament 2018, Milton, ON
June 21 – Mid-South RCI Golf Event/Fundraiser, Nashville, TN; Portland Chapter Lunch and Learn, Portland, OR
June 25 – North Texas Chapter Lunch and Learn, Irving, TX
June 28 – Arizona Branch Interest Meeting (Sponsored by the Denver Chapter)