January 16, 2019
Now that the holidays are over and we're starting fresh in 2019, it's time to think about your charitable giving for the year! RCI, Inc. is in full swing collecting donations from our members to restore the remaining structure of the 1825 Choctaw Academy in Great Crossing, Kentucky. Whereas our goal is about $400,000, we currently stand at nearly $25,000 raised so far. This is a phenomenal start, and we have you and the RCI Foundation to thank for it.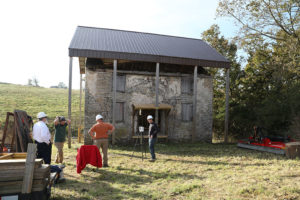 As a reminder, the Choctaw Academy was the first racially integrated, non-military, secular school funded by the U.S. government. This was only the second school funded by the federal government, the first being West Point military academy, still in operation today.
Through a generous grant from the RCI Foundation, the initial lidar scan on the structure has recently been conducted and completed, laying the groundwork for the bulk of the restoration. As RCI maintains its position of fundraiser for this incredible project, it's now our time to ask that you support this endeavor through donations made through either the RCI website, or the RCI Foundation U.S. site, both links listed below.
We at RCI are incredibly excited to be able to restore a tangible piece of our nation's history, while simultaneously illustrating to the country the value of a skilled building envelope consultant. With only $125 from each of our members, we'd easily reach our goal in no time. We hope that you'll follow our blog as we keep you updated on the restoration activities, each and every step of the way.
https://iibec.org/choctaw-academy/
http://www.rcifoundation.org/choctaw_academy_initiative.aspx#