December 1, 2018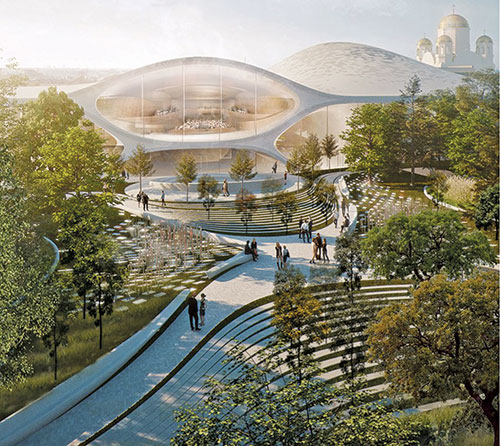 Zaha Hadid Architects has won a competition to design the Sverdlovsk Philharmonic Concert Hall in Yekaterinburg, Russia. The venue will contain a 1600-seat concert hall and a smaller 400-seat chamber music hall.
"Echoing the physical aspects of sound waves, the design of the new philharmonic concert hall is based on the properties of musical sound resonance creating wave vibrations in a continuous smooth surface," said a spokesperson for Zaha Hadid Architects, explaining that the two halls will be suspended within the steel structure of the building's roof, taking its form from the shape of sound waves.
"The design reinterprets these physical acoustic properties to define spaces for the auditoria that are suspended within the canopy, appearing to float above the new civic plaza that is both the lobby of the Philharmonic Concert Hall and an enclosed urban square."
The new venue will be built alongside the existing Sverdlovsk Philharmonic building, which it will replace, and the Weinger Gardens. It has been designed to tie the buildings and green spaces on the block together. Watch a video on the planned building here:
.
—dezeen.com