August 5, 2022
Each quarter, IIBEC and other trade associations in the roofing industry (Asphalt Roofing Manufacturers Association, Canadian Roofing Contractors Association (CRCA), Chemical Fabric and Film Association, EPDM Roofing Association, Metal Construction Association, National Roofing Contractors Association, National Women in Roofing, Polyisocyanurate Insulation Manufacturers Association, Roof Coatings Manufacturers Association, and Single Ply Roofing Industry) survey contractors and consultants to gather data on the North American low-slope and steep-slope roofing market.
The most recent Market Index Survey for Reroofing, conducted in July 2022, suggests continuing optimism and growth for the industry as a whole. However, there are also reasons for concern, particularly in the steep-slope market segment.
Survey Demographics
Each quarter, the survey gathers information about the regions where respondents do business, the annual gross revenue, and their market segment.
In this survey, most of the respondents (82%) did business in the United States, and the rest were from Canada. All regions in both countries were represented. Participation was greatest in the South Atlantic region (Delaware, Florida, Georgia, Maryland, North Carolina, South Carolina, Virginia, West Virginia, and Washington, D.C.)—20% of all respondents came from this region.
Participation was dominated by contractors (80% of respondents). However, the proportion of consultants in this survey (20%) was double the proportion in the 2022 first-quarter survey, where just 1 in 10 respondents was a consultant.
More than 90% of respondents shared information about their company's annual gross revenue. The breakdown was less than US$ 1 million (15%), US$1 million to US5 million (23%), US$5 million to US$10 million (24%), US$10 million to US$25 million (15%), US$25 million to US$50 million (12%), US$50 million to US$100 million (2%), and more than US$100 million (1%).
The market segment classification was as follows: 56% primarily work in low-slope roofing; 12% primarily do business in steep-slope roofing; and 33% are in both the low- and steep-slope markets.
Business Trends
The survey collects data on three aspects of participants' business activity: customer inquiries, project contracts, and project backlogs.
About a third of respondents (31%) across all market segments said that the volume of customer inquiries in Q2 2022 was the same as what they Q2 2021; 40% reported that customer inquiries had increased; and 29% said customer inquires were down (Fig. 1).
Industry-wide trends in project contracts were similar to those for customer inquiries. 43% of all respondents reported that project contracts increased for Q2 2022 as compared with Q2 2021; 34% reported no change; and 24% reported a decrease (Fig. 2).
Roughly four out of five participants said they had project backlogs as of July 2022: across all market segments, 27% said their backlog was one to two months; 20% said three to four months; 18% said five to six months; and 14% said more than six months. Figure 3 breaks down the project backlog responses by market segment.
Indexed Data
Two indices are produced using survey data: one for customer inquiries and one for project contracts. These indices provide insight into expansion/contraction in the reroofing industry as a whole, as well as in the primarily low-slope, primarily steep-slope, and blended service sectors.
To create the indices, analysts compare quarterly survey data from year to year (for example, responses about customer inquiries in Q2 2022 versus Q2 2021). An index score equals the percentage of respondents who reported increased business plus one-half the percentage of respondents who reported no change, with the total multiplied by 100. A score equal to or greater than 50 suggests expansion (optimism).
As shown in Fig. 4, the project contracts index indicates that business growth and optimism continued in Q2 2022, though there was a slight decline in confidence in each of the market segments. The industry-wide index was 59.2 for Q2 2022 compared with 62.1 for Q1 2022.
The customer inquiries index numbers for all market segments were down compared with Q2 2021 (Fig. 5). In particular, that index suggests tha
t business is contracting in the steep-slope industry. For the industry as a whole, the customer inquiries index dropped to 55.4 for Q2 2022 compared with 62.8 for Q1 2022.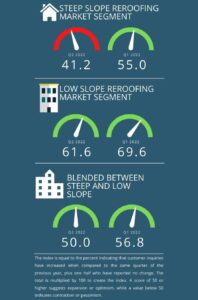 Your Participation Matters!
IIBEC encourages its members to participate in future Market Index Surveys for Reroofing. By participating, you can help ensure that the data are robust and fully reflective of industry trends. Keep an eye on IIBEC's See What We're Building This Week! newsletter for announcements about survey participation and results.