March 19, 2022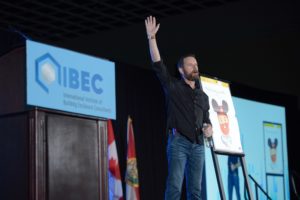 Day Three of the 2022 IIBEC International Convention and Trade Show started early, with strong attendance for educational sessions about mental health, cladding attachment strength, and industry diversity, among other topics.
Following a meeting of the RCI-IIBEC foundations' (US and Canada) board of directors and IIBEC region meetings, the opening ceremony launched with a high-energy dance routine from the Funky Wunks. Outgoing IIBEC President Ted Sheridan then thanked the meeting's sponsors—including the exclusive sponsor of the opening ceremony, Johns Manville—and encouraged IIBEC members to think of each other as family. "Take in the whole experience," Sheridan said of the meeting. "You've earned it."
Incoming First Vice President Amy Peevey spoke next, thanking attendees for making the choice to come to Orlando for the convention. She expressed appreciation for IIBEC staff, who pulled together a conference in half the usual time (the 2021 IIBEC International Convention and Trade Show took place in the fall rather than the spring), and she expressed appreciation for the RCI-IIBEC foundations' sponsorship of 30 students in attendance for this year's event.
Keynote speaker Duncan Wardle, former head of innovation and creativity at Disney, encouraged a spirit of creativity through signaling, nurturing, playfulness, mindfulness, freshness, bravery—and taking the time required to be creative. "Give yourselves the gift of time to think," Wardle said.
More than 120 exhibitors then welcomed convention attendees to this year's trade show. A packed reception followed, as did product demonstrations from Sika Corp. and Polyglass USA Inc.
Day Three events wrapped with receptions hosted by SOPREMA and Siplast.
Day Four will include the continuing trade show, an awards luncheon, additional education sessions, and the RCI-IIBEC Foundations' reception and auction.
The 2022 IIBEC International Convention and Trade Show concludes on March 22, 2022.
(All photos by Robert Downs.)