April 21, 2022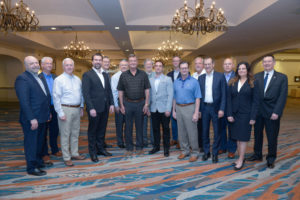 By Rick Gardner
Some major changes are happening with the RCI-IIBEC foundations.
The RCI-IIBEC Foundation and RCI Foundation Canada elected new board members at their recent meeting in Orlando, Florida. Ted Sheridan, RBEC, RRC, REWC, RWC, PEng; Scott Hinesley, F-IIBEC, RRC, PE; Richard Voyer; and Patrick Banning were nominated and elected to serve.
"It is with mixed emotions we also announce the retirement of Bob Elsdon, F-IIBEC, from the RCI-IIBEC Foundation and RCI Foundation Canada board of directors," said RCI Foundation Canada Chair Albert Duwyn. "Bob was a valued contributor of wisdom and experience as well as expertly performing the role of treasurer for the Canadian board. His presence will be missed, and his friendship will be cherished. We wish him and his wife, Vicki, good health and happiness."
Mike Blanchette, F-IIBEC, RRC, RRO and chair of RCI-IIBEC Foundation, added, "I really want to express my appreciation for Bob and his many years of dedication and hard work. Bob, we will miss you and hope your retirement years are everything you want them to be."
Duwyn continued, "We are pleased and honored to welcome these new board members to the RCI Foundation Canada and RCI-IIBEC Foundation:
"Ted Sheridan, owner of Fishburn Sheridan & Associates Ltd and immediate past president of IIBEC, joins the boards with a wealth of experience and knowledge. Sheridan will serve as a consultant representative and will take on the role of treasurer for the RCI Foundation Canada, and we are excited to have him assume this important position," Duwyn said.
"Richard Voyer, executive vice president of Soprema North America, joins as an industry representative. Voyer has guided Soprema's North American operations and assets to new record levels, and his philanthropy over that same period is an example for others. We look forward to his contributions to our boards.
"Patrick Banning, senior vice president, Canadian operations, at Rimkus Consulting Group, becomes the youngest board member of RCI-IIBEC Foundation and RCI Foundation Canada in its 20-plus year history. Serving as a consultant representative, Banning brings a wealth of practical experience, sharp business acumen, and an intuitive, outside the box approach. We are pleased to have him on our boards and look forward to his participation for many years to come."
Rounding out both boards is Scott Hinesley, president of REI Engineers and past IIBEC president. He was selected to serve as a consultant member. Hinesley has over 25 years of relevant experience in the engineering and construction industry, with a specific focus on building enclosure science. Blanchette commented, "I am looking forward to Scott's input. He helped lead IIBEC through a period of somewhat hard times (the COVID pandemic) and is really liked by members in our industry."
Blanchette continued, "We are excited about all these new board members—the leadership, knowledge, experience they bring, and their generosity. With their involvement on both boards, our mission to promote research, education, and information sharing in the building enclosure looks great!"