IIBEC Central Texas Chapter Welcomes Summer in Style
In the words of IIBEC Central Texas Chapter President Jay Rodriguez, "What an epic time we had!"  The IIBEC Central Texas revived the San Antonio Branch with their summer kick-off event in Bulverde, Texas.  The Hawaiian-themed social event was attended by members from both Austin and San Antonio, and featured food, s'mores for the kids, karaoke, and a special Polynesian dance presentation featuring a fire dance in the evening!
The chapter thanks IIBEC San Antonio Branch Liaison Vernon Dunagin for hosting the family event at their Mahalo Haven B&B in the Texas Hill Country, and looks forward to making this an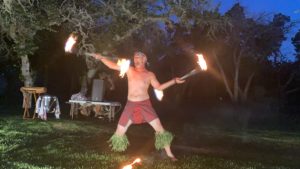 annual event.
Make sure to sign up for the IIBEC Central Texas Chapter's emails to get up-to-date information on their monthly lunch and learns, and keep an eye out for more information as the chapter plans for their next big event, the IIBEC Central Texas Building Envelope Symposium in San Marcos, Texas (not to be confused with the 2022 IIBEC/AEI Building Enclosure Symposium
being held in Milwaukee, Wisconsin on November 14 and 15, 2022).
Click the image below to see pictures from this year's event!