November 1, 2018
By Rick Gardner
The results are in: The first Canadian Building Envelope Symposium (CBES) was an astounding success! Over 240 people attended this two-day educational event at the Hilton Mississauga/Meadowvale in Ontario, Canada, featuring 12 presentations by 17 presenters, networking, information sharing, and 26 exhibitors.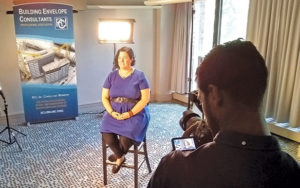 "Listening to the engaging presentations and lively discussions of the members in attendance at the first Canadian Building Envelope Symposium makes me both proud to be a member of RCI and excited for the future of this dynamic organization," said CBES Chair Jennifer Hogan.
"There was a lot of energy throughout the whole symposium; the attendees were exuberant about meeting and sharing experiences with their neighbors, and about learning from some of the best minds in the industry," said RCI Secretary/Treasurer Ted Sheridan, RRC, REWC, RWC, RBEC, PEng. "All the presentations had information directly applicable to the practices of our Canadian members."
Topics presented ranged from "Building Envelope Commissioning: The Missing Link for Future-Ready Buildings" to "The Future of Building Envelope Inspections" and "Canadian National Standard for the Vegetated Roof Assembly: Field Validation."
"The elevated level of technical content presented over the two days was especially exciting to see; I count it a success when I come out of every one of the 12 sessions having learned something," said Stephanie Robinson, symposium committee member. "We were thrilled to see the amount of interest and attendance at the inaugural Canadian symposium. The social event held by the Ontario Chapter on Wednesday evening was a great way to kick everything off. With representation from across Canada, the United States, and Europe, it was wonderful to have that opportunity to meet so many colleagues."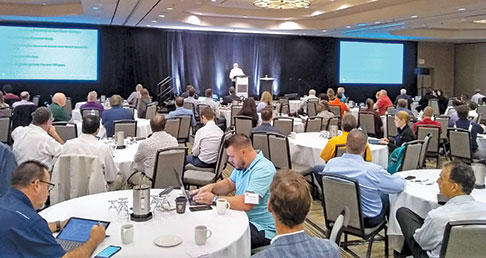 Other highlights included pre-event meetings for the International Roofing CIB and the RCI Executive Committee, as well as updates on the RCI Foundation Canada.
Sponsors for the event included Soprema Canada, Kemper System America Inc., Siplast, Situra Inc., and SFS Inc.
In a series of firsts, the symposium also featured proceedings with electronic delivery, whereby attendees could download a copy via their membership portal as well as receive small credit-card-shaped flash drives with The RCI Canada Building Envelope Proceedings sponsored by Kemper.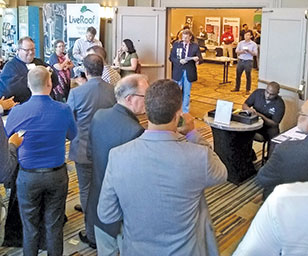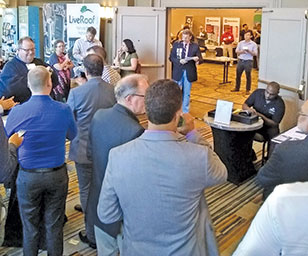 Feedback from symposium participants included: "Great to see case studies and to meet with other professionals in the industry," "Exceptional content," "Totally worth coming the long way to Mississauga to attend the symposium," "Amazing experience!" and "It was a great learning opportunity.…I would love to go to the next one."
Many thanks go out to the organizing committee: Chair Jennifer Hogan, RRO, LEED AP, with Pretium Anderson Building Engineers; Sandy Hembroff with Design Works Engineering & Inspections Ltd.; Wendy Fraser with Canadian Roofing Contractors Association; Ryan Krug with Pie Consulting & Engineering; Samuel LaRoche with BC Building Science; David E. Miller, RRO, CTR, with IKO Industries; Stephanie Robinson with WSP Canada Inc.; RCI President Michael E. Clark, RRC, RWC, REWC, RBEC; RCI CEO Lionel van der Walt; RCI VP Communications, Marketing, & Sales Karen McElroy; RCI Assistant Director of Conventions & Meetings Tina Hughes; and RCI Foundations Development Officer Rick Gardner.
If you did not attend the 2018 RCI Canadian Building Envelope Technology Symposium, you can now purchase your digital copy of The Proceedings. The cost of The Proceedings is $30.00 for members and $35.00 for nonmembers. Visit https://tinyurl.com/yara6ze6.