June 1, 2023
Ali Fahimipour is a graduating senior in the George Brown College School of Architectural Studies in Toronto, Canada. Fahimipour attended the IIBEC/AEI Building Enclosure Symposium last fall in Milwaukee, Wisconsin, and the IIBEC International Convention and Trade Show this past March in Houston, Texas, as an RCI Foundation Canada student sponsorship recipient.
What are some examples of your insights, things you learned from your mentor, Steve Drennan, at the IIBEC Convention and Trade Show in Houston?
The most important things that I learned from Steve were the specifics of his job, the process to become a roof consultant, and some of the roles roof consultants can play. Steve introduced me to several companies and new products, specifically the new roofing membranes.
How did you get interested in the building enclosure field?
I have been interested in the construction industry since I was 12. Back then, I loved to explore the city and found excitement in both new and old buildings. I often went to different job sites to learn more about the materials, renovations, and the methods they were using. This helped lead me to my career path.
My enthusiasm for architecture and construction is evident in everything I do, from how I approach my studies to the attention to detail I bring to my projects. I am constantly seeking out new challenges and opportunities to apply my skills. I have always had the desire to extend my knowledge and enthusiasm to solve the demanding problems faced by the architectural and design industry today.
What has studying abroad taught you? Why are you studying abroad?
I chose to study one semester as an exchange student in Copenhagen, Denmark, because I wanted to extend my practice-based knowledge and get some exposure to practice-based innovation to solve the demanding problems faced by the architectural and design industry today. Through this global exchange, I have gained a new perspective in the field of architecture.
The program also helped me become more familiar with other cultures and traditions, especially the Danish culture. It has enhanced my personal and professional portfolio and helped me develop new soft skills, like working with people different from me in language, culture, goals, and visions. I am excited to use these new tools and ideas in my future career.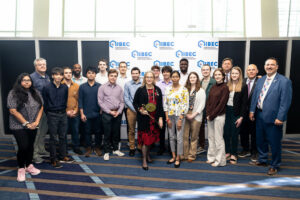 What advice has someone given you that resonates with your experiences?
One of the most amazing pieces of advice that I got from one of my professors was about the necessity of cooperation among all team members who are working toward the same objective [and about] as well as how we may maximize the output by organizing the work and cooperating in an efficient manner. That led me to understand the saying "teamwork makes the dream work."
What are some of your goals?
My 10-year goals are to become a self-employed builder and to build the most amazing homes throughout the US and Canada with a focus on sustainability and in collaboration with building enclosure organizations such as IIBEC. I want to provide service to people who want to live in beautiful, efficient, and awesome places.
How did you find out about IIBEC?
A little over a year ago, I was searching the internet about building enclosures, and IIBEC caught my eye. I visited the website, and it seemed very interesting. So, I signed up for the newsletter and later indicated my interest in attending IIBEC's Building Enclosure Symposium and its International Convention and Trade Show as a student.
What are your hobbies and interests?
My favorite hobbies and interests are swimming, running, volleyball, and taking my ideas and creating new designs.
Any final thoughts about your convention and symposium experiences?
I wanted to say a big thanks to all the IIBEC members, employees, my mentors, and all the sponsors that made these events a success. I appreciate all the hard work that made these enriching and valuable experiences possible for me and the other students from all over North America.