July 24, 2017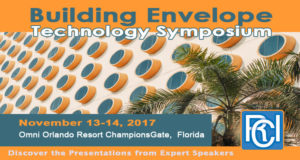 RCI's Building Envelope Symposium is a two-day educational program offering cutting-edge information regarding design, construction, maintenance, and repair of modern and vintage building envelopes.
This year's instructors boast a collective three RRCs, two RROs, one RWC, one REWO, three RAs, three PEs, seven AIAs, three LEED APs, and two PhDs. We think that's some pretty impressive alphabet soup.
Attendees can earn 12 RCI Continuing Educational Hours (CEHs) and 12 American Institute of Architects (AIA) Learning Units (LUs). You can talk about the roof, discussing thermal and hygrothermal performance of attics, roof-water catchment and filtration, and rooftop amenity spaces. You can learn about sealant joints in high-rises and movement joints in masonry. There will be discussion of curtainwall flashings and curtainwall failures. That's not even all of the available sessions. You can read synopses of each session and get to know your instructors a bit on the 2017 Building Envelope Symposium Presentations page of our website.
Each registrant will also receive a comprehensive proceedings book. This includes technical articles about the seminars you will attend. If you want to see some samples from previous years, just type "BES" into the search bar of our Technical Articles Database. (Here's one about drones by William Waterston, who is presenting again this coming year on integrating wall and roof air barriers.)
In addition to the educational presentations, there will be ample time for you to network with your peers. Over 300 people attended last year's Building Envelope Symposium; you're certain to find someone who shares an interest, specialty, or passion with you.
If you are in your first ten years of practice (or want to support and encourage younger peers), you can meet up with our Emerging Professionals committee. They will host a casual networking social at the Omni Orlando Hotel Lobby Bar on Sunday, November 12 at 7:00 PM EST. Please look for Emerging Professional Committee Chair Julie McDonald or other committee members as indicated by their name tags. McDonald says, "We'll be happy to answer your questions and make introductions. We hope to see you there!"